The deadline to participate in this event has passed. Find other call for entries and opportunities by browsing this site. Try search for other events in the
Art
»
ART FAIRS & FESTIVALS
category.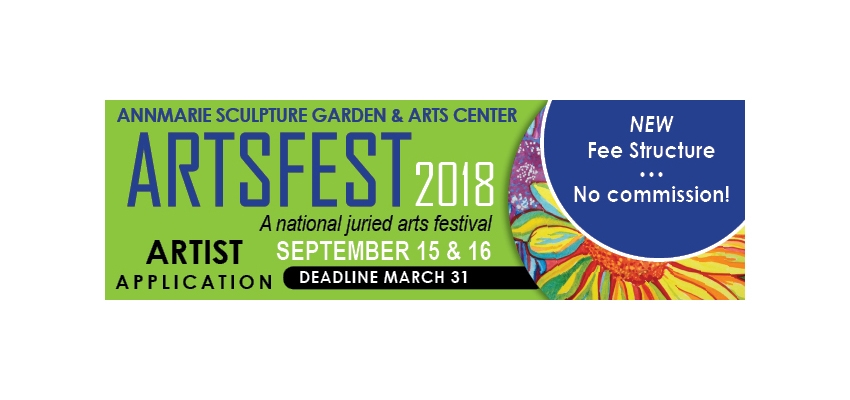 Add to Favorites
Report Listing
Event History
This is the 25th ANNIVERSARY of Artsfest! Annmarie Garden was named for Ann Marie Koenig, the wife of Francis Koenig, who donated the property to the citizens of Calvert County. Although neither are still living, we are honored to hold Artsfest each year on Ann Marie's birthday! In 2018, we are celebrating the 25th anniversary of Artsfest and Ann Marie's 112th birthday! As a tribute to our patroness, we will be honoring one of the original goals of Artsfest which is to share the creative process with visitors. Artsfest artists will be encouraged, but not required, to demonstrate during Artsfest. For those who are able, please consider what part of your creative process you would like to demonstrate during the festival. Happy Birthday Ann Marie and Happy Anniversary Artsfest – 25 years celebrating artists and the arts!
What Makes this event different?
A LOVELY VENUE FOR A FESTIVAL Annmarie Garden provides a lovely thirty acre park that consists of several distinct areas: the award-winning Murray Arts Building, the paved circular parking area known as the Tent Circle, the serene and shady Wooded Path, the grassy Meadow, the Loblolly Grove, and the Council Ring. Each year during Artsfest, music and activities are located around the entire garden, with artists booths concentrated in the Arts Building, Tent Circle, and along the Wooded Path. Visitors frequently comment on how much they enjoy our festival under the glorious canopy of trees and amidst the sculpture. You will find no prettier venue for an arts festival! ABOUT ANNMARIE SCULPTURE GARDEN & ARTS CENTER An affiliate of the Smithsonian Institution, Annmarie is a located in scenic Solomons, Maryland, on the Chesapeake Bay. The sculpture garden includes a walking path that winds through the forest, past permanent and loaned sculpture, including more than forty works on loan from the Smithsonian Institution and the National Gallery of Art. The garden also presents a variety of gallery shows, special events, and engaging public art programs throughout the year. The Studio School offers creative classes taught by talented faculty. The award-winning Murray Arts Building, is a 15,000 sq.ft. museum-grade exhibition space that includes two large galleries, a gift shop, the artLAB, and a sunny patio that offers lovely views of the outdoor sculpture.
Image Usage Rights
We reserve the right to use images of artists and their work to publicize the event.
Art CALL FOR ENTRIES
National Call for a Juried Fine Arts Festival
Deadline to Apply:  March 31, 2018
Artsfest '18 Fine Arts Festival
September 15 & 16, 2018; 10am-5pm
25th Anniversary Celebration!
NEW in 2018!  We have a new booth fee structure; no commission fees!
Annmarie Sculpture Garden & Arts Center
In Association with the Smithsonian Institution
13470 Dowell Road, Dowell (Solomons), Maryland
Join us for the 25th Anniversary of Artfest! Artsfest is an annual juried arts festival that is held at beautiful Annmarie Sculpture Garden & Arts Center, in Solomons, Maryland. Come to where the Patuxent River meets the Chesapeake Bay (Solomons is about an hour drive from the Baltimore-Washington metro area). Artfest is recognized as one of the top outdoor arts festivals in the Mid-Atlantic region, and brings together 170 of the country's most accomplished artists for a weekend of terrific shopping, great music, and delicious food and drink.
Artsfest also showcases more than 25 bands and entertainment acts performing on two stages, as well as family activities and programs under the Discovery Tent and in the Zany Zone. Annmarie Garden provides the perfect backdrop for this annual celebration of the arts! Artsfest enjoys dedicated crowds and excellent management - with terrific volunteer support. We hope you will join us for our 25th Annual Artsfest Fine Arts Festival!
Annmarie Sculpture Garden & Arts Center
In Association with the Smithsonian Institution
P.O. Box 99, 13480 Dowell Road, Dowell, MD 20629    
t. 410-326-4640     f. 410-326-4887    
Email:  info@annmariegarden.org     
For more information about this opportunity, be sure to visit the Event Website.