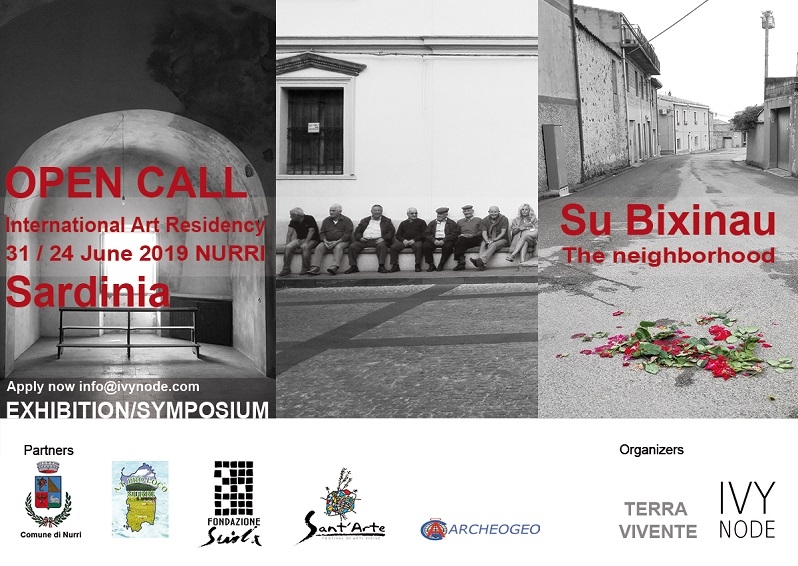 Email Friend
Add to Favorites
Report Listing
31st May – 24 June 2019 – IVYnode is joining forces with Terra Vivente organizing the 2nd Art Residency Program with the theme "Su Bixinau", the neighbourhood, in Nurri, a small village in the center of Sardinia. Thanks to the precious collaboration with Fondazione Sciola, Municipality of Nurri,  Proloco di Nurri and Archeogeo this 2nd Art Residency in Nurri will include an Exhibition in the Monastery of Santa Rosa in Nurri, a Symposium during the Festival Sant'Arte in San Sperate, and a 2nd Exhibition in the Museum del Crudo in San Sperate.
About
– 3 days in San Sperate during Sant'Arte Festival and accommodation in shared dormitory at Scuola degli Scalpellini, guests of the Fondazione Sciola.
– Symposium "Su Bixinau" during Sant'Arte Festival
– 3 weeks Art Residency in Nurri
– 1st Exhibition in the Monastery of Santa Rosa in Nurri
– 2nd Exhibition in San Sperate at Museo del Crudo
If your art practice embraces community interaction or collaboration in some way,  temporary public art or site specific installation, sustainability or other models of art as social practice, this is the residency for you.

The theme of the Art Residency is 'Su Bixinau', Sardinian for 'the neighbourhood'. The Bixinau has always been an important point of aggregation and socialization: women used to sit and talk to their neighbors, entertaining themselves in manual work such as sewing, knitting, etc. ; the streets pullulate of the voices of children playing, while the men held conversations among themselves. Not even 60 years ago every neighborhood was composed of more than 20 large families with even up to 10 children. The Bixinau, the street, was a strong meeting point in which people socialize. Today, where youth have left to study and work in urban centres, many houses are empty, but each day, the elderly sit on benches to visit and chat. The character of the Residency is Transdisciplinar and it is open to artists, researchers, writers or everyone who wish to be integrated in an unique place where is still possible to appreciate authentic aspects.
The participants will live in private houses in the village in Nurri, in the center of Sardinia, the Sarcidano, in a calm environment rich with history, mystery and magnetism, which allows to disconnect from the outside and move towards an intimate space, discovering the slow passing of the days which is maybe the secret of the longevity of its inhabitants. It is not strange to walk the streets of the village and meet seniors over 100 years old. The program aims to create a cultural exchange, discovering local traditions and keeping in touch with artisans who still preserve an ancient knowledge of old techniques that are risking to disappear. The artists will have the opportunity to visit places of archaeological thanks to the professionalism of Archeogeo.
The artists will have a unique opportunity to be part of the Symposium, organized by IVYnode in collaboration with Fondazione Sciola.  to exhibit their work first in the Monastery of Santa Rosa in Nurri and then in the Museum del Crudo in San Sperate.
How to apply
Emerging and established artists working in 2 and 3D media, performance, video, photography, sustainable materials, food, but also researchers and writers who have an interest in social practice, collaboration, cultural exchange program or research are invited to participate.
To apply please send us the following information to: info@ivynode.com
– Summary of proposal (description of the work you would like to do, including the type of materials you would like to work with. (max. 300 words)
– How your project (motivation) fits the theme "Su Bixinau" (the neighbourhood) (max. 300 words)
– A bio, web link, or other information about your art work or research
Program fee
At the moment we are not able to provide any funding. We invite you to research funding opportunities and we will be pleased to assist you by writing official letters of invitation or any appropriate documentation.