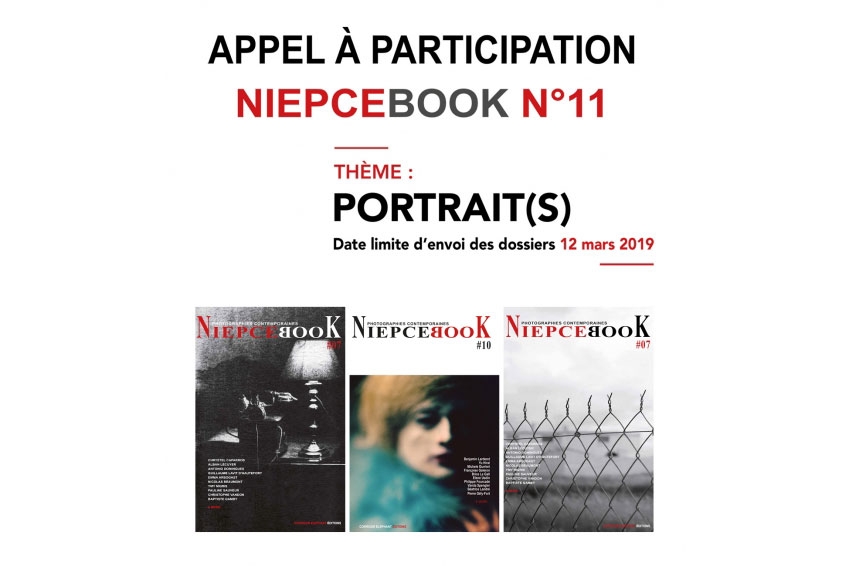 Email Friend
Add to Favorites
Report Listing
Event History
NIEPCEBOOK is a limited edition magazine dedicated to contemporary photography. Available in participative edition, it is "a beautiful object" with neat printing, numbered and certified by a cold stamp (250 pages on average, 135 gr semi-matte inner paper). The magazine publishes ten photographers who responded to the call for participation (full-page portfolio of 10 to 14 photographs accompanied by a portrait interview). How to participate ? The call for participation is open to everyone. Send us a file of 30 low-definition photographs (1200 pxiel jpg file for the longest side, 72dpi, no pdf) accompanied by a biography and a note of intention presenting your approach, we will be happy to watch your work. Privilege Wetransfer or Transfernow to send your file, thank you. CONTACT US / SEND YOUR FILE : redaction@corridorelephant.com https://www.corridorelephant.com/appel-a-participation-niepcebook
CALL FOR PARTICIPATION
NIEPCEBOOK N ° 11
JANUARY 20 - MARCH 12, 2019
 
THEME
PORTRAITS

CONTACT US / SEND YOUR FILE
redaction@corridorelephant.com
NIEPCEBOOK is a limited edition magazine dedicated to contemporary photography. Available in the participative edition, it is "a beautiful object" with neat printing, numbered and certified by a cold stamp (250 pages on average, 135 gr semi-matte inner paper). The magazine publishes ten photographers who responded to the call for participation (full-page portfolio of 10 to 14 photographs accompanied by a portrait interview).
The participative publishing campaign that allows the funding of the magazine is transformed into a communication campaign, it is carried out in connection with the selected photographers. During the participatory edition, they are asked to follow, communicate and interact on the participative edition conducted by Corridor Elephant.
How to participate ?
The call for participation is open to everyone. Send us a file of 30 low-definition photographs (1200 pxiel jpg file for the longest side, 72dpi, no pdf) accompanied by a biography and a note of intention presenting your approach, we will be happy to watch your work. Privilege Wetransfer or Transfernow to send your file, thank you.
DEADLINE FOR SHIPMENT 12 MARCH 2019
The results of the call for participation will be returned on April 07.
Jury members:
Dunia Ambatlle - Fabienne Siegwart - Jean-Paul Gavard-Perret - Pierre Leotard - Hormoz - Eric Petr
 Jennifer Lacourt - Cecile Schall - Jean-Luc Aribaud - Diamantino Quintas
- See your work published in a limited edition and numbered magazine
- Highlight your work during the communication campaign
- Expand your networks and create links with photographers published at the same time as you
- Develop communication around your work
- Help the journal to develop and be active during the participatory publishing campaign
This call for participation is for you!