The deadline to participate in this event has passed. Find other call for entries and opportunities by browsing this site. Try search for other events in the
Art
»
ARTIST RESIDENCIES
category.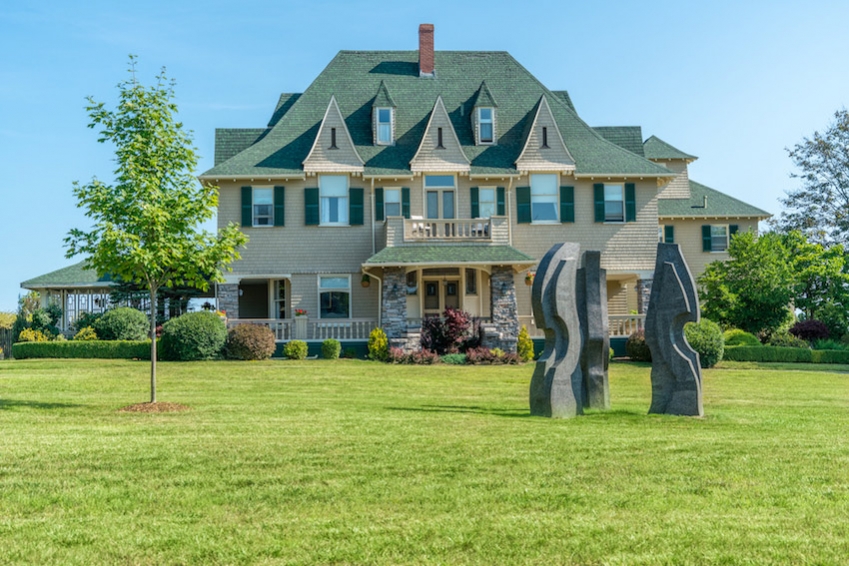 Email Friend
Add to Favorites
Report Listing
Event History
Kingsbrae International Residence for the Arts (KIRA) is moving into it's 3rd year of the residence program. We have hosted 30 artists from around the world over the past 2 years as well as off season workshops in the residence. In the 1st year we received 65 applications (we thought this was wonderful) and in the 2nd year we received 222 applications.The growth in the number of interested artists was beyond our wildest expectations. We expect this our 3rd year to grown beyond even this. As a new residency program we are learning with each year what the needs and expectations of the artists who are participating and with their help have made the program even better.
What Makes this event different?
KIRA is the only program of its type in Atlantic Canada. Artists live in a turn of the century mansion and working in a brand new 17' x 20' private studio. This is an experience only offered here at KIRA. Many of the KIRA past residence were attending their first residency program and found the confidence in themselves to apply for and have been accepted for other residency programs around the world. We are proud to think we may have played a small part in this.
Copyright Policy
There are no copyright issues with this program.
Image Usage Rights
Images submitted as part of the artist portfolio will not be published or shared with any other agencies. The images remain the property of the submitting artist.
Kingsbrae International Residence for the Arts (KIRA) will award up to fifteen artists with one month residencies in St. Andrews, New Brunswick Canada. Artists will be provided with an individual studio space, comfortable housing, up to two prepared meals each day and a stipend. Artists will live on a historic property in a beautiful seaside town and work in studios located on the property. The residence is within walking distance of the down town, however artists should bring all materials needed for their creative process when they arrive, as supplies and provisions are limited in town. As part of the residency, artists will be asked to engage with the community weekly during Open Studio Days. During this time the artist will be expected to share their weekly progress and present to the visiting public a final Artist Experience the last week of residency. 
Program Goals 
• Support artists by providing space for creative inquiry and time to take their creative practice to the next level 
• Invite artists to explore their ideas and practice within the context of the region including Kingsbrae Garden, a 27-acre horticultural masterpiece located in the historic seaside town of St. Andrews, New Brunswick. 
• Create a community of artists, thinkers, and practitioners 
• Introduce and thoughtfully engage artists with the community 

Artist Eligibility 
• Applications are open to a range of disciplines and types of artists including but not limited to the visual arts, music/composition, new media, and interdisciplinary arts. 
• Artists from all levels in their career who exhibit a strong professional work ethic and a collaborative attitude are invited to apply. 
• Artists from New Brunswick are encouraged to apply. 

Program Details and Support 
• One month of free studio space in a freestanding 300-square foot studio equip with Wi-Fi. 
• Awarded stipend of $1,500 per month. 
• Private bedroom/bathroom in a well-maintained historic property located steps away from the studio. 
• Up to 5-artists living on-site plus the program director. 
• Two meals a day. 
• Audience engagement opportunities. 
• Access to Kingsbrae Garden public events. 
• Scheduled access to: nontoxic printmaking equipment (portable proofing press suitable for linoblock, woodcut, and letter set printing, range of typeset), ceramics equipment (pottery kick-wheels, medium sized kiln, outdoor gas fired kiln), woodshop & mechanical shop both with a range of basic hand tools and resources. 
• Artists will be responsible for covering costs associated with the purchase of materials, shipment of artwork/supplies, travel costs and other living expenses including supplemental food. 
 
Selection process                                                                                                                                               
 • Artists will be selected using a panel review process who considers the following criteria: overall merit of work, readiness to engage with the community, potential to develop creative practice, influence by the location, and statistical data including career level, and geographic location.             
• References of finalists will be contacted.                                                                                            
• A 30-minute conference call between the finalists and program administrators will be conducted before acceptance into the residency program.
Application Requirements 
• Resume or CV (3-page maximum – pdf format) 
• Artist Statement (6,000 character limit – pdf format) 
• Responses to following open-ended questions: 
• Tell us about you and your work and why this residency would be important to you at this time in your career. (2,000 character limit – pdf format) 
• Tell us about how your artistic inquiry may or may not be supported by the location of the residency and public interactions with the community. (1,000 character limit – pdf format) 
• Artists are expected to engage with the community through weekly Open Studio days. These will be each Saturday morning – with a final Artist Experience Talk and Exhibit the last week of residency. Describe how you would share your weekly progress and final Artist Experience with the visiting public. (1,000 character limit – pdf format) 
• Contact info for three professional references (Name, email, phone number, and relationship – pdf format) 
• Portfolio of work (5 to 10 forms of documentation – with all images in jpeg format) 
• $10 Application Fee (Can)