The deadline to participate in this event has passed. Find other call for entries and opportunities by browsing this site. Try search for other events in the
Art
»
COMPETITIONS & CONTESTS
category.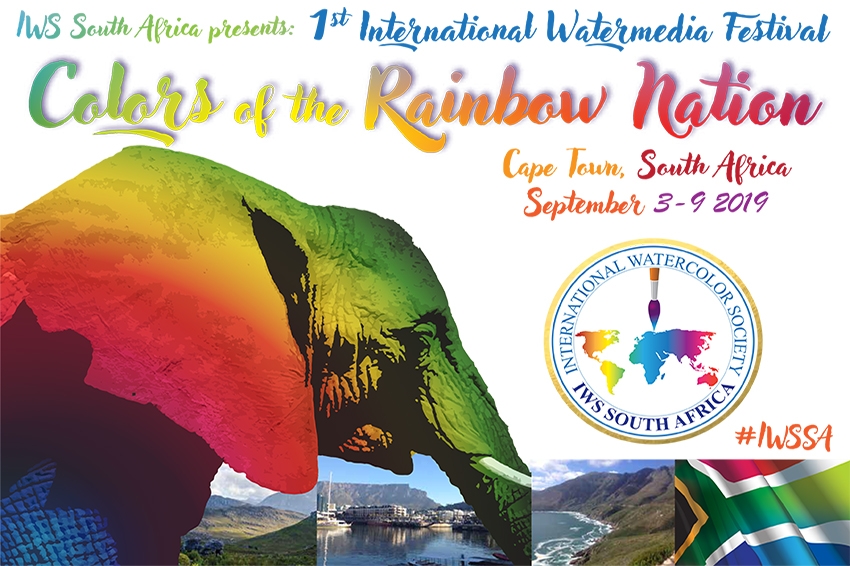 Add to Favorites
Report Listing
Event History
This is IWS South Africa's first International Watermedia event. We are part of a IWS Globe, an organization with branches in over 100 countries worldwide. IWSSA is the fastest growing art society in South Africa. We have over 400 active members. We have regular national exhibitions in South Africa. Each exhibit has grown in the number of artists entering. Our opening nights have been packed beyond capacity. Check out IWSSA Facebook page to see photos from past events or search for the #IWSSA hashtag.
What Makes this event different?
This will be the largest exhibition of its kind in South African history. Accepted artworks will be viewed by a worldwide audience and crowds at the exhibition. Unlike traditional watercolor competitions, we welcome all watermedia. This encourages experimentation and gives artists the freedom to create as they want. Our exhibitions are judged by top international artists. Being selected by one of these judges is quite an honor. Past judges include: Stan Miller(US), Angus McEwan(Scotland), John Salminen(US), Wayne Atwood(UK), Aine Divine(Ireland), Atanur Dogan(Canada), Amit Kapoor(India), and Dylan Pierce(US).
Copyright Policy
Artists retain copyright ownership to their artworks and photos of their artworks. By entering, the Artist grants limited copyright to the photos of their artwork for the purpose of promoting the artist and the event.
Image Usage Rights
Photos of artwork entered may be used to market the event and will become part of the online version of the exhibition on Facebook for the purpose of promoting the artist and the event.
Deadline For Entries June 15th 2019, 10pm GMT
Eligibility
Open to all artists worldwide. No theme or subject. Artwork must be created by hand using watermedia.
Artwork must be A3 size, approximately 29x42cm (11.7x16.5") paintings must be under 32x45cm or 13x18" for framing
All photos used as reference for artwork must be the artists' own. Artwork must be original and not completed in a class or under supervision Photos of artworks submitted must match actual artwork shipped.
Each artist may enter 1-2 paintings. Only 1 entry per artist may be selected Entry Fees $25 entry fee (for 1-2 artworks) + $60 if accepted IWS country leaders with 5 or more artists selected for the exhibition= free R250 entry for IWSSA members who have previously exhibited with IWSSA R350 entry for South African artists who have not exhibited with IWSSA
Judging / Jurying
A panel of top international artists from around the world will award prizes.
Jurying will be done using digital submissions.
Jury selection results will be announced July 1st.
All Judges' decisions are final.
Awards & Prizes
Cash awards and various prizes will be awarded at the exhibition opening.
Awards will be given for transparent and opaque watermedia categories. Award winners not attending will be notified by email.
A People's Choice Award will be determined by voting at the exhibition.
A Cyber Choice Award will be determined by visitors to the online exhibit.
Framing
IWSSA will handle framing for all participating artists. Artwork will be returned unframed.
Paintings on canvas >30mm deep with finished edges don't require frame but must be ready to hang, with cord attached on back
Shipping For Selected Artworks
Art must be delivered from 3rd July - 23rd August 2019 to the gallery.
IWS Country Heads should organize shipping of artworks where possible.
Clearly write on back of artwork Artist Name and Painting Title only.
Wrap painting securely to ensure safe delivery.
 IWSSA Members may deliver or ship as for our National Exhibitions.
Shipping details will be included with acceptance email
Exhibition Details
The exhibition will be open to the public from 4th-16th September 2019.
The exhibition will be viewable online on Facebook starting 4 September.
The exhibition catalogue will be available in PDF format for all artists.
Sales 
By listing a price on your entry form, you consent to have your artwork available for sale at the exhibition. If no price is listed on entry form, your art will not be for sale. Do not write price on painting.
Please list price in South African Rand (ZAR)
There is a gallery commission on sales of 35%. Include this in your total price. You will receive 65% of the sale.
If art is sold after acceptance into exhibition, but before 20 September, gallery commission is still owed.
Return of Unsold Artworks
IWSSA will begin shipping to IWS country heads on 18 September 2019.
Return shipping of art together to IWS Country Heads is free.
Individual shipping returns will be at artists' expense.
South African artists may arrange to pick up starting 17 September.
Art Tour
IWSSA is hosting an art tour especially for our international guests. The tour will include: discounted accommodations, transportation, plein air painting in scenic locations in the Western Cape of South Africa, Cape Town gallery tour, wine tastings at some of the top vineyards in the world, authentic South African braai banquet, sightseeing, and more.
Pricing and details will be posted soon! Email iwssa@reidsart.com if you are interested in joining us in South Africa and we will send you more information.
Workshops
1-2 September 2019 - Atanur Dogan
10-11 September 2019 Amit Kapoor
email iwssa@reidsart.com now for booking and more information
Artist Demos
Artist demos will be scheduled at the exhibition.
Demos are open to the public.
Schedule and list of artists will be posted on Facebook closer to the opening date of the exhibition
Important Dates in 2019
15 June 2019 10pm GMT: Deadline for entries
1 July: Jury selection announced by email
3 July: Begin shipping selected works
23 August: Delivery of selected art deadline / participation payment due
1-2 Sept: Atanur Dogan watercolor workshop
3 September: Awards announced at awards ceremony
4 September: Exhibition opens
4-10 September: Art Tour of the Western Cape
10-11 Sept: Amit Kapoor workshop
16 Sept: End of exhibition
*schedules subject to change due to weather and unforeseen circumstances
DOWNLOAD THE FULL ENTRY DETAILS IN PDF FORMAT IWSSA Sept 2019 flyer