The deadline to participate in this event has passed. Find other call for entries and opportunities by browsing this site. Try search for other events in the
PHOTOGRAPHY
»
COMPETITIONS & CONTESTS
category.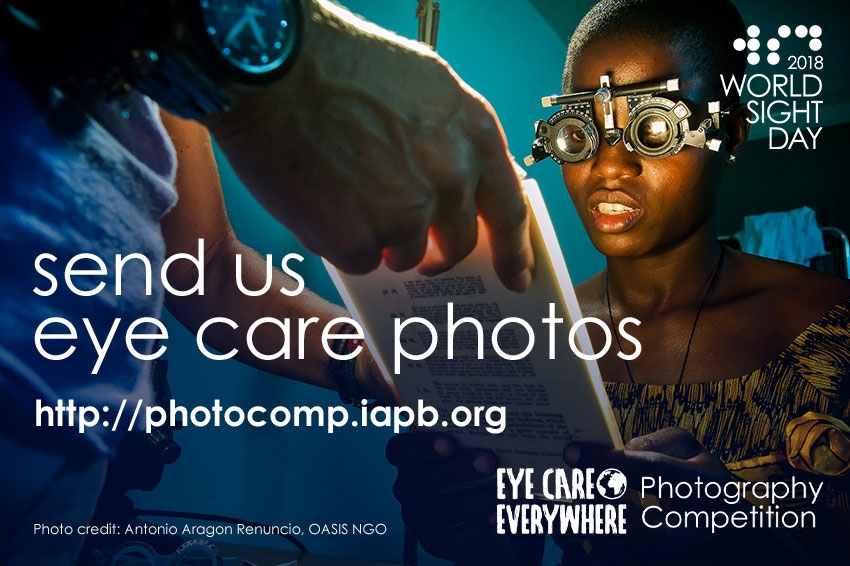 Email Friend
Add to Favorites
Report Listing
Event History
This competition started in 2015 and is held every year for World Sight Day. The competition has seen activity from over 600 participants, from 200 organizations in 89 countries.
What Makes this event different?
This event helps make a difference through photography by bringing about awareness of avoidable blindness and visual impairment.
Copyright Policy
By submitting an entry to the Competition, You grant IAPB: Permission for your entry to be published on IAPB websites including but not limited to iapb.org and IAPB social media sites and you grant IAPB a non-exclusive, irrevocable, royalty-free, worldwide, perpetual licence under a Creative Commons Attribution-NonCommercial-ShareAlike 4.0 International License to use, republish, edit and/or modify your Competition entry in any/all media for purposes connected with the Competition and as described in these Terms and Conditions (including as described under 'Prizes' paragraph above); The right to use your name and country of residence for the sole purpose of identifying you as the author of your entry and/or as a winner of the Competition.
Image Usage Rights
Your images will be used to bring about awareness of avoidable blindness and visual impairment. Photographs will be used on social media, our websites and our print material. Photographer credit will be given on all the websites and print material. Eye care organisations will also be encouraged to use the images to discuss avoidable blindness and visual impairment with proper credit to the photographer.
After the immense success of our three successive photo competitions, the International Agency for the Prevention of Blindness (IAPB) invites amateur and professional photographers from around the world to join us in celebrating the diversity of stakeholders and patients we reach. With support from Bayer Health Care, the theme for the international Photography Competition this year is 'Eye Care Everywhere'.
Theme
We know now that 1.2 billion people don't have access to glasses. Over 3 out of 4–more than 75%–of the world's vision impaired are avoidably so. The photo competition is a great tool to draw a spotlight on eye care issues across the globe and those who are vulnerable to sight conditions—young children, persons with diabetes, older people, people with limited access to health services etc. With the theme, "#EyeCareEverywhere", IAPB encourages you to share images that highlight the impact, and strength of our partnerships and most importantly highlight the importance of vision everywhere in the world.
World Sight Day (11 October 2018) is an international day of awareness about avoidable blindness and its prevention and is an important advocacy and communications opportunity for the eye health community. It is a great time to engage with a wider audience – a patient's family, those who seldom get an eye exam, diabetics – and showcase why eye health needs everybody's attention.
Participation in the competition is open worldwide – upload a photo that best exemplifies eyecare everywhere, give it a title or caption; clearly note your name, profession and contact details on the competition micro-site: http://photocomp.iapb.org. You can read the competition guidelines, here.
Prizes
All individuals interested in the theme are welcome to participate in the photo competition. Send us your photos with the theme 'Eye Care Everywhere' before World Sight Day (11th October 2018). Every week, we will pick "Editor's picks" and showcase them on IAPB's social media accounts. Finally, winners will be selected from these Editor's picks after World Sight Day (the last day of the competition). The competition will be open till 11 October 2018 – World Sight Day, after which we will pick two winners and 5 runners-up. Winners will be announced on 15 October 2018. The Amateur prize will be a professional camera: Canon 1200 D DSLR camera. The professional prize this year will be a cash prize of USD 1000.
Special Prize
This year, we have a special prize: delegates to the IAPB Council of members in hyderabad, India will vote for their most favoured submission from the Editor's picks till the Council begins. The dates of the Council are 15-16 September 2018. The winner will get a special mention and a certificate.
For more information do visit the micro-site: http://photocomp.iapb.org