The deadline to participate in this event has passed. Find other call for entries and opportunities by browsing this site. Try search for other events in the
PHOTOGRAPHY
»
COMPETITIONS & CONTESTS
category.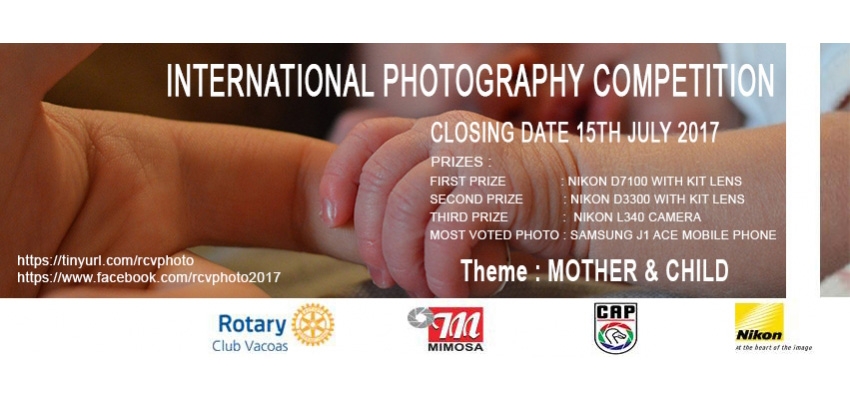 Add to Favorites
Report Listing
Copyright Policy
The participant expressly declares, without any time limitation, that image files entered in the contest may be used by the organizers in whatever way (online and offline) without further compensation by the organizers. The organizers will take utmost care that any image used is marked for copyright and will not be manipulated by digital means; a guarantee however that this actually happens, can't be taken over by the organizers, because the use of such images for contest advertising purposes does happen outside the sphere of influence of the organizers. The participant therefore expressly waives the right to assert any claims against the organizers.
International photography competition.
About the project
The Rotary club of Vacoas has a plan to set up a dedicated intensive care unit (OICU) for high risk pregnant women in Mauritius. The primary objective is to provide support in order to ensure improved access to skilled birth attendance, quality reproductive health services, emergency obstetric care and postnatal care for mothers. Women with high risk pregnancies require specialised close monitoring and intensive care. Setting up of an obstetric ICU can help ensure better care and management for patients as well as ensure their privacy and dignity. 
About the Competition
This competition is open to all photographers worldwide. The theme is "Mother & Child".  There is a submission fee of USD 15.00 for up to 3 photos. Participants may submit more than 3 photos, by submiti new participation form and pay the participation fee of USD 15.00
The competition is to raise funding for the above project.
This is the first time that such a competition is being held here. The panel of judges consists of local professional and international photographers who will judge the submitted photos individually. Three winners will receive prizes, but all participants will receive a certificate of participation by post.  The organizers will send the prizes via courrier. Prizes are NOT refundable and cannot be exchanged for cash. Competition rules can be seen on our website and on our Facebook Page.
The jury will select 12 images (runner up) from the submissions as part of an exhibition to be held at Dias Pier Building, Le Caudan Waterfront in Mauritius. The same photographs will also be posted on our Facebook page. There is also a prize for the most voted photograph by the public. The winners will be announced at a Gala Dinner that will be held in October (exact dates will be announced via our website and Facebook Page).
About Rotary International
Rotary is a global network of 1.2 million leaders, friends, neighbors, and problem-solvers who come together to make positive lasting changes in communities at home and abroad. Solving problems takes commitment and vision. For over 110 years, Rotary members have used their energy, passion, and intelligence to take action on sustainable projects. From literacy and peace to water and health, we work to better our world, and we stay committed to the end.
For more information about this photography contest, please visit the Event Website.