The deadline to participate in this event has passed. Find other call for entries and opportunities by browsing this site. Try search for other events in the
Art
»
COMPETITIONS & CONTESTS
category.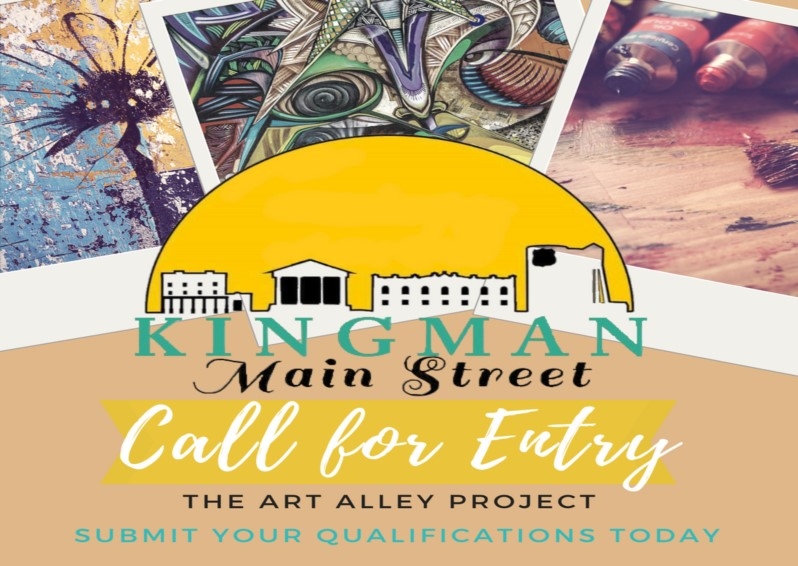 Email Friend
Add to Favorites
Report Listing
What is the Art Alley Project?
The Art Alley Project is the first of many potential projects directed by Kingman Main Street through its Place-Making initiative. Kingman Main Street is inviting visual artists to submit applications with concepts for this outdoor public mural. A successful design for this project should address and creatively reflect Kingman's forward motion, will, future, and optimism. Expressionistic works are encouraged! Even thought the site is an alley, it will be very visible to visitors along route 66 and is very close to sites and businesses frequented downtown.
Artists demonstrating a level of skill and/or experience that is commensurate with the proposed scope and budget are invited to submit qualifications to this project opportunity.
Project Details
This permanent mural is to be located on the alley-side wall of the The Beale Street Theater, located on 3rd St and Beale St (304 Beale St, Kingman, AZ 86401). The chosen medium will be acrylic latex paint to ensure the longevity of an outdoor painting. The mural will be installed on the above pictured wall, which will be cleared of all fixtures and wiring as well as primed for paint application. The mural and design should encompass the entire wall (1092 SQ. FT. total).
Budget
$5,000.00 is available for the entire project.
    •    $2,500.00 (Commission)
    •    $500.00 (Artist(s) living expenses)
    •    $400.00 (Travel expenses)
    •    Housing for the full length of the project will be provided (Up to 3 weeks)
    •    The remainder of the budget will be allocated to supplies, equipment and labor costs.
All necessary equipment and supplies needed to complete the project will be provided by Kingman Main Street. (any supplies/equipment purchased by Kingman Main Street will remain the property of Kingman Main Street.)
Entry Guidelines
You must be 18 years of age or older to be eligible for this opportunity.
We are seeking an individual or persons who meet the following qualifications:
    •    Demonstrated experience with public art/murals
    •    Aesthetic excellence in the design and execution of completed projects
    •    Ability to work with a steering committee comprised of community/Kingman Main Street members
    •    Ability to create a concept design that captures audience interest, influences emotional response, and inspires.

Selection Process
An artist selection panel comprised of Kingman Main Street members will be convened to evaluate all submissions/concept(s) and select 5 semi-finalists. The Art Alley panel will review and ultimately select the final artist based on their previously submitted qualifications, interests, and designs. Please submit your application before June, 15th, 2018.
If selected, you will be expected to execute the painting of the wall with our support. We will be providing an art assistant as well as volunteers to help set-up, clean-up and paint under your guidance and instruction.