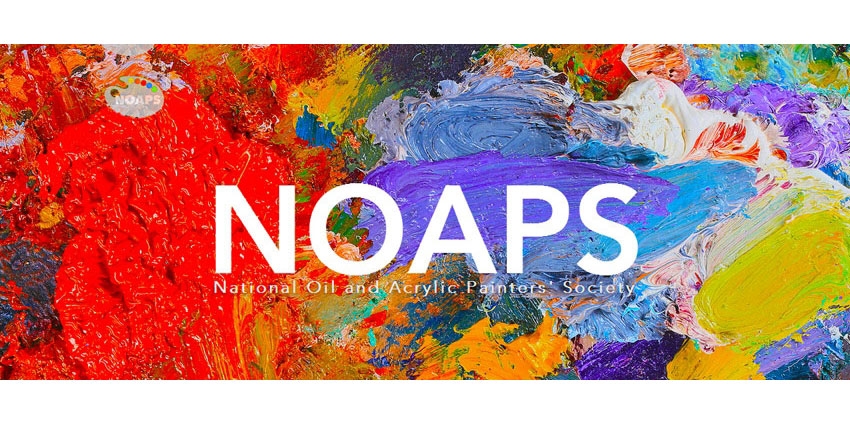 Email Friend
Add to Favorites
Report Listing
Event History
The National Oil and Acrylic Painters Society was established in 1991 and began with The Best of America Exhibit in Osage Beach Osage Beach, Missouri, at Columbia College. As of 2013, NOAPS began advertising the Best of America Exhibitions in national art magazines along with marketing in social media such as Twitter, Facebook, Google+, Pinterest. The NOAPS MailChimp email blasts and blog provide information and exposure to artists both nationally and internationally. The inclusion of International art was introduced in 2013 and each year there are now two International Online Exhibitions. NOAPS is entertaining entries from the North American continent of the United States, Canada and Mexico, and from such countries as China, Japan, Malaysia, Singapore, India, Israel, Iraq, Russia, Germany, Norway, Trinidad, Tobago, and Cuba. Our international members enjoy a vast and targeted exposure for their work
What Makes this event different?
This is a high profile juried show that encourages entries from both oil and acrylic painters and receives abstract as well as representational entries.
Copyright Policy
The artist retains the copyright.
Image Usage Rights
Selected paintings will be showcased on www.NOAPS.org, in the NOAPS Blog, and in NOAPS Social Media. By entering, entrants are consenting to having a reproduction of their work used for promotion of the exhibit. You are confirming the work entered is your own and copyrighted images incorporated in your work have not been used.
National Oil and Acrylic Painters' Society
"2019 SPRING INTERNATIONAL ONLINE EXHIBITION"

Application Dates: January 7th, 2019 to April 7th, 2019 at midnight Pacific Time
A  R  T      E  X  H  I  B  I  T  I  O  N     P  R  O  S  P  E  C  T  U  S
A   B   O   U   T      T   H   E      E   V   E   N   T
The National Oil & Acrylic Painters' Society (NOAPS) is inviting oil and acrylic painters from across North America and international artists to apply to our exhibit that honors the Best in oil and acrylic painting. NOAPS has been showcasing the talents of oil and acrylic painters since 1991.
This is an INTERNATIONAL juried online competition that is open to ALL artists who are 

18 years of age and older working in Oil and ACRYLIC medium

. 

Both members and non-members

 

of NOAPS may apply. 

150 Artworks will be accepted into the show and are eligible for awards

Current 2019 membership is NOT required before entering

 

the Spring Online International. However, we do welcome your Membership. 
The Awards in the On-Line International Exhibits do not apply for NOAPS Signature or Master Status.
Certificates are only sent to artists who win awards. Certificates for Merit Awards that have been won by artists from outside of North America will be sent exclusively by email.
Notification Date:  May 13th 2019 – Please check your JAS account as correct email address is necessary to receive notices and Merit Award certificates. Correct physical address is necessary to receive prizes.
A  R T   I   S   T      E   L   I   G   I   B   I   L   I   T   Y
All NOAPS Members and Non-Members. This is an International Show and all countries welcome.
E   N   T   R   Y      P   R   O   C   E   S   S
All entries will be submitted via Juried Art Services (JAS) www.juriedartservices.com.  JAS provides a comprehensive 'Help Menu'.  NOAPS is also available to help with procedural problems. 
Email: 

Membership@NOAPS.org

 for assistance or use the help menu on Juried Art Services

Digital files should be saved in universal .jpeg format for JAS entry and should be between 1400 pixels and 4000 pixels longest dimension at 300PPI (pixels per inch). 

Jurors will not consider entries that are not displayed correctly. No frame, mat, or background visible. Be sure the image is right side up.
Please note: After submitting an image(s) and making payment you can still go back to your submission at any time before the submission deadline and change the painting that has been submitted for a different painting. If you choose to add more paintings to your submission you can do so for $10 per image and contact NOAPS to pay for the extra submissions.
Application Dates:
Jan 7, 2019 - Apr 7, 2019Application Fee: 
$30.00 for 1 image
$10.00 each additional image 
up to a total of 5 images
Notification Date:
May 13, 2019
For more information as well as Terms and Conditions regarding this opportunity for artists, please visit the Event Website.