The deadline to participate in this event has passed. Find other call for entries and opportunities by browsing this site. Try search for other events in the
Art
»
PUBLICATIONS
category.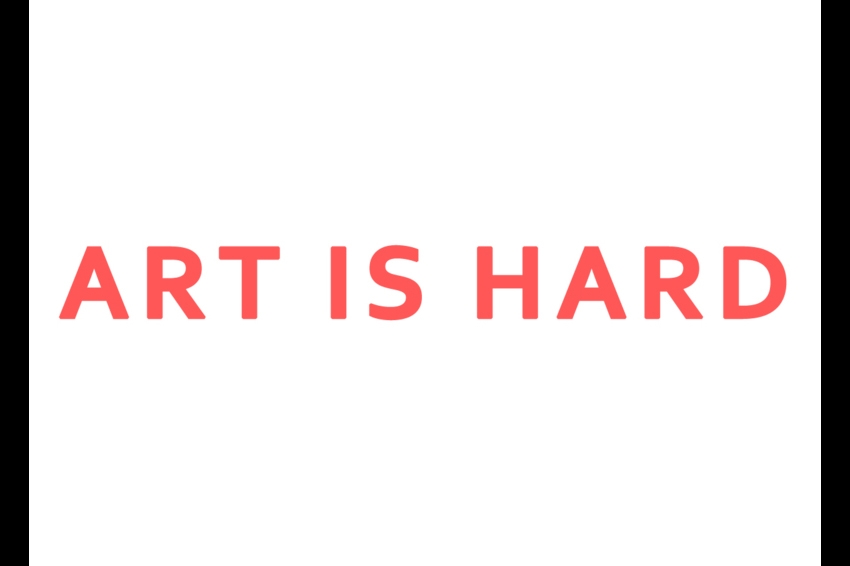 Email Friend
Add to Favorites
Report Listing
Image Usage Rights
PLEASE NOTE: In whatever format you choose to submit content to Art Is Hard, you are agreeing to allow OVERLAND ARTWORKS use your content for their Art Is Hard project via digital or print media.
ART IS HARD
Art Is Hard embraces vulnerabilities to encourage a community to bond and commiserate over the conflicts and challenges associated with a creative lifestyle. AIH hopes to promote shared understandings, growth within individuals, and changes in expectations of artistic conventions. 
BACKGROUND
Throughout my college experience, "art is hard" was a far too commonly spoken phrase. It was a time of creative and emotional challenges – a time to discover that there are no answers and despite professors' best attempts to guide us, there's no clear path to "success." 
Years out of school, I still find myself riding the roller coaster that comes with a contradicting creative lifestyle, but through numerous conversations based around common life/work struggles I've realized ART IS HARD FOR EVERYONE.  
I found one such example while helping a highly respected, internationally acclaimed artist install an engraved marble bench in the MASS MoCA galleries for her latest exhibition. She took a break to consider its placement. Her eyes darted at the walls, the paintings, the windows, and back to the bench, contemplating how many inches would be appropriate to move this beast to most accurately work within the space. It was such a tiny decision, that felt like it had a lot of weight. After a minute of silence, she threw her hands up in the air a bit and said "Agh! ART IS HARD! Blegh blegh blegh!" and walked away to take a breather.
ART IS HARD NO MATTER WHO YOU ARE, WHERE YOU'RE AT, OR WHAT YOU DO. 
 
JOIN IN
ART IS HARD WANTS TO KNOW HOW ART IS HARD FOR YOU.
Tell us your stories. Share your feelings. Complain a little! Having a moment? SHARE IT! We've got open ears, a shoulder to lean on, or the guts to giggle with you. 
WHERE DO THE TESTIMONIES END UP?
OLAW is currently in the research/field study phase of the Art Is Hard project for which we are focusing on collecting testimonies, tales, and fleeting thoughts. As of now, the goal is to compile these submissions and create a zine available for the public in spring of 2019.

HOW TO GET INVOLVED
ART IS HARD CURRENTLY OFFERS THREE METHODS OF SUBMITTING CONTENT.
ARTIST HOTLINE
By calling the hotline, you are able to leave a 3 minute message with your thoughts or stories. If you just want to cry for a few minutes, we will gladly take that in too. The Hotline is here for you! In addition, please leave your name, email, and personal or professional title so we know what kind of work you do and how to reach you! We love to hear it from the horses mouth, so give us all you've got!
WEB FORM
Below, you'll also find a digital form in which you can write and submit your thoughts or feelings. This is especially great for those that like to work through their thoughts a few times or get a little phone shy. We encourage open dialogue and transparency at OLAW, but if you wish to remain anonymous, please express this in your submission. Please leave your name, email, and personal or professional title so we know what kind of work you do and how to reach you!
EMAIL
Have something that doesn't quite fit in the other boxes? Maybe you want to draw a cartoon or share an image that expresses your frustrations? We are open to any visual interpretations of your Art Is Hard feelings. Email artisreallyhard@gmail.com with your submission! Additionally, please leave your name, email, and personal or professional title so we know what kind of work you do and how to reach you!