The deadline to participate in this event has passed. Find other call for entries and opportunities by browsing this site. Try search for other events in the
Art
»
ARTIST RESIDENCIES
category.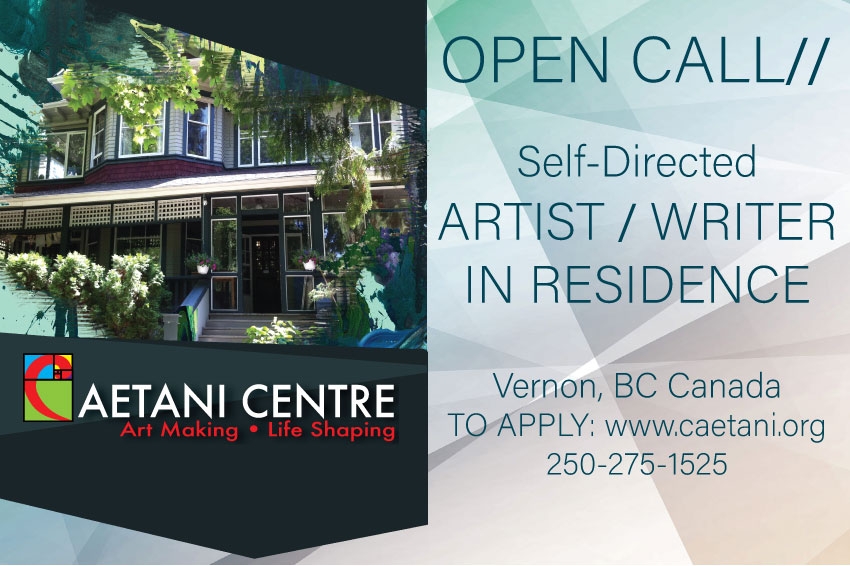 Add to Favorites
Report Listing
Event History
The Caetani Cultural Centre is a 6,000 sq. ft. designated heritage house that is 120+ year old. It is situated on 1.5 acres of land on lower East Hill. The house is the former home of renowned artist, Sveva Caetani, a writer, mentor and teacher. Sveva was known locally as 'the Countess' due to her aristocratic background. She was a visionary figure in the community with a deep belief in culture, knowledge and artistic endeavors. The heartbreaking and mysterious story behind the history of the house and its inhabitants provides a gateway to understanding our recent past, opening a window to a much different world and shedding light on the many artworks and writings created by our benefactor Sveva Caetani. Sveva's vision for her home has turned into reality and is now being carried out through creative and thought-provoking programming. The Caetani Centre (C3) provides a venue for visual artists from around the world and Canada to explore a diverse range of arts practices, theories and experiences through our Residency programs for visual artists, writers, curators, and creative individuals.
What Makes this event different?
The Caetani Centre provides quality art facilities which allow artists and writers to experiment, develop new ideas and interact with fellow artists and the community through talks, workshops and exhibitions. Programming includes partnerships with additional community organizations in order to encourage artists to approach creativity, exploration and research in different ways and present the community both locally and globally with new ways of experiencing, seeing, and interpreting arts and the environment around us.
Art call to artists.
The Caetani Cultural Centre provides artists and writers with creative living and working spaces in an independent community atmosphere for the purpose of self-directed residencies, providing time, support and room for creativity, at affordable rates.
Residencies are open to both emerging and established visual artists in any medium. Writers, curators, musicians, cultural researchers, and performing artists are also welcome and encouraged to apply.
Self-directed residencies vary in length of time from 2 weeks to 3 months, in order to suit the individual needs of the applicant. Longer terms can be negotiated if required. Please specify the preferred time period for the residency and length of stay for your project in your application form. The Self-Directed Residencies are not sponsored or themed.
In the heart of award winning wine country, the Greater Vernon community offers nature centres, hiking trails, recreation centre, a public art gallery and arts centre, performing arts centre,  Vernon Community Music School, commercial galleries, library, science centre, and shopping. We are located between three lakes: Kalamalka Lake, Okanagan Lake and Swan Lake, and 25 minutes from world class cross country and downhill skiing, and mountain biking at Silver Star Mountain. 30 minutes from Kelowna International Airport. 5 hours from Vancouver by car, 6 hours from Calgary. Vernon has a small airport with limited access.
Fees:
All fees are prorated based on length of stay.
Additional Occupant: $5/night
Fogliano Room 
$15/night
Single bed / Small room with desk.
Sermoneta Room
$20/night
Queen bed / Medium size room with desk.
 
Caetani Room
$30/night 
Queen bed / Large room with couch and desk.
Perfect for a writer, digital artist, curator, cultural researcher, etc.
Ninfa Studio
$5/night
Separate studio space with drafting table and sink.
Can be paired with any room.
For further information about this residency opportunity, please visit the Event Website.