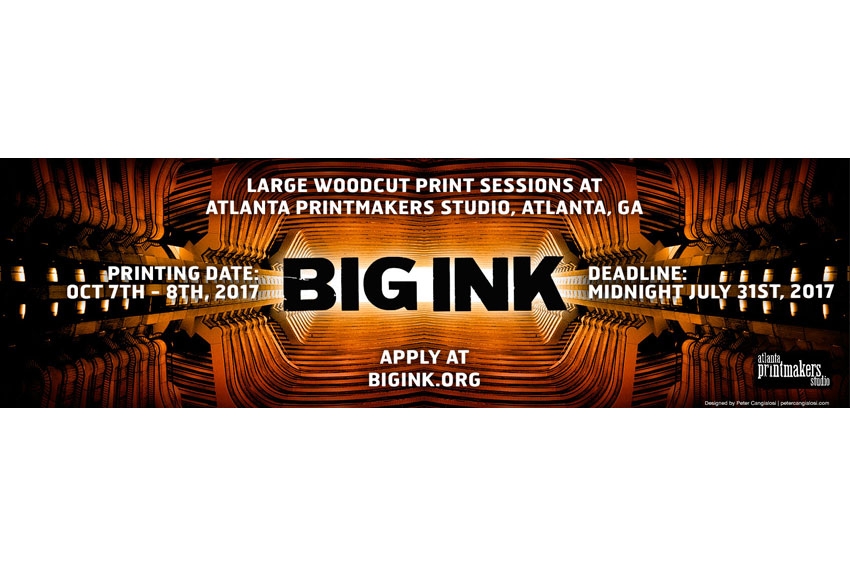 Add to Favorites
Report Listing
BIG INK has partnered with Atlanta Printmakers Studio (APS) for an event that promotes the appreciation for the art of woodcut printmaking. On Oct 7th & 8th, 2017 BIG INK will bring a 48" x 96" mobile printmaking press to APS. BIG INK volunteers will be helping pre-selected artists print woodcuts en plein air. Finished prints will be hung in a highly visible area, creating a viewing gallery for all to enjoy.

Lyell Castonguay, director of BIG INK will be selecting participating artists. Participants will bring giant carved wood blocks measuring at least 24" x 36" in size. Visitors can witness woodcuts being printed in an open forum. Documentation will be on hand to explain the process, its history, and context in contemporary art. Addionally the artists who created the work will be in attendance to network and answer questions. The prints created at BIG INK events are exhibited in university galleries, art centers and museums.
Accepted artists will pay $275 in order to cover consumable materials and professional photography.  BIG INK assists in the creation of 4 prints from your block, 3 for you to keep and one for the BIG INK portfolio.  Artists work is featured in our online gallery and has the potential to be included in exhibitions abroud and in the US.  The 2017 exhibition schedule includes venues in MD, OK, NY, NH and MA.

If you're interested in creating a large woodcut for this event please visit http://www.bigink.org/apply. The deadline to apply is July 31th, 2017.
For more info - please visit the Event Website.