The deadline to participate in this event has passed. Find other call for entries and opportunities by browsing this site. Try search for other events in the
Art
»
FUNDING OPPORTUNITIES
category.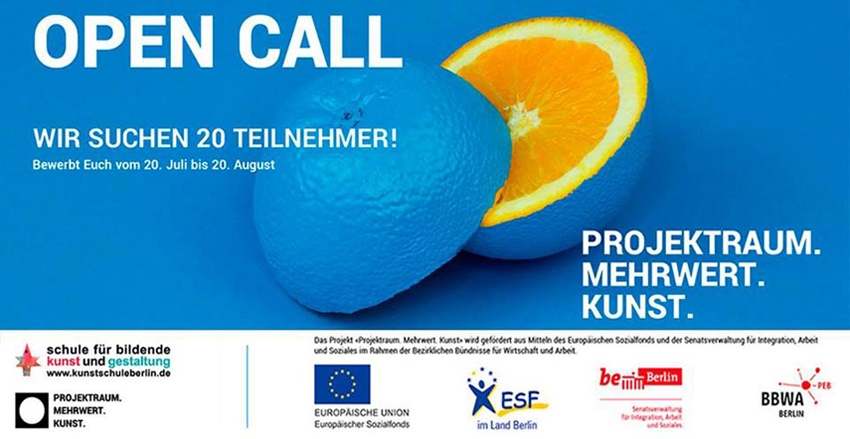 Email Friend
Add to Favorites
Report Listing
Event History
Wir bieten Ihnen an: Unterstützung ihrer unternehmerischen Entwicklung Karrieretraining Kunstmanagement Beratung Materialkostenerstattung Ateliernutzung Ausstellungsmöglichkeiten Soft und hart Skillsverbesserung Bwl-qualifizierungsprogram Sie bekommen: Direkten Kontakt zu Unternehmen unterschiedlicher Branchen. Die Möglichkeit während Meetings und Workshops professionelle Kontakte zu knüpfen. Zugang zu PCs und Tablets mit grafischer Software, 3D-Druckern und analogen Drucktechniken (u.a. Siebdruck, Radierung, Linolschnitt und Fotografie). Persönliche Projektbetreuung sowie soziale, rechtliche und finanzielle Beratung. Bitte senden Sie Ihren tabellarischen Lebenslauf, künstlerischen Werdegang und bis zu 5 Arbeits-beispiele (.pdf oder Onlineportfolio) an: info@kunstschuleberlin.de info@kunst-und-wirtschaft.berlin Bewerbungszeitraum: Vom 20. Juli bis 20. August Das Projekt «Projektraum. Mehrwert. Kunst» wird gefördert aus Mitteln des Europäischen Sozialfonds und der Senatsverwaltung für Integration, Arbeit und Soziales im Rahmen der Bezirklichen Bündnisse für Wirtschaft und Arbeit.
What Makes this event different?
Die Schule für Bildende Kunst und Gestaltung hat 15-jährige Erfahrung in der Bildung, Weiterbildung und erfolgreichen Umsetzung von langfristigen EU-Förderprogramme. In diesen Jahren haben mehren unserer Absolventen ihren erfolgreichen beruflichen Weg gefunden.
Copyright Policy
The information contained in this message may be confidential information, and may also be the subject of legal professional privilege. If you are not intended recipient, any use, interference with, disclosure or copying of this material is unauthorised and prohibited. Please inform us immediately and destroy the email. We have taken every reasonable precaution to ensure that any attachment to this email has been swept for viruses. However, we cannot accept liability for any damage sustained as a result of software viruses and would advice that you carry out your own virus checks before opening any attachment. Thank you for your cooperation.
All visual materials used by SBKG are owned by SBKG. Further use only with permission of SBKG.