The deadline to participate in this event has passed. Find other call for entries and opportunities by browsing this site. Try search for other events in the
Art
»
JURIED EXHIBITIONS
category.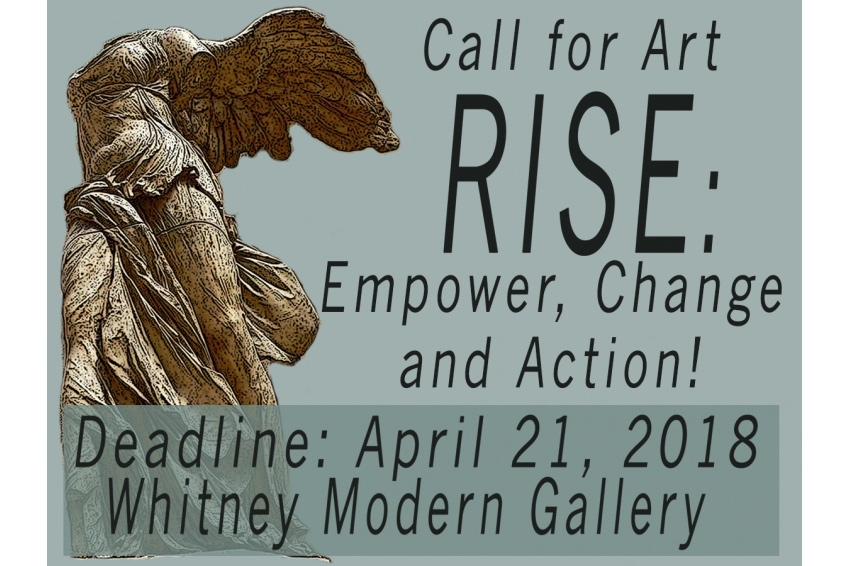 RISE: Empower, Change and Action! Call for art from the Whitney Modern Gallery and Gutfreund Cornett Art
Email Friend
Add to Favorites
Report Listing
Event History
As a team and individually, Karen Gutfreund and Sherri Cornett, now Gutfreund Cornett Art, have created over 30 exhibitions on themes of social justice and promoting women in the arts.
What Makes this event different?
Exhibition to promote self-identified women artists. This project will include a fundraiser for a nonprofit focused on women and girls empowerment focused on bringing awareness to issues of self-identified women and a variety of programming. Details will be provided as these are developed.
Copyright Policy
Artist retains all copyrights.
Image Usage Rights
The Whitney Gallery and Gutfreund Cornett Art will use images for publicity and on social media and will also create a full color catalog for the exhibition that will be available for sale on Amazon and at the gallery.
RISE: Empower, Change and Action!
WHITNEY MODERN GALLERY and GUTFREUND CORNETT ART
EXHIBITION DATES: July 18 – August 31, 2018
RECEPTION: Saturday, July 21, 2018
Imagine creating positive change through art! 
How do we listen, speak our minds, and collaborate across the generations, race, identity and culture? How do we build and empower our future, both locally and globally?
RISE: Empower, Change and Action! seeks to bring artists into dialogue and to bring forth what is important to self, community, our nation and the world at large through art that reflects and addresses complex socio-cultural issues and focuses on a vision for a more positive, empowering future, particularly for self-identified women and girls as well as their families. It is underpinned by the feminist principle that believes in political, economic and social equality for all. Manifestations of empowerment can include gender equality; economic independence, education, access to health care, reproductive rights, human rights, freedom of expression, changing gender roles, and breaking gender and race stereotypes. Art submissions can range from literal to poetic, abstract to representational, and include social and political commentary. The show looks to include the more abstract ideals and universal themes of peace, exploration of belief systems, universal responsibility, and the search for beauty, and transcendence. Artists may submit works that are a source of healing, hope and compassion or instruments of growth, self-discovery, and social or political transformation. We welcome art that reflects personal as well as observed stories, whether myth, fact or fiction.
RISE aims to emphasize the commonalities of our human experience. Art can be a powerful, productive force and instrumental in sparking change or critical thinking. Through this exhibition, we are committed to promoting and supporting local, national, and global art activism and bring to light issues and concerns, art can effect change.
EXHIBITION CURATORS:
Suzanne Whitney-Smedt, Owner and Director of Whitney Modern Gallery 
Marianne McGrath, Curator of Art at New Museum Los Gatos (NUMU). 
Gutfreund Cornett Art is an independent curatorial partnership between Karen Gutfreund and Sherri Cornett creating shows on themes of social justice.
SPECIAL AWARD JURORS:
Joan McLoughlin Owner, McLoughlin Gallery, San Francisco. 
Jessica Porter Executive Director of NY Artists Equity Association and Owner, Porter Advisory, New York City 
David Weinberg Executive Director, Weinberg/Newton Gallery, Chicago.
NOTIFICATION OF SELECTIONS: May 18, 2018
MEDIA ACCEPTED:All media but Giclees, unless as part of a mixed-media work are acceptable. Gallery will exercise the right to reject any work that does not accurately represent the submitted image.
NONREFUNDABLE ENTRY FEES: $35/entry [students email us at GutfreundCornettArt@gmail.com for reduced $15/entry instructions]. Fee is per entry for up to three pieces of art per entry. Payments to be made through PayPal only. You do not need to have a PayPal account to pay through PayPal. No refunds will be made after the jurying process has begun.
SALES OF ART: All sales will be handled by Whitney Modern with 50% going to the artist and 50% to the gallery.
Any questions? Email gutfreundcornettart@gmail.com