The deadline to participate in this event has passed. Find other call for entries and opportunities by browsing this site. Try search for other events in the
PHOTOGRAPHY
»
PUBLICATIONS
category.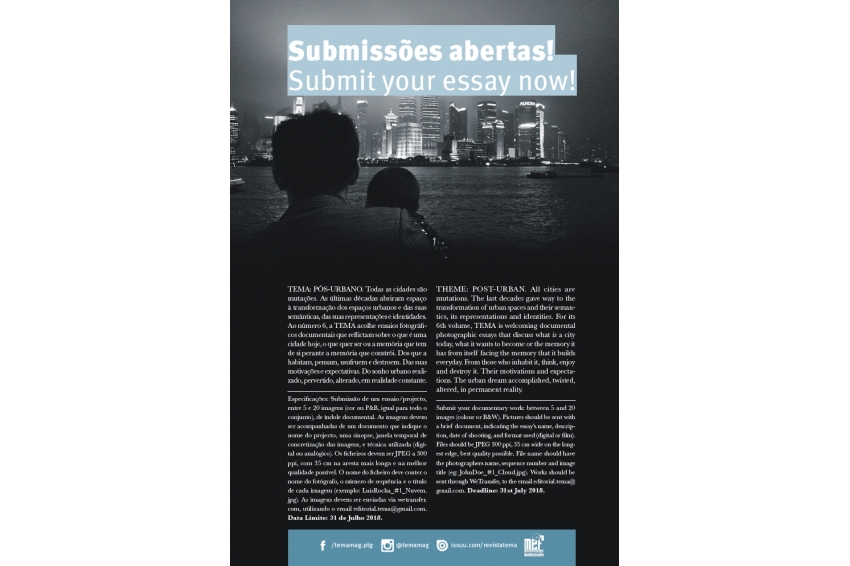 Email Friend
Add to Favorites
Report Listing
Copyright Policy
The ownership of each contributed article is copyrighted. This copyright belongs to the contributor of the respective article, which is stated here and beneath the articles. All ideas expressed by TEMA are put forward with the goal of stimulating discussion, sharing ideas and telling stories. The opinions published in TEMA belong to the respective authors of each article, which do not necessarily represent the views of the editors and editorial team. The contents in this magazine may not be reproduced in any form without the written consent from Movimento de Expressão Fotográfica. TEMA reserves the right to accept, reject or edit any material submitted by contributors prior to the publishing of the magazine.
TEMA is an independent biannual magazine. 
THEME: POST-URBAN. All cities are mutations. The last decades gave way to the transformation of urban spaces and their semantics, its representations and identities. For its 6th volume, TEMA is welcoming documental photographic essays that discuss what is a city today, what it wants to become or the memory it has from itself facing the memory that it builds everyday. From those who inhabit it, think, enjoy and destroy it. Their motivations and expectations. The urban dream accomplished, twisted, altered, in permanent reality.
Submit your documentary work: between 5 and 20 images (colour or B&W). Pictures should be sent with a brief document, indicating the essay's name, description, date of shooting, and format used (digital or film). Files should be JPEG 300 ppi, 35 cm wide on the longest edge, best quality possible. File name should have the photographers name, sequence number and image title (eg: JohnDoe_#1_Cloud.jpg). Works should be sent through WeTransfer, to the email editorial.tema@gmail.com. Deadline: 31st July 2018.
TEMA is produced and edited by Movimento de Expressão Fotográfica, Largo das Pimenteiras 6A, 1600-576 Carnide. It is printed in Lisbon, Portugal.