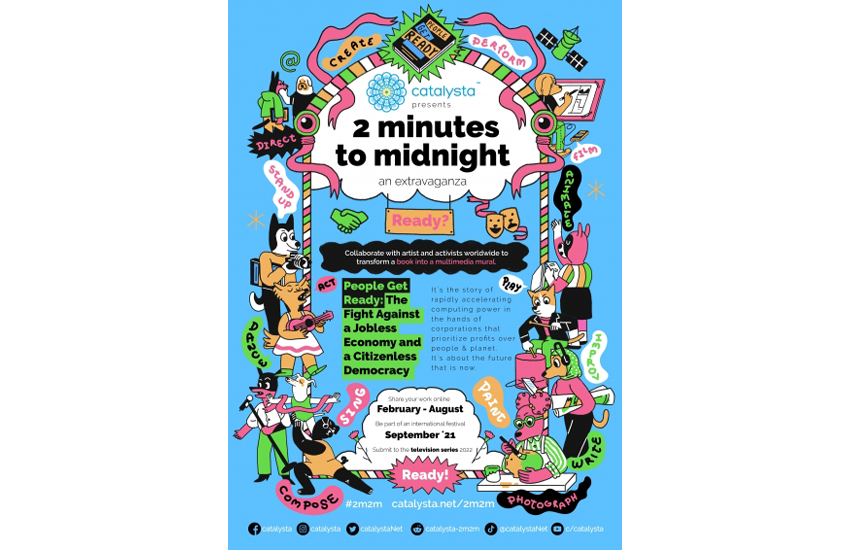 Email Friend
Add to Favorites
Report Listing
Any type of artist can contribute to the transition beyond capitalism.
2m2m is a platform for artists and activists to share work inspired by the book People Get Ready: The Fight Against a Jobless Economy and a Citizenless Democracy from February through August 2021 online.
In September '21, 2m2m hosts a festival of works by artists and activists locally around the world and in partnership with galleries, theaters and concert halls in Asia, Africa, the Americas, Europe, the Middle East and Oceania.
A selection of works will be featured on 2 minutes to midnight – a televised extravaganza in 2022.
You can find all the materials that will help you get inspiration in our website and also through this links:
- Here you can listen to the audiobook  https://catalysta.net/pgraudio/
- Read a few ideas from every chapter to get inspiration  https://catalysta.net/wp-content/uploads/2020/11/A_Few_Ideas.pdf
- Watch the videos Chapter Tidbits to understand what the book is about  https://catalysta.net/2m2m/#tab-2
For further information contact mireia@catalysta.net or contact@catalysta.net