The deadline to participate in this event has passed. Find other call for entries and opportunities by browsing this site. Try search for other events in the
Art
»
JURIED EXHIBITIONS
category.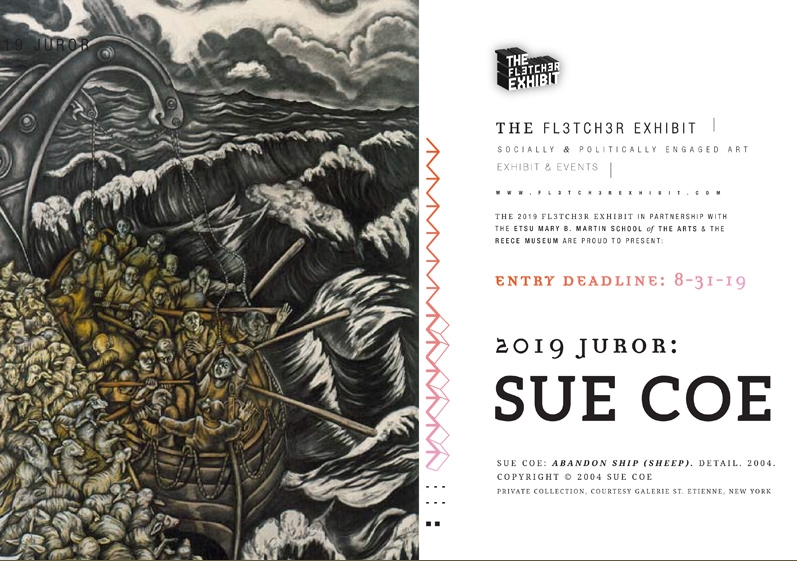 7th Annual International Juried 2019 FL3TCH3R EXHIBIT- Socially and Politically Engaged Art- >>>> Deadline- August 23, 2019/ Extended Deadline- Aug 31
Email Friend
Add to Favorites
Report Listing
Event History
The 2019 7th Annual FL3TCH3R EXHIBIT is an international juried exhibit focused on socially and politically engaged art. The goal is to recognize and advance this endeavor by providing a venue for the exhibition of socially and politically engaged art. Furthermore, the exhibit's proceeds after expenses will fund the Fletcher H. Dyer Memorial Scholarship for an art and design student. In its seventh year, the exhibit is in memory of Fletcher H, Dyer, 22, senior in Art and Design at ETSU, who was lost in 2009 motorcycle accident in Jonson City, TN. As an artist and designer, his passion for art was a vehicle that allowed him to mirror his passion and marry it to a concern for social and political issues through visual arts. Fletcher wrote, "I dream of making a difference in some way with my art, I might attempt to right political, social, and religious wrongs by showing the rest of society a glimpse of how I feel about serious issues in the world…Hopefully the awareness that I can help create will spark an interest in a movement that others will follow." Fletcher's work embodies a deliberate perspective of his personal endeavor to employ art as social and political commentary.
What Makes this event different?
The exhibit was created in 2012 and offered submissions the first time in Fall 2013. It started as a national juried exhibit but within one year became multi national and within the next year was considered international. The exhibit has become an extended family of FL3TCH3R artists concerned about social and political issues. Though we offer numerous awards, the exhibit funds a memorial scholarship in Fletcher H. Dyer's name to art and design students after expenses.
INTERNATIONAL ARTISTS SUBMIT 2019 FL3TCH3R EXHIBIT ENTRIES ONLINE: http://fl3tch3rexhibit.com/enter.html
FL3TCH3R Exhibit: A Sociopolitical Forum
2019 exhibit accepting submissions through Aug. 23, adds new awards, announces activist Sue Coe as juror
JOHNSON CITY, Tenn. – In 2019, the seventh annual exhibition at East Tennessee State University's Reece Museum will run – Sept. 30-Dec. 13 – and  feature a juror known worldwide for her books, essays, political graphic art and unapologetic activism, Sue Coe.
The FL3TCH3R Exhibit itself was created as an equally unapologetic forum for social and political expression through the visual arts. The exhibition is in memory of Fletcher Dyer, senior ETSU Art & Design student who was in a fatal motorcycle accident in 2009.
"Every year we are humbled by the new bonds we've formed, the roots we have grown, the loyal supporters who are here year after year and by the soul-touching artists and their work that is unearthed, We know now more than ever how important this exhibit is for establishing common ground for our community and the voices of social responsibility that are formed."
The 2019 FL3TCH3R Exhibit Calls for Entries to artists through Aug. 23, 2019, with an extended deadline of Aug. 31. A non-refundable fee of $40 is required for submission of up to three entries, with an additional $10 fee per artwork/title over three. Artists should submit entries online or consult the prospectus, which can be found at www.FL3TCH3Rexhibit.com/downloads/prospectus.pdf. The extended deadline, with an additional fee, is Aug. 31, 2019. 
A portion of the entry fees funds the Fletcher Hancock Dyer BFA Graphic Design Scholarship Award given annually to an ETSU Art & Design student. 
Work submitted for the FL3TCH3R Exhibit should reflect current issues that affect contemporary culture and investigate societal and political concerns. 
Submissions will be considered and selected this year by printmaker and author Sue Coe, who began her visual art career in the U.S. as an illustrator for The New York Times Op-Ed page, as well as The Nation, Entertainment Weekly, The Progressive, The New Yorker and Rolling Stone magazines. Coe has become known for her stark renderings of victims and their tormentors – including the Ku Klux Klan, famine in Africa, factory farming, mistreatment of dogs and certain political figures – as well as for her activism, essays and four books.
New this year are two memorial awards, the first, in memory of former Art & Design faculty member and chair Jack Schrader, known for his filmmaking, photography and sculpture. Schrader died on Nov. 7, 1993, while serving as chair of the department and second an award in memory of Dorothy Carson, the mother of graphic design legend David Carson. 
"I am excited for the exhibit to offer more awards celebrating significant arts supporters, as well as benefiting more FL3TCH3R artists whose work is also celebrated," says Wayne Dyer, Fletcher's dad and graphic design faculty member at ETSU.  
The FL3TCH3R Exhibit's more than $1,000 in awards will be presented at the exhibition reception and juror talk on Thursday, Nov. 7, 5-8 p.m. at ETSU's Reece Museum. The talk by Coe is 5-6 p.m. and the awards presentations and reception 6-8 p.m.
"We are confident that the exhibit has facilitated Fletcher's dream to 'create a movement that others will follow,' " says Barb Dyer, Fletcher's mother and a local lawyer. "We know Fletch would love the extended family created by the exhibit and all of us hope that it will continue to grow."
PLEASE POST & SHARE THIS ANNOUNCEMENT AMONG YOUR NETWORKS. 
About Fletcher Dyer, visit http://fletcherdyer.com/about.html. 
About the exhibit and submissions, visit http://www.FL3TCH3Rexhibit.com. 
Reece Museum, visit www.etsu.edu/reece.
Download the Prospectus: http://fl3tch3rexhibit.com/downloads/prospectus.pdf, or 
"Like" us on Facebook https://www.facebook.com/TheFl3tch3rExhibit.
email: fl3tch3r.exhibit@gmail.com

Website: http://www.FL3TCH3Rexhibit.com