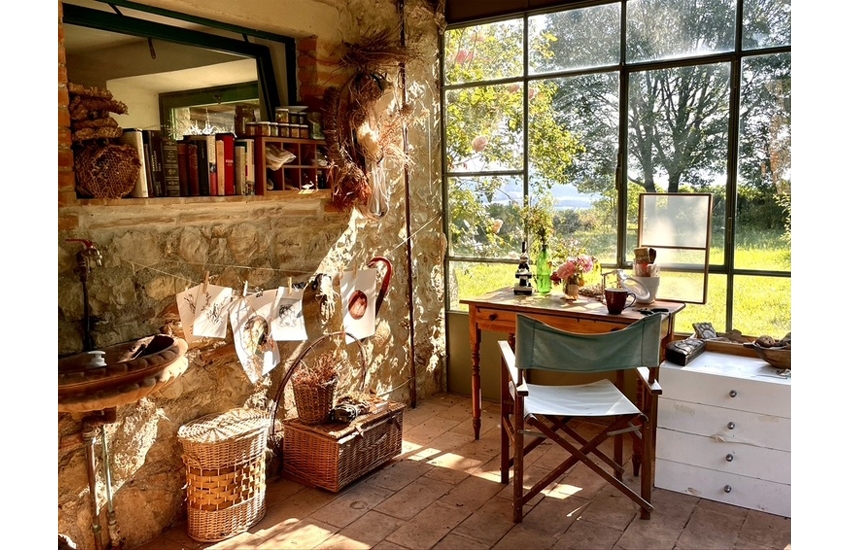 Email Friend
Add to Favorites
Report Listing
Event History
This is a brand new residency program run by Artists. Currently there is no funding for Artists but will be in the future.
What Makes this event different?
This residency aims to enrich each person's practice by paying closer attention to all living organisms, which depend on each other for survival and aims to open up discussions on why we need to prioritise biodiversity. Artists and scientists have long looked to nature for inspiration, and the subsequent innovations have led to great leaps forward in culture, society and technology.
Copyright Policy
The artist/photographer maintains copyright ownership of all work created at Studio Verde
ART & ECOLOGY RESIDENCY
SEPTEMBER 1st - 22nd 2021
Umbria, Central Italy
​
(Deadline July 29th) 
​
This three week program is open to emerging and established artists, curators, and researchers across a wide range of artistic practices. It offers artists an opportunity to be immersed in the Italian countryside with an emphasis on merging Art and science. Workshops by local specialists on ecology, introduction to animal monitoring, botany and entomology  will run at the beginning of the program for 12 days enabling artists to collaborate and integrate art and science after which the residency will be self-directed. 
​
Max three participating artists 
​
 Residency fee paid by artist €500 per week *
​
This covers: Accommodation /Food /Specialist fees for workshops & lectures /Excursions /Local transportation 
​
*This is a brand new artist run residency and currently do not have funding at this stage however we are actively working on this to offer support for artists in the future. We can provide a letter of confirmation for selected artists to assist them in applications for funding. 
Ecology: 5 days
Principles of biology/ ecology  
Introduction to the local fauna 
Lecture on reptiles/amphibians
Introduction to animal monitoring using Camera traps
Identifying tracks & signs
Local History/Sustainable/agroforestry and tradition (olives, hunting,chestnuts)
Conservation 
Botany: 2 days
Introduction to how grasslands are formed
Landscape reading/Vegetation of the area
Microscopic view of the importance of plants, adaptive strategy 
How to press plants and make herbarium collections, how to label specimens
Entomology: 5 days
Insect ecology: interaction insects-plants, interaction among insects (predation and parasitization).
Insect classification: principal families of insects and how they differ. Insect morphology: Observation of insect shapes and structures.
Observation of insect specimens, alive insects and insect "artifacts" (galls, galleries into wood, …).
Observation of insects in the wild, walks/hikes: what to look for, observing insects and interpreting signs of insect activity.
Collecting and preserving insects/ light trap for night collecting.
THE SPACE 
​
Artists are provided a private double bedroom. They have full access to the communal house, library, kitchen, living room and patio. Maximum three artists at a time.
​
Artists have 24 access to the ground floor conservatory studio as well as the outside workshop space. There are trails that take you up to the mountains from the house and beautiful walks through medieval Italian villages and archaeological sites.
All meals will be provided (vegetarian-  collected from the garden or locally sourced)
​
Specific trips can be arranged depending on what projects the artists are developing.
​
The objective is to provide artists with a natural environment and enrich their experience, providing them with an introduction to the ecology of the area that will inform their practice.
HOW TO APPLY 
​
The deadline for application is JULY 29th. A complete application should contain the following:
​​
A brief letter (max 500) of motivation considering the location of Studio Verde

Artist statement, short biography and CV 

Link to portfolio / website / film

5 images of examples of recent work 
​
Please email your application to studioverdeair@gmail.com
​
​
HOW TO GET HERE
BY PLANE:
Fly to Roma Fiumicino Airport – take the train to Orte – someone will be there to collect artist/s from the station 
​
OR
​
Fly to Roma Ciampino Airport– take a bus from the airport to metro station Anagnina –Metro A Anagnina to Termini train station - Train to Narni Amelia* -someone will collect artist/s from the station – an additional 30-minute drive to the house
*There is about a 15 min walk to the platform in Termini station