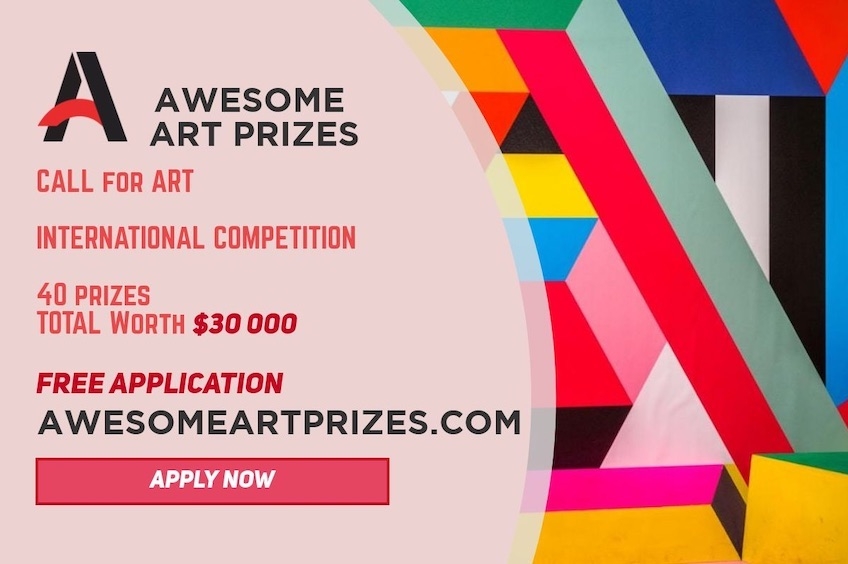 Print
Email Friend
Add to Favorites
Report Listing
What Makes this event different?
By promoting artists and their art we aim to engender the feeling that all is possible. One of the effects is to help start the process to be an inclusive citizen. We stimulate and provoke artists' engagement. We actively promote Equality, Gender Equality, and Women's Empowerment.
Copyright Policy
ARTISTS ARE ENTIRELY RESPONSIBLE FOR THE CONTENT, THE PICTURES OR TEXT SUBMITTED FOR PUBLICATION ON ALL OUR MEDIA. ARTISTS RETAIN FULL COPYRIGHT TO THEIR WORK. The entrant artist, allow us a perpetual, non-exclusive, license to publish images of the entry/work in all our publications for marketing and ad purpose, whatever the media. • We never sell data or pictures of artists' works. We do not use the pictures of artwork for commercial purposes.
Image Usage Rights
By entering this art competition, the artists are granting AWESOMEARTPRIZES a non-exclusive perpetual license to reproduce images of their artwork for our own competition advertisements and marketing on all kinds of media.
AWESOME ART PRIZES SPRING EDITION
Our art contests are international and open to all.
Our calls to artists are known for offering high-quality, high-value contests with awesome awards products. We offer an entry for artists that suits the modern artist's marketing landscape. It's no wonder each awesomeartprizes call for artists generates enthusiast artists enjoying a boost in their career.
We help promote you and make useful products to showcase your work to the world. Our calls to artists are here to give all of you the same chance to boost your career.
The art calls are affordable and easy to apply to. There are free reduced entries and full application if you want to load more images. Our call for art are contests with awesome prizes to satisfy any artist's promotion and marketing needs.  
Our art contests can help reduce the time it takes to move from an initial concept to promotion-ready tools for artists. Your followers and clients will love you for it!
Awesomeartprizes.com is an independent online curatorial platform. We understand and promote artists worldwide to art lovers, to private and professional art buyers and Galleries. The contests are open to beginners and professional living artists, no special qualifications are required for your participation.
Our prizes are cash grants, strong print and online visibility, and many of the most advanced presence and career booster tools for an artist. Prizes are organized to highlight, promote and support you as a contemporary artist.
 We want you to get the applauses and the rewards you deserve.
 One entry is free for all and only $30 for 4 extra artworks.
AWESOME ART PRIZES PACKAGES.  
 – 1 PLATINUM PRIZE
 The Awesome Platinum Art Prize is a package worth $5000.00.
 – 3 GOLD PRIZES
 The Awesome Gold Art Prize is a package worth $3000.00.
 – 6 SILVER PRIZES
 The Awesome Silver Art Prize is a package worth $2000.00.
 – 10 EXCELLENCY PRIZES
 The Awesome Excellency art Prize is a package worth $1400.00.
 – 10 HONORABLE PRIZES
 The Awesome Honorable Art Prize is a package worth $1000.00.
 – 10 MERIT PRIZES
 The Awesome Merit Art Prize is a package worth $800.00.
IMAGE REQUIREMENTS FOR ENTRIES
 Files format accepted are JPG or JPEG files.
 Files should be less than 2MB.
 APPLICATION
 Artists must be at least 18 years old.
THE ARTWORK
We accept in competition Only original artwork made and signed by you the living artist. Artwork must not be older than 3 years. 
ENTRY FEES
· THE ENTRY IS FREE FOR ONE ENTRY AND $30 FOR UP TO 4 EXTRA ENTRIES (5 IMAGES: ONE FREE AND 4 PAID ENTRIES).
 The fees are non-refundable.
 · Repeat Entries
 There are no restrictions on how many paid entries you can apply.
 For each extra application, you can upload a new competing artwork for $30 for 4 Extra images.
TYPOLOGY OF WORKS
 • Competition is open to 2 and 3-dimensional artworks.
 • Pictures of your works will not be used for commercial purposes.
 - Artists keep full copyright of their work.
 Art that depicts graphic racial or sexual violence is not acceptable.
 DATES AND DEADLINES
 · Beginning of subscriptions: 15 January 2020.
 · Subscriptions deadline: 15 March 2020.
 · Participants vote: from 16 to 26 March 2020.
 · Only paid and registered participant artists have voting rights.
 · Notification of winning artworks: 05/April 2020
 JURY
The composition of the jury will be published after the notifications to the winners. The jury will name 40 winners.
SELECTION MECHANISM
 Prize winners are selected by the quality of their artwork's overall rating, assigned by the artists' online vote, by the jury, and by our head curator.
 . The vote is open from the 17th March to 26th March 2020 for all the artworks.
 . Free entries do not give voting rights.
RESTRICTIONS
The artists agree to be bound by all our rules and policies.
Learn more: https://www.youtube.com/channel/UCnlHfSS4p9yAWpxB6DOrkAA?view_as=subscriber
For more information about this opportunity for artists, please visit the Event Website.