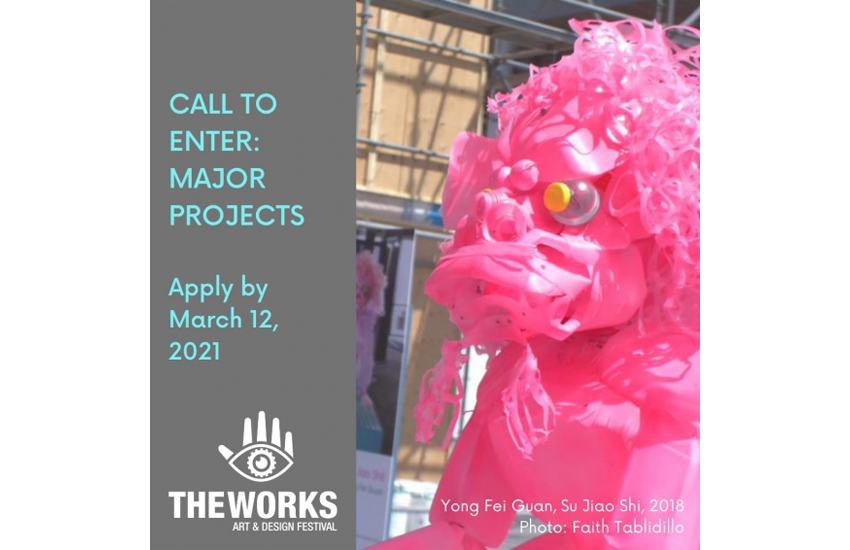 Email Friend
Add to Favorites
Report Listing
The Works International Visual Arts Society advances the development, awareness and appreciation of art and design in Canada and provides a forum for the exchange of ideas between artists, designers and the public.
The Works seeks proposals for temporary works or installations to animate Sir Winston Churchill Square and other outdoor public spaces. Proposals will be assessed on an ongoing basis; artists are encouraged to apply early.
Successful projects will consider:
Feasibility and compatibility with strong public health restrictions

The potential for remote or online interpretive programs

Safe interaction with audience

Weather-worthiness with minimal supervisory needs once installed
The Works is dedicated to accessibility, inclusion, interactivity, and socially engaged practice.
Proposals must include:
Contact Information in Full, as per the online application form.

Artist/Curator Statement - a concise and clear articulation of the project's themes, meanings, intentions, or relevance according to the artist. The artist/curator statement should transcend mere physical description of the project.

Project Description - a detailed physical description of the exhibit or event. Include program type, title of show, mediums, number of pieces, dimensions, optimal space and facilities requirements, technical requirements, necessary amount of time for install and dismantle, level of required technical and production support, etc. Include anything which will contribute to a clear and complete visualization of how the exhibit or event will be produced and be presented to the public.

Detailed Timeline including any advance preparation, installation, and dismantle.

Complete, Projected, Global Budget - All budgets are subject to approval by The Works and are negotiable.

Visual Documentation - A portfolio of 5-20 quality images of work representative of the proposed exhibit. Major Projects may include actual works to be exhibited, or drawings and similar works if in development. Still images may be 8x10 printed images or digital images. Digital images should be 1 MB or less each, and no more than 8 MB collectively. Videos should be submitted as links to view or download.

Visual Key corresponding to all documentation in the aforementioned portfolio. A properly titled inventory of all visual documentation items: each entry must include inventory number corresponding to the item, artist name, title of artwork, date, medium, dimensions, photo and credit.

Artist List - If applicable, include list of all participating artists. Each entry must include city of origin and details of included artwork. If the artist list is not available, an explanation and plan must be provided.

Curriculum Vitae of artist(s) and/or curator.
Selection Criteria
The following will be considered when selecting exhibits and presentations:
Artistic merit

Feasibility of project

Compatibility with all levels of public health guidelines