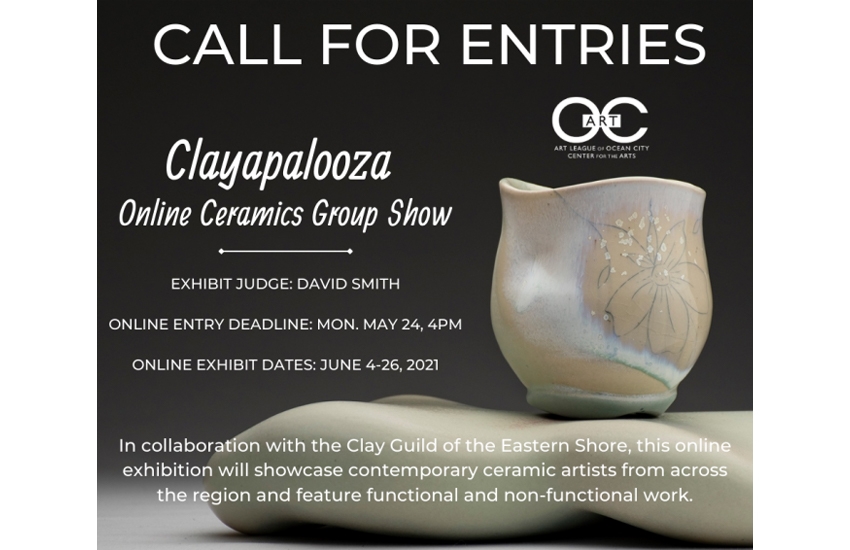 Email Friend
Add to Favorites
Report Listing
In collaboration with the Clay Guild of the Eastern Shore, this online exhibition will showcase contemporary ceramic artists from across the region and feature functional and non-functional work. Artwork will be displayed online on our website and on a monitor at the OC Center for the Arts during the month of June.
**Please indicate functional or non-functional in the "MEDIUM" field below
Exhibit judge: David Smith
Online entry deadline: Monday May 24, 4pm EST.
Online exhibit dates: June 4-26, 2021
Entry fee: $10 for members/ $15 for non-members per piece. Up to two pieces per artist. Entry fees are non-refundable. Member rate extends to both members of the Art League of Ocean City and the Clay Guild of the Eastern Shore.
Prizes awarded for first place in the functional category: $200, first place non-functional: $200, and honorable mentions as merited.
Sponsored in part by the Worcester County Arts Council and Maryland State Arts Council.
Eligibility: Artists must be 18 years or older and may submit up to two pieces of original artwork for consideration. Artwork must be created in the past three years and never before shown at an ALOC judged show.
Sales: The ALOC receives a commission of thirty percent (30%) of the sale price of artwork and all sales of artwork exhibited must be processed through the ALOC. If the sale price was discounted through an ALOC member purchase discount, the artist will still receive 70% compensation as a percentage of the asking price. Payment will be made by check to the artist by the end of the month following the exhibit.