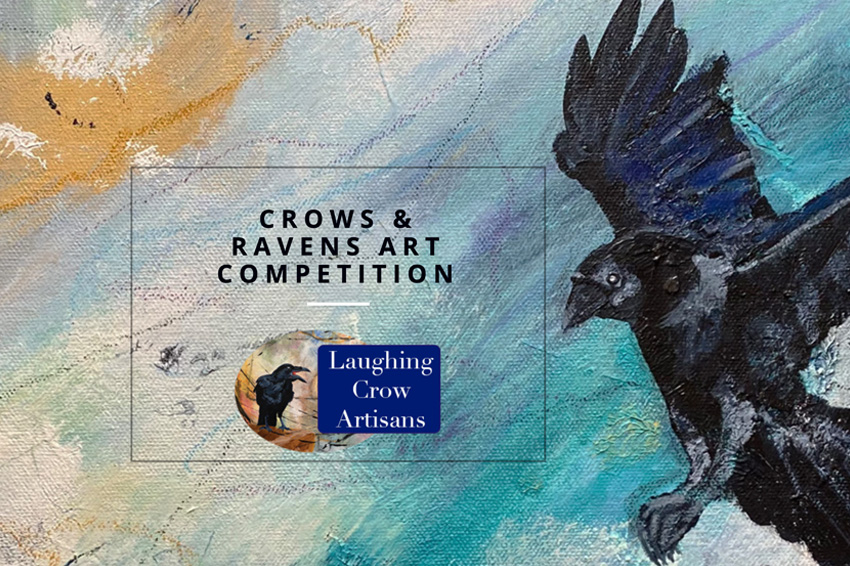 Add to Favorites
Report Listing
Copyright Policy
Artists maintain copyright of their works.
Image Usage Rights
Images submitted for entry may be used for promotional purposes and top 10 finalist's images will be displayed on the Laughing Crow Artisans website during the exhibition period.
Art Competition for Artists and Photographers
Do you love ravens and crows as much as we do?  We hope so!  Laughing Crow Artisans is organizing an exhibition of crows and ravens that will open October 1st, 2022 through December 15th, 2022, in our East Gallery. To make sure we get some great art submissions we are offering cash prizes totaling $1000+.
The following media is permitted and you can submit up to 3 entries. Submissions are open July 15th, 2022 and end September 8th, 2022. Public voting will begin August 1st, 2022, and goes through September 15th, 2022, to determine the top 20 artists with the highest number of votes.  The top 10 finalists will be selected from the top 20 by gallery owner, Jane Mortimore, on September 16, 2022. 
Acrylic Paintings
Oil Paintings
Watercolor Paintings
Gouache Paintings
Pastel Paintings
Mixed Media
Pencil Drawings
Charcoal Drawings
Pen & Ink Drawings
Printmaking
Photography
Laughing Crow Artisans is sponsoring this art competition to support and bring awareness to artists and to raise funds to help us continue renovations on the 100+-year-old Brown Hotel Building in which we're located. Our building is a registered cultural property in the State of New Mexico. We've been working hard to renovate it and recently opened an gallery on the first floor. We still have a lot of work to do on renovating the remainder of the building and hope to open an artist retreat where artists attending our workshops will be our guests in the 14 upstairs European-style guest rooms. You're participation in this competition (whether you are an artist or vote for an artist) can help make this happen. 
For more information about this art competition, please visit the Event Website.