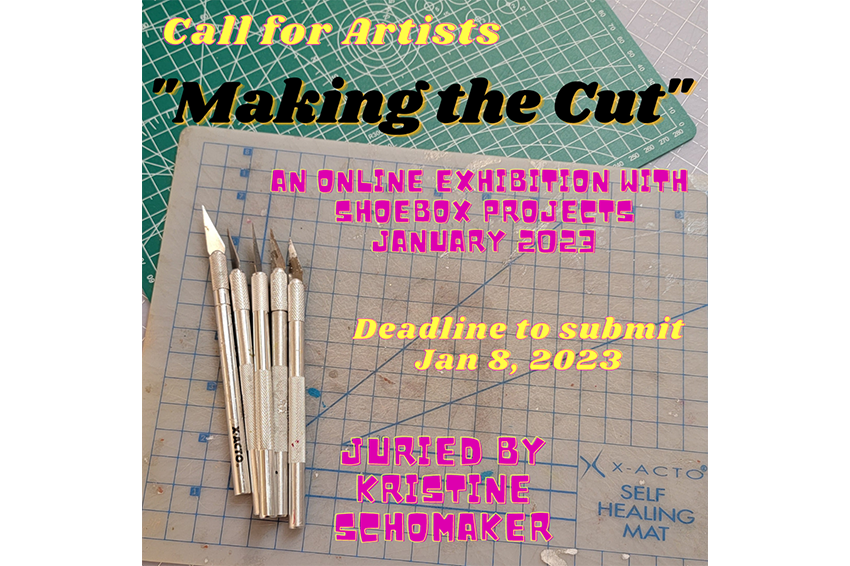 Email Friend
Add to Favorites
Report Listing
"Making the Cut"; Curated by Kristine Schomaker: Shoebox Arts Founder, Mentor, Publisher, and Artist
Art can be dangerous. Sometimes on purpose, sometimes... well, accidents happen. I have friends who use fireworks in their art, some use fire, others have used guns. But I find the real danger is the Exacto Knife. Ouch. Those paper cuts are vicious!!
I have been wanting to curate a show of cut art for a while. Cut art may be different from collage, but it is also the same. What do you do with the cut pieces? Do you glue them? Hang them? Tape them to the wall individually? (I do that) I want to see your diverse ways of presenting cut art.
Shoebox Arts invites you to submit work for this national open call ONLINE exhibition at Shoebox Projects, our alternative art space that supports artists through curator opportunities, residencies, representation and exhibitions. This online exhibition runs January 22, 2023 through February 17, 2023.
Artwork can be any media (Drawing, Video, Painting, Sculpture, Digital, Intermedia, etc.)  but should address the "Making the Cut" idea somehow.  2D artworks may include screen grabs from moving imagery but will be juried as a static image. If you want the entire moving piece to be viewed, it must be submitted as a video.  Work that requires specialized equipment to view will not be considered.
Artists may submit up to 3 pieces (images and/or videos) for consideration for a non-refundable $15 submission fee. Up to 7 additional images (for a total of 10) may be presented for an additional $5 ea. There are no size limitations on artworks that can be submitted. All fine arts visual media will be considered.
All sales will be handled through the artist. The gallery will take no commission. Interested parties will be directed to the artist.  Artist is responsible for timely payment arrangements, any applicable taxes and delivery of work.
Important Dates
January 8, 2023 at 10:59 PM PST: Deadline for submission
January 15, 2023:  Announcement of accepted artists and works
January 22 to February 17, 2023: Exhibition dates
January 22, 2023 from 3-5pm PST: Zoom:  Opening Reception and artist talk
Awards:
First place - online solo show at Shoebox Projects (2023)
Second place $100
Third place $50
Kristine Schomaker is a multidisciplinary artist, art historian, publisher, curator and mentor living and working at the Brewery artist complex in Los Angeles, California. She earned her BA in Art History and MA in Studio Art from California State University at Northridge where she studied under Betty Ann Brown and Samantha Fields. In 2014 Kristine founded Shoebox Arts, a support network that focuses on creating community and offering mentorship and resources to artists.
Kristine is also the publisher of Art and Cake, a contemporary L.A. Art Magazine focusing on underrepresented artists and exhibitions. Kristine has taught art history at Antelope Valley College and Pasadena City College, formed an artist collective in Los Angeles and has organized and curated numerous art exhibitions throughout Southern California. Kristine is currently the president of the CSUN Arts Alumni Association.