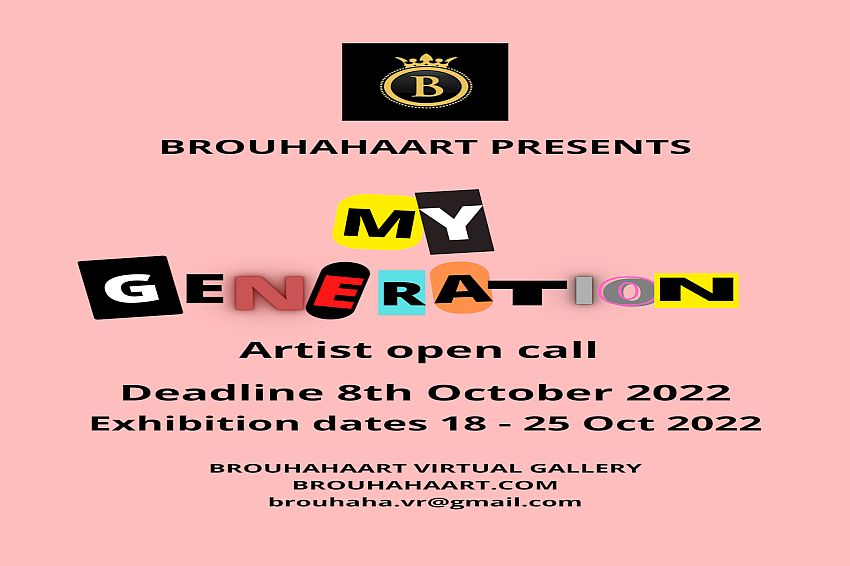 Add to Favorites
Report Listing
What Makes this event different?
"MY GENERATION" is a 3D Virtual Reality Art exhibition. We will not need physical works of art. Artists can sell their works. We take 0% commission. Any sale inquiries are directed back to the artists. If selected, you will receive an Invoice requesting online payment for submission fee. Per artist, not per artwork.
Image Usage Rights
Copyright Artist retains the sole copyright for the images 
Submitted artworks will be promoted to our social media & newsletter if desired. 
Submitted images can be available for public viewing on the BROUHAHAART's website and social media, including in relation to promotional activities for the contest and the business. 
All display images will be credited with their artist's name. 
Submitted works will be promoted to our social media & newsletter if desired. 
Please email all the following information to brouhaha.vr@gmail.com and quote "MY GENERATION" on the subject of your email. 

· How to Apply: Up to 2 images by email (jpeg format, up to 5MB each image). 
· Please name each file with the title of each artwork (e.g., "Untitled. JPEG") 
· [No political, pornography or hate artworks will be accepted].
 
·· Details of the artwork (title, size, medium and price). (e.g., "Untitled", 50 x 70 cm, Oil on Canvas, price. 
· A brief bio about the artist / artwork (100 words max, preferably written in the 3rd person) 
· Send us your website and social media 
· Statement confirming you are the author of the original artwork and it not infringe the rights of any third party.
DEADLINE for submissions: 8th October 2022 [6pm London time]
EXHIBITION DATES: 18th - 25th October 2022
For more information about this opportunity for artists, please visit the Event Website.