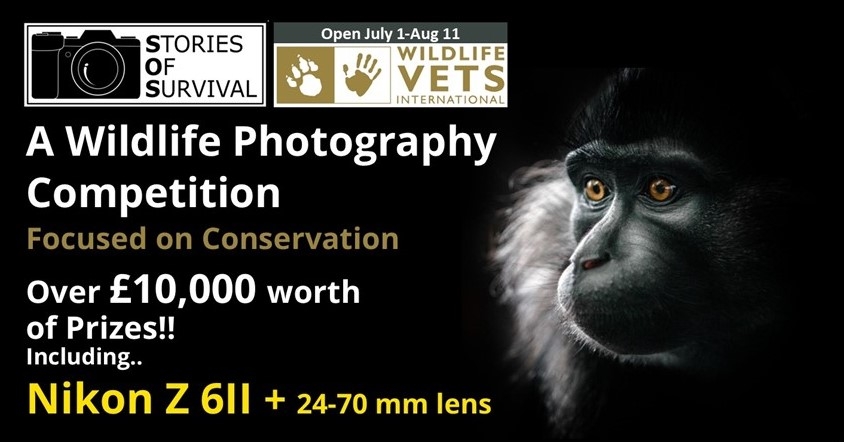 Email Friend
Add to Favorites
Report Listing
What Makes this event different?
This is an event focused on conservation. As such the organisers are requiring all entries to be accompanied by a caption describing the species featured and one of the threats it faces.
Could Your Photos Help to Save a Species?
Announcing the launch of a brand-new Wildlife Photography Competition, called Stories of Survival. The idea behind the competition is to move beyond images that simply amaze and inspire us, and use participants' skills to highlight the challenges so many of our species face.
To achieve this, organisers, Wildlife Vets International, require that each image be accompanied by a caption, describing the animal featured and one of the threats to its survival. The hope is this will not only educate and engage the audience, but also the photographers themselves, as they are called upon to research and review their subjects.
 "There is still time to make a difference" says WVI's executive director, Olivia Walter "But it's going to take all hands-on deck. That is why we wanted to make this competition as accessible as possible, to really drive home the message that conservation is for everyone, not just people we see on TV, and we can all get involved and do our part".
There are six categories in the adult competition, as well as separate youth and camera-phone sections, so plenty of opportunities to get involved, and all proceeds go to support the work of WVI.
Winners of the adult and youth competition will be selected by a panel of six internationally acclaimed judges. Care has been taken to ensure there is a range of expertise, good geographical representation, and that the panel is gender balanced. The camera-phone section will be judged by a public vote and 12 winning entries incorporated into a 2022 Calendar.
About Wildlife Vets International 
Saving species from extinction is a complicated puzzle. There's no quick fix and the challenges we face are immense. Poaching, habitat loss and pollution are just some of the huge problems that are made worse by unexpected outbreaks of disease. Wildlife Vets International provides vital veterinary support, training and expertise to conservation projects worldwide. We work with a wide range of partners and species across the world from Amur tigers in Russia and forest elephants in Africa, to birdlife in Mauritius and sea turtles in the Mediterranean. We believe the sharing of knowledge is crucial to successfully save endangered species. Together we can train more people on the conservation frontline to use veterinary science so that wildlife can survive and thrive.