The deadline to participate in this event has passed. Find other call for entries and opportunities by browsing this site. Try search for other events in the
PHOTOGRAPHY
»
COMPETITIONS & CONTESTS
category.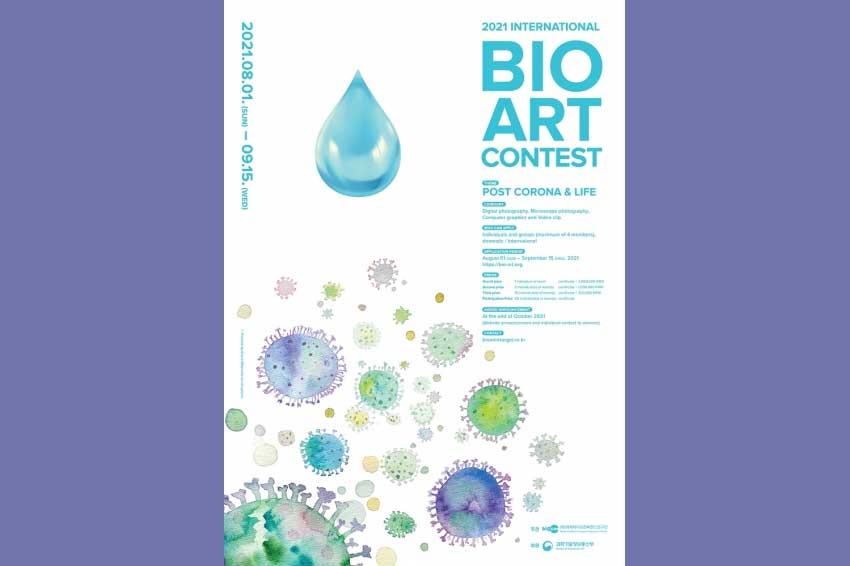 Add to Favorites
Report Listing
■ Theme: Post Corona & Life
"Changed Life since Corona Outbreak, and the Hope of Human Kind"
Many people have been sacrificed, and the streets blocked.  Invisible viruses made us lose our usual and peaceful life.  Maybe, it occurred because we were not afraid of the nature and broke the lives and circumstances. Though humankind went through the crisis, they developed and distributed vaccines fast and strengthened prevention of epidemics.  Though humans are in a better condition than before, the viruses which evolve threatens them.
 Our life changes so much as to divide our life into preCorona and postCorona. Untact cultures became usual, such as on-line based home working, remote working etc.  Maybe, life in vertical space called metabus will approach us naturally in the future.  We have to turn lemons into lemonade and recognize that the earth is a community on which we have to help and lean each other.  In addition, we have to dream 'hope' together so that we can make the earth an everlasting life base by respect and consideration.
■ Who can apply
- Individuals and groups (maximum of 4 members), domestic / international
■ Category
- Digital photography, Microscope photography, Computer graphics and Video clip
■ Submissions guidelines
- Digital photography: Image should be minimum 3000px on the longer edge. Submitted as JPG file 3MB ~ 50MB.
Partial retouched is allowed, but editing, composition and synthesis are prohibited.
- Microscope photography: Image should be taken in the maximum resolution supported by device. Submitted as JPG file 3MB ~ 50MB.
- Computer graphics: Image should be 300dpi or higher resolution in A2 paper size (420mmx594mm). Submitted as JPG file 3MB ~ 50MB.
-The Video clips: Screen size should be in HD(1280 × 720) or FHD(1920 x 1080) square pixels. Play time should be within 3 minutes. File format should be MPEG4 (you may select H.264/AVC1 as compression codec).
-The file name should be ex) SusanLee_the beauty of life"
-The file should contain contents that meet the purpose of Bio-Art international contest.
■ How to apply
- Submit and upload your artworks via the e-mail. (http://bio-art.org, bioart@target.re.kr)
- Consult with the organizer if you want to submit your own special work.
- In case of fine art (painting, drawing etc.), it can be submitted as well, if it can be scanned in high quality to meet image specifications above.
■ Application period – August 1 (Sun.) ~ September 15(Wed.) .2021 (The mail is valid until September 15 on the postmark.)
■ Prizes
- Grand prize (1 individual of team) certificate + 3,000,000 KRW
- Second prize (3 individual(s) of team(s)) certificate + 1,000,000 KRW
- Third prize (10 i individual(s) of team(s)) certificate + 300,000 KRW
- Participation Prize (20 individual(s) or team(s)) certificate
■ Judging
- Judges- Professors or Experts related Bioscience, Art, and Education
- Judging criteria- artistry, technology, creativity, popularity
■ Award Announcement
- October 2021 (Website announcement and individual contact to winners)
■ Exhibition schedule
- November 2021 (Online Exhibition)
■ Organizer : Medicinal Bioconvergence Research Center
■ Notes
1) Winning works will not be returned. The supervisors can use prize-winning works for promotion and advertising of the event to produce exhibits, drawings, postcards, etc.. The works also can be registered in online photo galleries.
2) Public charge and tax for prize money will be applied.
3) For the winning team, the prize will be awarded as a team, but the prize money will be paid to the team leader.
4) Depending on the quality and quantity of participant's works, the details of award are subject to change. 
5) Works with inaccurate candidate information or works with not works not complying with the work specifications and requirements can be exempted from the evaluation.
6) In case of entering a winning or similar work by another competition, the award will be cancelled.
7) In case of plagiarism, copyright, or award-winning problems, the exhibitor is responsible for all legal responsibilities, including the return of the prize and the invalidation of the winnings.
8) Details of the contest, such as the announcement of the award and award-winning works, may be changed by the circumstances of the organizer, and changes will be posted on the website.
■ CONTACT
- Email : bioart@target.re.kr