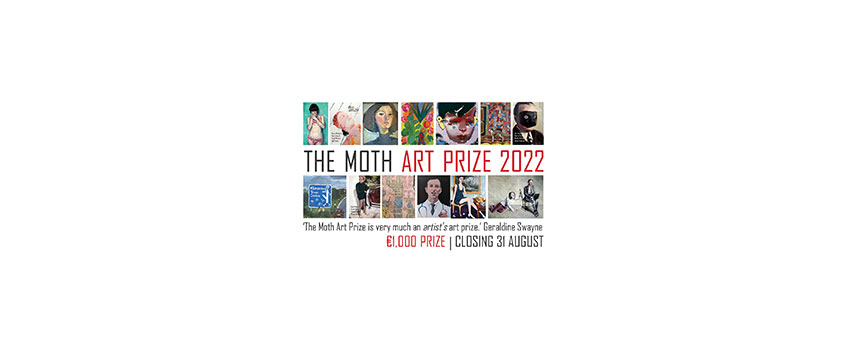 Email Friend
Add to Favorites
Report Listing
Event History
The competition is in its seventh year. The winner each year is announced in the Irish Times and widely on social media. Work by the winning artist features in the winter issue of The Moth - an art & literature magazine like no other. Past winners: David Piddock, Bradley Wood, Gregory Mortenson, Geraldine Swayne, Craigie Harper and Blanca Amoros.
Copyright Policy
The artist maintains copyright ownership.
Image Usage Rights
Some work by the winning artist will feature in the magazine. Other commended artists may also be asked to contribute.
The Moth is looking for two-dimensional portraiture, figurative or other representational work of any size – work that is courageous and bold and is in tune with their aesthetic, contemporary but timeless. 
Work should be submitted for consideration in the form of good quality digital images (up to 10) suitable for print to mothartprize@themothmagazine.com.
'I consider the artists who have won The Moth Art Prize to date to be exceptional painters. It is a real honour to be part of this group and I am truly grateful.' Blanca Amorós
'Being selected for The Moth Art Prize was a real surprise. I am particularly delighted to have my recent paintings featured in The Moth – a prestigious honour, given the standard of work curated in the magazine.' Craigie Harper
'I am very honoured to receive The Moth Art Prize. It feels pretty rare to be acknowledged for what I can paint, rather than what statement I can write. The Moth Art Prize is very much an artist's art prize.' Geraldine Swayne
'I'm over the moon about winning The Moth Art Prize. The Moth has always been brilliantly curated, with exquisite artwork and thoughtful writing throughout.' Gregory Mortenson
'I am so grateful to the folks at The Moth for awarding me this prize. I think getting out of New York for a bit will be healthy. It will be an amazing and much-needed time to regroup, reflect on my work and tinker with some new ideas.' Bradley Wood
'A lot of credit should go to The Moth, always wonderfully idiosyncratic and beautifully designed, for launching the prize and responding to figurative painting, largely ignored by the contemporary art scene. We have nothing like it in the UK.' David Piddock