The deadline to participate in this event has passed. Find other call for entries and opportunities by browsing this site. Try search for other events in the
PHOTOGRAPHY
»
JURIED EXHIBITIONS
category.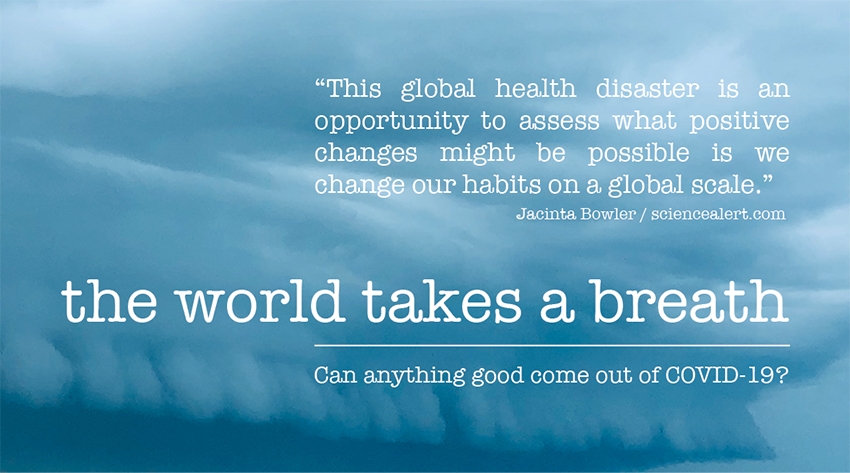 Print
Email Friend
Add to Favorites
Report Listing
Copyright Policy
Copyright ownership stays with the responding artist.
Image Usage Rights
The images of accepted work will be used in the online exhibition. Individual images may also be pulled to promote the exhibition online. Artists are encouraged to sell work through a direct link from the exhibition to their platform.
This is an open call for the online exhibition.  No fees. No limit on number of submissions.
the world takes a breath
Whether you are working in film or visual arts, sound or sculpture, written word or performance, we want to include your creative response to COVID-19. The intention is for this to be an online-only project to help artist's with exposure at a time when the world's galleries are closed. This is a free community-based project without submission or inclusion fees. We will cover any hosting costs. Depending on entries, interest, and responses, there may be future opportunities for publication and presentation.
"Given the huge amount of evidence that breathing dirty air contributes heavily to premature mortality, a natural - if admittedly strange - question is whether the lives saved from this reduction in pollution caused by economic disruption from COVID-19 exceeds the death toll from the virus itself…Even under very conservative assumptions, I think the answer is a clear 'yes'."
Stanford University environmental resource economist Marshall Burke
We are looking to show work that shines a light on a 'better future'. Can this adversity somehow manage to unite a divided world? Are there any benefits from a worldwide industrial and social shut down? Will funding for hospitals, museums, or research be easier? Will working practices change? Will crime hit new lows? Will there be a population increase in early 2021? Will we all become cooking experts and avoid bars? Will we socialize differently? Will the case for global warming be globally accepted? What can we learn from this? Creating an exhibition around these and similar themes feels like a positive step to take right now.
We are hoping this will be a fast, powerful, and emotional response to a subject that for the first time in history the whole planet is talking about.
The provisional launch date is 15 April 2020 so please send initial expressions of interest with a brief outline of your work to me by 10 April 2020 at https://www.theworldtakesabreath.com/contact. 
 Please share this far and wide with friends, colleagues, writers, artists, and creatives. If you have any questions, please email me at rob@paperplaneconsulting.com.
Rob Warren.
For more information about this opportunity for artists, please visit the Event Website.