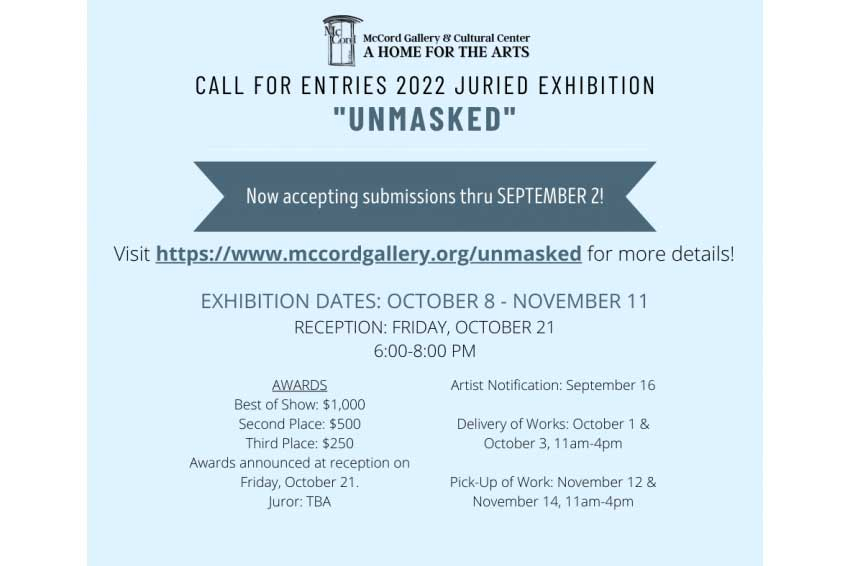 Add to Favorites
Report Listing
Art Competition - Juried Exibition
"UNMASKED": to reveal the true character of; a revelation; an unveiling.
​The McCord Gallery is inviting artists to apply for the upcoming exhibition "Unmasked". After a long year of being hidden behind our masks, we are looking to capture the artist's interpretation of "unmasking": to reveal the true character of something. It's an unveiling; exposing what was hidden; revealing the unexpected, literally or figuratively. What can be seen in a new way?
For this exhibit, we seek artworks created with Acrylic, Oil, Pastel, Pen & Ink, Charcoal, Collage, Color Pencil, Drawings, Mixed Media, and Watercolor ONLY. Artworks that were executed in any other medium other than those noted will NOT be accepted. We will NOT accept Giclees or reproductions of original works. All subject matter is included. Artists may submit up to 2 works for consideration for both the in-gallery exhibit and full virtual gallery of works on our website. All submissions will be considered. All styles and aesthetics are accepted, from traditional to contemporary. McCord Gallery selections are based on creativity, quality of artistry and originality as represented in the images submitted. The McCord Gallery & Cultural Center is a non-profit art gallery open to everyone; as such, the content of submissions should be appropriate for all viewers.