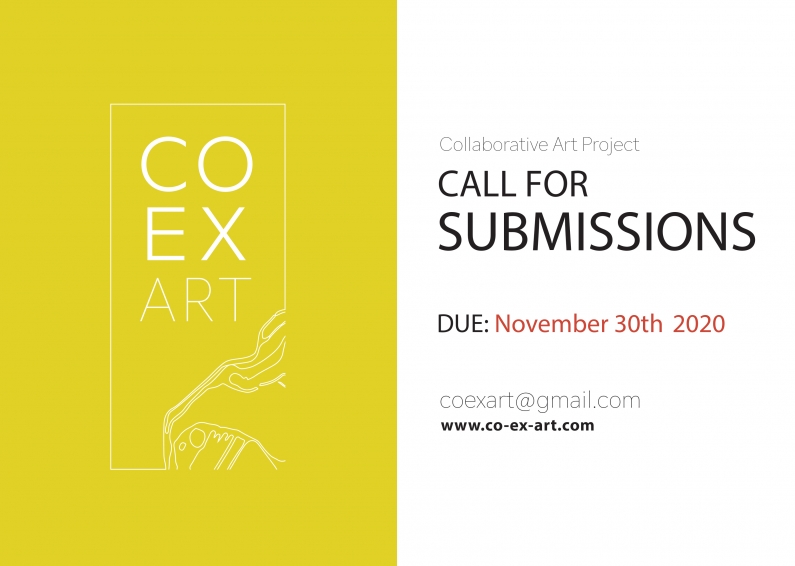 Add to Favorites
Report Listing
CO-Ex is a collaborative art guild. Our mission is to bring artists, makers, and designers alike together to problem solve, build, design, and co-create. CO-Ex contributors will have access to a network of connections, a personal profile, and the call for submissions of ongoing collaborative projects. Think of this as a home for ideas, support, and feedback—for projects big and small, keeping creativity alive, well, and in good company. 

Wild Things: collection 1
This first collection will focus on the intersection between poetry and visual arts, using Stevie Howell's Never saw a wild thing feel sorry for itself. To contribute to this project, artists must first read the collection's chosen poem and respond creatively in their medium of choice. The following is a non-exhaustive list of points of reflection to be considered by the artists of this collection:
Thematic interpretation: 

Love, heartbreak, and moving on
Mercy
Personal journey
The wildness in others and self

Poetic structure:

Line breaks
Page breaks
Rhythmic structure
Epigraph 

Specific passage:

"you Stoic, you stone"
"It aches malignant"
"Mercy can be misplaced as easily as keys"
"I never saw a wild thing/ feel sorry for itself"

Language and word choice:
To submit your work for consideration in Wild Things: Collection 1  we require a photograph or digital copy of the work as well as an artist statement to be sent to coexart@gmail.com. The artist statement should briefly describe the relationship between the artist's submission and the poem. We invite contributions from all artists, but once a submission period closes, a selection of the submissions will be made by a panel of cross-disciplinary artists. All the chosen pieces will be featured in the online collection.