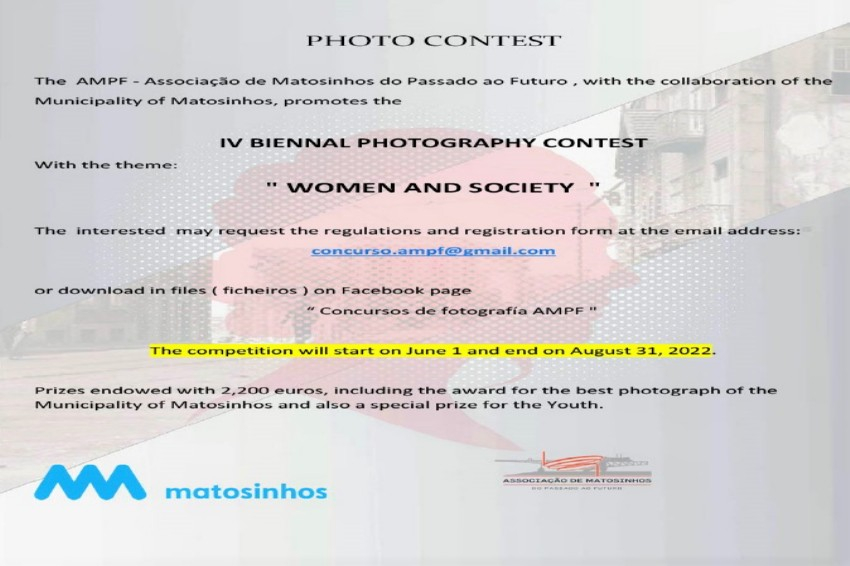 Email Friend
Add to Favorites
Report Listing
Event History
biennial photo contest. This is our IV contest. We started on 2016. We are improving and the participation of nationals or foreigners has been increasing significantly
What Makes this event different?
Recognized by many, the quality of the organization and the work presented. We want to continue to improve.
Copyright Policy
Usage rights The contestants of the 25 selected works, grant the AMPF - Associação de Matosinhos do passado ao futuro the rights to the creations presented in the competition, only for reproduction in the media and documents found relevant by the organization, with a view to their promotion. The AMPF reserves the right to prepare a catalog and/or publish the selected works in the media, accompanied by the name of their authors and competitors cannot do it themselves before the event takes place.
A ficha de inscrição deve ser solicitada para o e-mail: concurso.ampf@gmail ou descarregada da fotografia do Facebook "concursos de fotografia AMPF"
.
Último dia para recebimento das fotografias: 31 de agosto de 2022.
As fotografias devem ser enviadas em formato digital (JPG) no formato 60x40 cm com resolução de 300 pontos por polegada (DPI's), (7087 X 4724 pixels) e preferencialmente no padrão SRGB . Outros formatos são permitidos, desde o tamanho do lado maior.
Além disso .
A inscrição só é aceite se preenchida na totalidade os requisitos solicitados ficha de inscrição.
O participante compromete-se a que todas as informações fornecidas sejam verdadeiras.
Dada natureza do tema, os candidatos devem assumir a responsabilidade e inscrever-se na ficha de inscrição, aceitando o risco de inscrições de posteriores.
"Todos os direitos sobre uma imagem salvaguardada, tendo o consentimento do(s) retratado(s) na sua divulgação para efeitos de concurso e exposição subjacente."
Cada participante pode concorrer com um máximo de 5 (cinco) fotografias, (a cores ou a preto e branco) no formato JPEG.
As fotografias não devem ter identificação ou qualquer marca d'água.