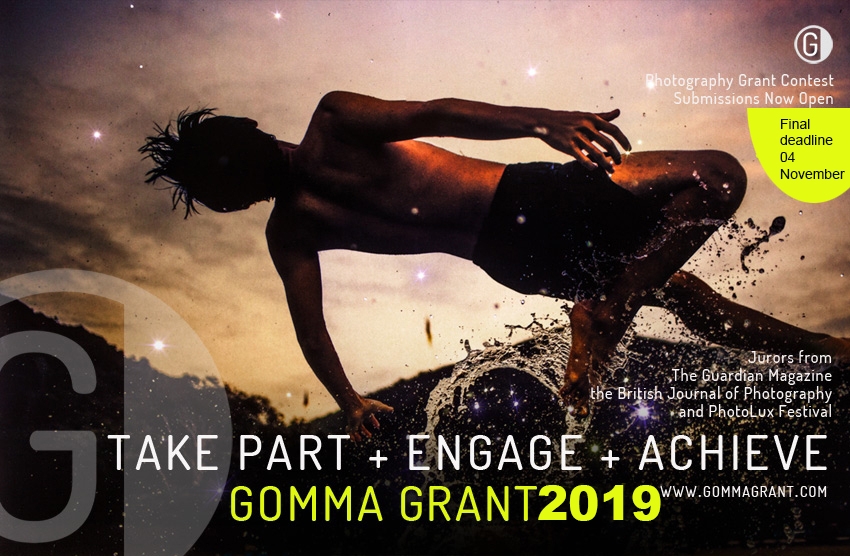 Email Friend
Add to Favorites
Report Listing
Event History
Gomma Grant was started in 2014, and has quickly obtained a reputation for being quality-focused and ethical, and with an eye to spot fresh talent while encouraging those already in the spotlight.
What Makes this event different?
Gomma Grant is open to all. Photographers may submit any medium, black & white or colour, analogue or digital. Gomma's editors and juror are looking for consistency, personality and courage. Photographers who are recognized through the Gomma Grant are known to have taken their career to a higher level, both professionally and artistically.
Copyright Policy
The photographer must be the sole author and owner of the copyright of the photographs entered in to the competition. Gomma Books Ltd respects photographers rights and does not claim copyright for the images you submit to this contest. Photographers will retain full copyright in each entry.
Image Usage Rights
By entering Gomma Photography Grant you agree that any winning image or runner up images you submit may be used by Gomma Books Ltd solely for the purpose of this contest or future contests by Gomma and no other purposes. These uses include: displaying the entries on the contest's website and other affiliated websites such as Gomma Facebook page, promotion of the contests and the photographers works. You hereby grant Gomma Books Ltd a non-exclusive, irrevocable licence in each Entry for the uses described in 1. above for 2 years following the date of announcement of the winner, thereafter the image may be used for archival purposes only by Gomma Books Ltd.
6th Year Grant Contest. Open to everyone.

The Gomma Photography Grant is a grant contest that is tailored to fund and support photographers, both established and emerging who are working among various genre.

Beyond receiving cash grants the winning and shortlisted photographers enjoy a huge amount of international exposure.

The Grant involves esteemed and renowned personalities working in today's photography. Every year Gomma's editing staff generate an exciting and considerate jury.
This year the jury is formed by :
 
Brigitte Schaller
Art Director - LFI Leica Fotografie International.
lfi-online.de
 
Marigold Warner - British Journal of Photography.
Online feature writer - BJP.
www.bjp-online.com
 
Joao Linneu - Curator VOID.
Founder and Curator of VOID.
void.photo
 
Luca Desienna - Gomma.
Mentor and Founder of Gomma.
www.gommagrant.com
To learn more about this grant contest opportunity, please visit the Event Website.