The deadline to participate in this event has passed. Find other call for entries and opportunities by browsing this site. Try search for other events in the
PHOTOGRAPHY
»
RESIDENCIES
category.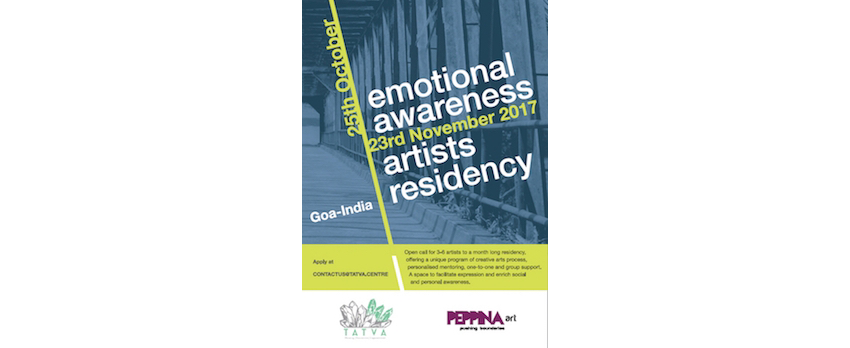 Add to Favorites
Report Listing
India's first creative residency 'Emotive Creators' invites participants to experience a one-of-a-kind program of creative arts process, with personalized mentoring, group and one-to-one support.
Dwell in the life-changing and diverse Indian/Portuguese state of Goa. Come to stay in a stunning villa with all necessary amenities on the island of Corjuem, which is near the picturesque village of Aldona. You will be personally and professionally supported in immersing yourself in Goa's rich landscape, cultures and arts.  Mingle with local creative individuals.
Unplug your soul, mind, heart and creative practice. Enter a journey into the various layers of your being. You will be guided by two emotional wellness professionals (a psychologist and a psychotherapist) and a professionally trained awareness curator of distinct practice, who will establish a program of a wide-ranging and imaginative program that caters to the participant's needs. Stay for two, three or four weeks. Participants will be an integral part of a small community along with the creative residency facilitators.
Artists, educators, and people with little experience in art making but who wish to express themselves creatively using art as a tool for inner growth are all invited.
This is a unique creative residency that will appeal to those who want to become more consciously aware of their inner life and their place in the world, thus increasing their overall well-being and creativity. Artists will be able to broaden their practice in social and emotional ways by exploring theoretical discourses.

The Program:
Creative arts process in groups and personalized mentoring with Katharina Domscheit-D'souza. One-to-one and group support from Kripi Malviya and David Stanton. Physical and wellbeing activities like meditation, yoga, nature walks, and massages. Explore Goa's culture, scenery, heritage, and arts through visits to beaches, waterfalls, historical sites, flea-markets, museums, galleries, concerts and events; to keep participants inspired throughout their stay. Regular community activities are planned at the center, like dining, shopping, cooking, and general socializing. There will sufficient free time for participants to do their own thing. Open house days where participants are invited to meet local artists, curators, gallerists, healers, thinkers and doers; either at TATVA or visiting them in their own environments for artistic, cultural and theoretical exchange of experiences, knowledge, and practices. All participants have the opportunity to present their creative outcome informally at a pristine art institution in Goa during the course of their stay. There will be an exhibit at a gallery in Goa, that will be curated by Katharina Domscheit-D'souza, which will showcase the participant's experiences and visual expressions. Participants are not required to present specific final works at the end of their stay, but they are encouraged to share their visual documentation of their experience and process, through photographs, sketches, writing, music or dance.
The creative residency is lead by David Stanton and Kripi Malviya who are the founders and co-creators of the TATVA Center; also by Katharina Domscheit-D'souza, who is the founder of PEPPINA art.
TATVA is an international emotional wellness and mental health awareness organization that is based in North Goa offering a therapeutic residency situated in a rural farming and fishing community. There they mix travel/tourism experiences with various therapeutic approaches. This is also one of a handful of residencies in the world that specializes in offering artists psychological support as well as providing a safe and beautiful space for them to create.
All applicants must be 18+ and can send a mail with a few sample works to contactus@tatva.center.
To learn more about about this residency please visit the Event Website.