The deadline to participate in this event has passed. Find other call for entries and opportunities by browsing this site. Try search for other events in the
PHOTOGRAPHY
»
JURIED EXHIBITIONS
category.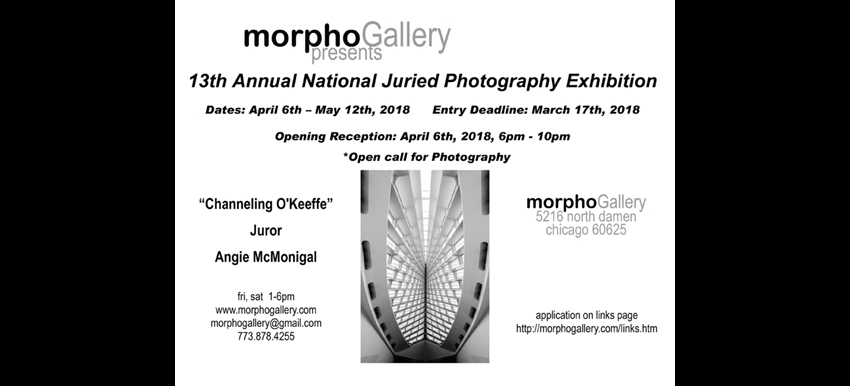 Add to Favorites
Report Listing
Copyright Policy
Sales: All accepted work must be for sale and will be subject to a 15% commission if sold. Rights: Morpho and those acting for the Gallery, reserve the right to photograph and retain a set of images of the exhibit for promotional, educational and documentation purposes only. Return of Artwork: Specific dates and times will be sent with acceptance letter. Morpho will not be responsible for works left after pick up dates, unless prior arrangements have been made. Artist's Guidelines: Work must be framed, ready to hang and a label affixed to the back with the artist's name and title of work, and must be professionally presented. Morpho Gallery reserves the right to reject any artwork that is deemed unsuitable, including but not exclusive of work not ready to hang or unprofessionally presented. Morpho Gallery will use all reasonable care in handling entries but assumes no responsibility for damage or loss. Submitted images may be used for exhibition purposes and publicity.
Image Usage Rights
Accepted Work: All art must be labeled, properly framed, or equivalent, and wired for hanging. No clip frames. Works not properly wired, or which differ significantly from jpegs, will be rejected, no substitutions. Upon acceptance, information will be resent with labeling and shipping instructions. All art must be available for the duration of the show. Delivery of Artwork: Accepted entries will receive detailed delivery and shipping instructions. Art should be delivered in reusable packing (with paid return label if shipping) and should include specific packing instructions, if applicable. No "peanut" packing or torn boxes. Please use UPS as the driver has access to the gallery. We have had many issues with Fed-Ex. Liability: It is the responsibility of the artist that artwork is properly packaged in reusable packaging and the work is insured during transit. Accepted artwork will be handled with reasonable care, however, Morpho will not be liable for any damage or loss during transi
CALL FOR ENTRIES – This is the 13th Annual Juried Photography Exhibition
Juror: Angie McMonigal
About the Exhibition:
Morpho Gallery announces its 13th annual juried photo exhibit. Photographers are invited to submit images for possible inclusion in the juried exhibition. Images are not to exceed  36" in any direction, framing included.  The gallery is accepting original photography only, any and all subject matters and photo processes are welcomed.
About the Juror:
Award-winning fine art photographer, Angie McMonigal, moved to Chicago more than 15 years ago and has been exploring the city with her camera ever since. Raised in a small town in Wisconsin, she approaches the urban fabric with the spirit of a photographer who grew up surrounded by nature, finding moments of meditative calm in terrain that is always transforming. She focuses her lens more frequently on bold architectural details rather than sweeping cityscapes. Her images celebrate those unexpectedly iconic elements that are hiding in plain sight. From landmark buildings she distills the essential lines and textures that frame the city. McMonigal sees these buildings as actively shaping, and shaped by, human activity; they are never mere backdrops. Steel and brick towers are presented as quilts rich with history. These are solid structures that soar with soul, and concrete edifices that echo with the lofty ambition of planners and dreamers.
Angie's work has been exhibited and published internationally. Her photos have been showcased by galleries in Chicago, New York, Los Angeles, Barcelona and other destinations. Her Urban Quilt series is now part of the Catherine Edelman Gallery's Chicago Project. Publication credits include National Geographic, Departures, and SHOTS Magazine.
Angie has received awards from the International Photography Awards (IPA) and Prix de la Photographie Paris (Px3), among others.
McMonigal frequently works with designers, art consultants, architectural firms, and private collectors to provide compelling photographs for their collections. She has also collaborated with national and global brands, including Starwood Hotels & Resorts, Icebreaker, and Stir creating distinctive images to complement their brands. She is available for commissioned, one-of-a-kind projects for both individual and corporate collectors. Creating images that draw out the organic interplay between design, structure, environment, and society, Angie offers a fresh viewpoint that fulfills clients' commercial and creative needs.
Morpho Gallery, 5216 N. Damen, Chicago, IL 60625
Dates: April 6th – May 12th, 2018
Entry Deadline: March 17th, 2018 at 11:59 pm CST.
Notifications will be emailed by March 19th.
Opening Reception: April 6th, 2018, 6pm - 10pm
For more information about this opportunity, please visit the Event Website.