The deadline to participate in this event has passed. Find other call for entries and opportunities by browsing this site. Try search for other events in the
Art
»
PUBLICATIONS
category.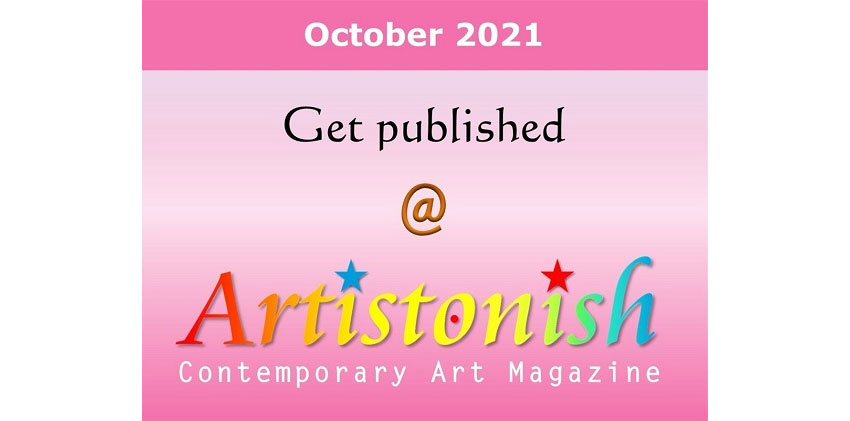 Add to Favorites
Report Listing
Event History
This is our 15th issue. The magazine has been published since August 2020.
Copyright Policy
The artist retains copyright of her/his work.
Title: Publish your Art in Artistonish Magazine - October 2021
Get published and astonish art lovers with brilliant art
Artistonish invites artists to submit original art for publication in the magazine's 15th issue in October 2021.
Artistonish is an international contemporary art magazine that is published by Discover the Artist media holding since August 2020. The magazine gets global coverage and publicity via an international publication network. Each issue showcases significant artworks created by brilliant artists from all around the world. 
Online and high-quality print-on-demand versions of the magazine will be released in full-color glossy A4 pages and are accessible by thousands of art experts, collectors, curators, and art enthusiasts, as well as museums and galleries from over 100 countries.
Artista will receive digital certificates, social media artwork badges, readers ratings and comments, and analytic reports.
Each artwork will be showcased lively on a separate stylish colorful glossy A4-sized page, including artwork data, artist name and photo, and a lifetime active link to the online artist page using a scannable QR code.
Artists can submit 1 to 4 artworks for this art media publication opportunity.
To learn more, please take a look at the latest issue of the magazine at artistonish.com.
Subtitle: Get published and astonish art lovers by brilliant art
Link to Submit: https://www.biafarin.com/artistonish
Link to Submit: https://www.artistonish.com/calls
Link to Submit: https://artist.callforentry.org/festivals_unique_info.php?ID=9379
Deadline: Oct. 23, 2021
Contact Person: Hannah from Artistonish Magazine
Contact email: magazine@artistonish.com 
For more information, please visit the Event Website.