Suggestions Before Submitting Work
by Call For Entries on 06-01-2015 in Category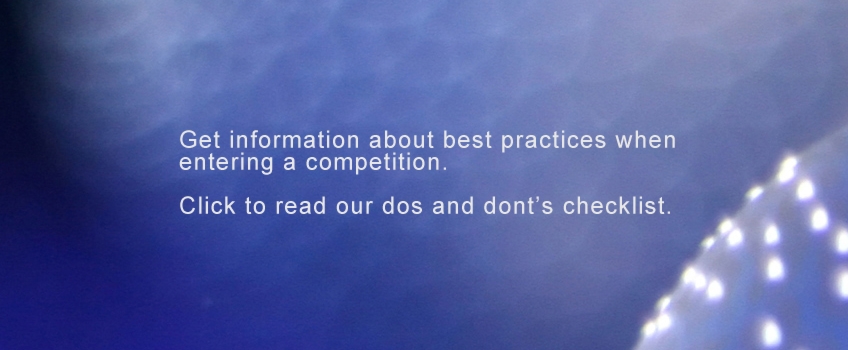 READ THE TERMS. Make sure you pay close attention to the fine print about how your image rights and artistic property will be handled. If the rights are not clearly spelled out, contact the organization to get the information you need. Don't enter any event that hijacks your image rights or your artwork unless you are a clear reason in mind for doing so. Be sure to read the terms from year to year as terms can change.
READ THE RULES and FAQs. Of course pay attention to the deadline…., but also remember that submitted images often must adhere to a strict set of guidelines to be accepted. Be sure to prep your files following the event's guidelines, and be aware that there are often specific rules in place regarding image manipulation. If prepping files is a challenge, you can turn to a number of online services or contact our staff for help.
UNDERSTAND INSURANCE.  Before submitting your work for review and paying any fees to do so, be sure you understand how insurance of physical work is handled. Who carries the liability if something happens to your work while in the care of the event?
ASSESSING AN EVENT. Be sure you can confidently answer the following: 1) how long has the event been around, 2) is it easy to contact the organizers to ask questions, 3) do they list a phone number, email address and physical address, 4) are there positive online reviews of the organization?
PAST WINNERS. Look at the past winners' work and find out what they have to say about their experience. There is really nothing like getting a winner's perspective. From what they say you will know whether an event is worthwhile.
JUDGES. Try to determine who the judges are, their artistic background and their own personal work. This information should help you determine whether your work may be of interest to a particular judge or jury.
BUDGET. Admittedly, there exist a large number of tantalizing calls for entries. If you enjoy entering calls be sure to set a budget for the year. Your budget will help you stay focused and selective.
FEES and TOTAL COSTS. As you assess the fee to enter a particular call for entries think too about the total cost should your work be accepted. Will you have to ship your work, frame it, procure insurance, etc.
GEOGRAPHIC AREA. A question we get from time to time is whether calls for entries should be avoided if not in the immediate geographic region of the artist/photographer. There actually is no rule of thumb for this question. There are a lot of great events worldwide that provide winners with significant recognition for their work. You really don't need to feel geographically limited. Local call for entries tend to work well when you want to make local connections and get established within in your own arts community.
GET FEEDBACK. One of the great things about entering a call for entries event is that it gives you the opportunity to get feedback from your trusted peers. Before entering, review your pending submission with other artists and photographers you know and whose work you admire. If looking for further feedback you can work with the C4E staff to match you with respected artists and photographers working in a similar genre to give you their thoughts.
GET ORGANIZED. Whether you end up a winner or not there is nothing like a call for entries event to help you get focused on your body of work. Use the process of preparing for the event to catalog your best work. Archiving and cataloging your work has the added benegit of making future submissions easier.
YOUR WEBSITE. Once you decide to submit to an event be sure your website is up to date and looking its best so that anyone interested in your work can easily find and contact you!