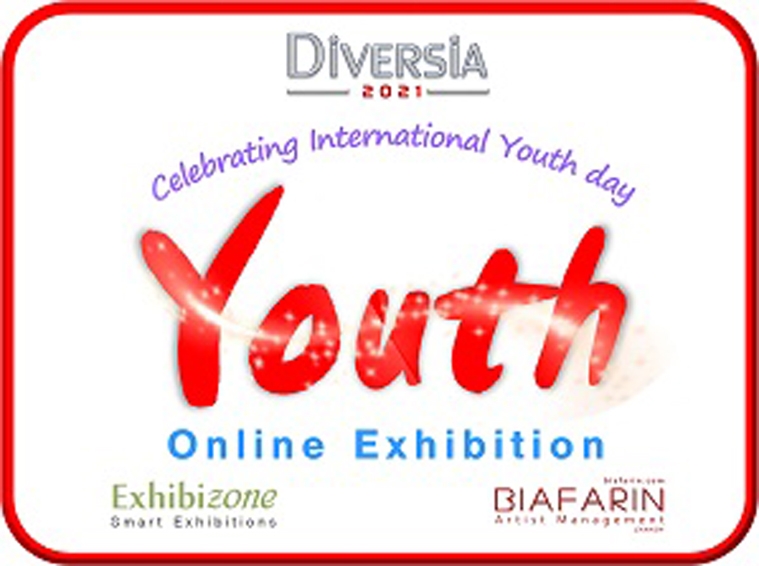 Email Friend
Add to Favorites
Report Listing
Event History
It is the 15th International Group exhibition in Diversia series. Diversia is a series of monthly exhibitions presented by Exhibizone, the international online smart exhibition zone. Each monthly show focuses on a specific theme and presents brilliant artworks from talented artists globally.
What Makes this event different?
Diversia series exhibitions are very popular and have been seen by 1,000,000+ unique visitors so far. We offer cash prizes to winners of public choice award, a full featured online group exhibition combined with online sales, artist certificate, social media badges, news circulation, statistic reports, promotion, and a colorful stylish exhibition book to publish your art. Participants receive thousands of unique visitors from various countries, comments and reviews from art experts, collectors and art enthusiasts to boost artwork visibility, audience engagement and sales.
Copyright Policy
According to Canadian law, Artist retains copyrights of their work.
ABOUT
Exhibizone proudly presents its 15th group exhibition opportunity from Diversia series, "Diversia: Youth".
Share your visual expression of what comes to your mind, when you hear the word "Youth". Is it beauty, fun, party, recklessness, no burden, restless, energetic, exciting, drama, love, hardship, fearful, lonely, doubtful, or ...?
As Pablo Picasso once said: "Youth has no age." and as aging is inevitable, it doesn't mean you can't remain young at heart as youth is the spark that you may always carry in your heart, the creativity, and talent that you bring to your life and your loved ones.
Diversia: Youth invites you to join us in celebrating International Youth Day on August 12, and submit artworks that present your artistic expression of being young and the word "Youth".
Find more about Exhibizone top-rated shows at
https://www.exhibizone.com/diversia

Winners Awards include a cash prize for the winner of the public choice award, intensive exposure for selected artists to promote and sell artworks, showcase in the group exhibition, publish in an international art catalogue and receive feedback and comments from art lovers, experts, and buyers.
ARTWORK ELIGIBILITY
Art Categories: Painting, drawing, illustration, printmaking, photography, digital art, sculpture and mixed media are accepted.
Style: All styles are welcome.
Size: There is no size limit for submitted artworks.
Duration: There is no limit for artwork creation year. Artworks created within the last 5 years are preferred.
Number of Artworks: Artists are invited to submit up to 6 pieces of their original artworks.
Originality and Rights: 
- Artworks must be entirely the work of the artist, executed without the supervision of an instructor.
- Artist should own all the rights for promoting, publishing and selling the artworks locally and internationally.
- Artworks that, in reasonable view of the organizer, include porn, violence, and/or racial, and religious hatred, inappropriate and/or offensive content, are not admissible.
- Entries must not be copies or derivatives based, in any way, on other copyrighted or published paintings, photographs, sculptures, or other artistic works. 
- Organizers have the rights to use artworks and artists data for promoting the exhibition.
- Any abstract or representational interpretations of this subject are welcome.
- Artists can submit up to 6 pieces of original artworks in relation to the subject.
- The artworks are subject to selection and maximum 3 artworks might be selected from each chosen artist.
- The submission is open to all visual artists creating original artworks in 2 and 3-dimensional media.
- There is no size limit for submitted artworks.
- Only the artwork should show in the photo (no frames or extraneous backgrounds).
- Artist should have all the rights for presenting and publishing the artworks internationally.
- Artists can submit artworks that are not for sales.
- Entries must not be copies or derivatives based in any way on other copyrighted or published paintings, photographs or other artistic work. Any infraction of this rule will result in serious consequences.
- Invited artists might be asked for high resolution artwork photos, if needed.

ARTIST REQUIREMENTS
Artist Photo - headshot
Artist Full Name
Artist Birth Date
Complete Postal Address
Email
Social Media Links (Optional)
Website (Optional)

ARTWORK REQUIREMENTS
Title, Category, Creation Year, Technique, Surface, Size (WidthXHeightXDepth) in cm or inches, Artwork Description, Price in USD
FEES
US$ 30 for 1 to 3 artworks
US$ 5 for each additional artwork (up to 6)