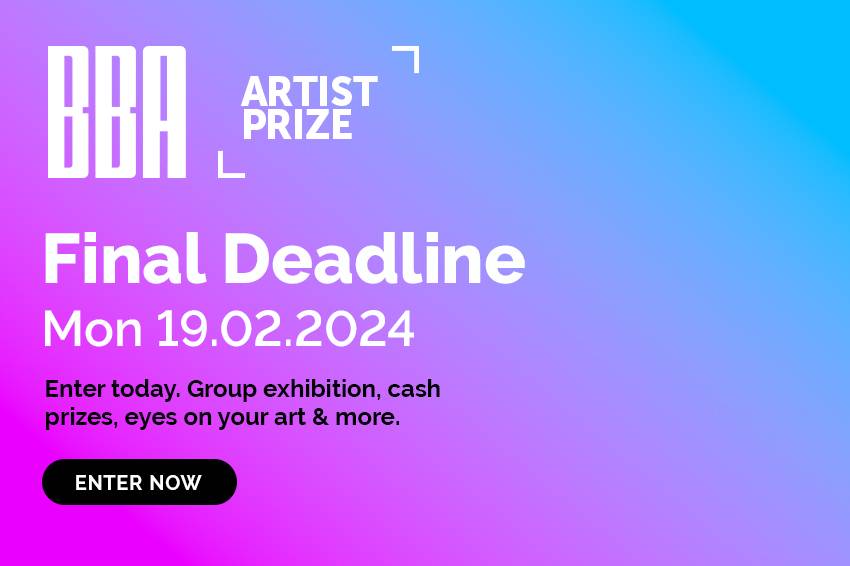 Email Friend
Add to Favorites
Report Listing
Copyright Policy
The general copyright for each artwork stays with the artist.
Image Usage Rights
By submitting artwork you will be granting BBA Gallery usage rights for your images in their online promotional material for this current and for future projects. All selected artists give permission that images of their artworks, the opening and the exhibition can be used for future promotion by the gallery and their sponsors and partners.
The 2024 BBA Artist Prize has officially launched! Enter now to be part of an international competition for artists, open to all themes, mediums, and experience levels. Now in its 8th year, this is the perfect opportunity to take your art career further. 
With an international jury of experts from across the art industry evaluating, 50 artists will be selected for the longlist. 20-25 will then be chosen for the shortlist and will be part of a group exhibition at the iconic Kühlhaus Berlin. Prizes include cash rewards, solo shows, and exposure for your art!
Plus, every single day BBA features an Artist of the Day on social media. Artist of the Week will get further social media features, newsletter features, and more. Don't wait, get more eyes on your art today and enter now.
Earlybird Deadline 11.12.2023: https://bba-prizes.com/artist-prize
Enter now and upload anytime before the general deadline on 19.02.2024