The deadline to participate in this event has passed. Find other call for entries and opportunities by browsing this site. Try search for other events in the
Art
»
ART FAIRS & FESTIVALS
category.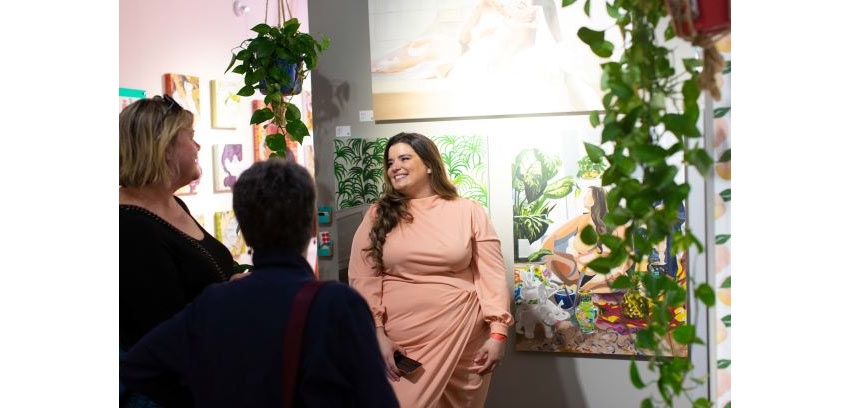 Email Friend
Add to Favorites
Report Listing
Call to artists - there's a better way to create a Manhattan audience for your art.
Note: Superfine! takes no commission on any artwork sold either in person at the fair or via our online E-Fair.
Location: Lower Manhattan
Fair Dates: April 22 - 26, 2020; April 29 - May 2, 2020; May 5 - 9, 2020
About:
We create a fair where artists access top quality attendees who are primed to purchase, gallery-level exhibit space, and extensive marketing support + training. During the NYC 2019 edition,  23% of attendees purchased art in an intimate fun atmosphere. We deliver these results because we spend $50K+ per fair on hyper-targeted social media ads to help you connect with your next great collector sooner. Connect with us today to jet-fuel your global art expansion.
About NYCx3:
Superfine! NYCx3 is a revolutionary new art fair concept built in harmony with the lower Manhattan's high-roller real estate market. Instead of one five-day fair, we're programming three consecutive fairs in a strategic lower Manhattan locale next spring. The triple focus on women artists, contemporary surrealists, and LGBTQI+ artists plays out in the overarching themes of (wo)man, myth, and Magick. In keeping with the themed program, each fair will be limited to no more than 60 exhibitors creating a highly curated experience.
"Superfine! has been a life-changing experience that throttled my career and created so many new relationships with artists, collectors, curators, galleries and journalists that I still benefit from to this day."
-- Sean Christopher Ward, exhibiting artist
NYCx1: (wo)man | 4.22-4.26.2020
The female perspective arrives at the forefront in the fair that launches NYCx3, with a focus on women artists taking their art to the next level.
NYCx2: myth | 4.29-5.2.2020
Surrealist ideas and modern mythology provide the backdrop for a diverse fair comprised of artists at the cutting edge of emerging contemporary art.
NYCx3: Magick | 5.5-5.9.2020
A celebration of all things queer: Magick highlights LGBTQI+ and ally artists representing the queer global experience across a broad range of styles and media.
A whole year of exhibitions in a weekend.
Connect with 5-7,000 motivated, art-hungry New Yorkers during each five day fair.
~25% of our visitors make a significant ($100-$2,500+) art purchase.
More than 50% of our exhibiting artists receive major media coverage.
Make art. Sell art. We do the rest.
Meet your next collectors in a friendly, welcoming space: the ideal environment to discover, collect, and sell art.
Innovative cost-saving and cost-spreading financing options that work with every artist's budget to make exhibiting and selling a reality.
Serious opportunities for features in Superfine!'s earned (press + PR), owned (website, blog, and social), and paid (advertising) media.
You're the art-making expert. We're the art-marketing experts.
The smartest and most sophisticated marketing engine in the industry: we get the eyes you want in front of your work. Our audience is 26-45, affluent ($120k+/year), and buying art now.
We're top drawer: a professional, courteous, and knowledgeable team of experts guiding you every step of the way. Exhibit and sell your work, and gain champions of your career.
Lead-up webinars and curatorial guidelines geared towards success. Take what you learn with you and make it work for you year-round.
Get to Know Us
Superfine! was founded by art collectors Alex Mitow and James Miille. The fair started out in 2015 as an alternative to boring, stuffy art shows and complicated art world politics. From the start, we caught flack from the art establishment when we broke down barriers and opened the gates to everyone from serious long-time art collectors to people who just love art and never thought they'd collect. 
As it turns out, nobody cares about the art world and their politics. Our open and transparent approach works: imaginations have been sparked and countless new collections have been jump-started at Superfine! fairs as we continue to spread our message of a more inclusive art market across the country. Since 2015, we've had one goal: produce badass, expertly curated art shows where über-talented, diverse global artists meet their new fans in iconic locations across the US and beyond.
Superfine! NY Media Features
Application Deadline: March 4, 2020. Applications are accepted on a rolling basis, so we recommend you apply significantly in advance! 
For more information about this opportunity for artists, please visit the Event Website.