The deadline to participate in this event has passed. Find other call for entries and opportunities by browsing this site. Try search for other events in the
Art
»
JURIED EXHIBITIONS
category.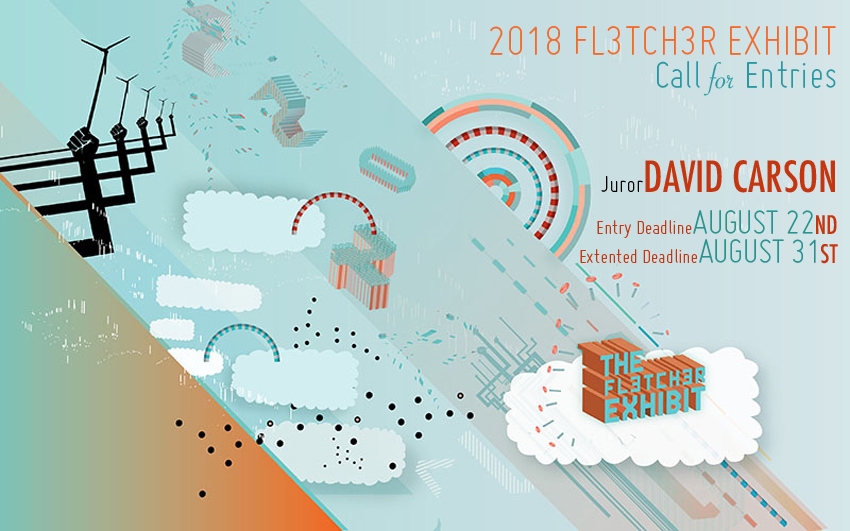 2018 FL3TCH3R Exhibit-Socially and Politically Engaged Art- International Juried Exhibit >>Deadline- August 22, 2018 / Extended DL- August 23-31, 2018
Email Friend
Add to Favorites
Report Listing
Event History
The 2018 6th Annual FL3TCH3R EXHIBIT is an international juried exhibit focused on socially and politically engaged art. The goal is to recognize and advance this endeavor by providing a venue for the exhibition of socially and politically engaged art. Furthermore, the exhibit's proceeds after expenses will fund the Fletcher H. Dyer Memorial Scholarship for an art and design student. In its sixth year, the exhibit is in memory of Fletcher H. Dyer, 22, senior in Art and Design at ETSU, who was lost in 2009 motorcycle accident in Johnson City, TN.  As an artist & designer, his passion for art was a vehicle that allowed him to mirror his passion and marry it to a concern for social and political issues through art. Fletcher wrote, "I dream of making a difference in some way with my art, I might attempt to right political, social, and religious wrongs by showing the rest of society a glimpse of how I feel about serious issues in the world...Hopefully the awareness that I can help create will spark an interest in a movement that others will follow." Fletcher's work embodies a purposeful, deliberate perspective of his personal endeavor to employ art as social and political commentary.
6th Annual International Juried 2018 FL3TCH3R EXHIBIT- Socially and Politically Engaged Art- >>>> Deadline- August 22, 2018/ Extended Deadline- August 23-31, 2018 >>>> 
ALL ARTISTS SUBMIT 2018 FL3TCH3R EXHIBIT ENTRIES ONLINE: http://fl3tch3rexhibit.com/enter.html
FL3TCH3R Exhibit: Art & Activism,  A Call for Entries 2018 exhibit accepting submissions through Aug. 22, announces David Carson as juror
JOHNSON CITY, Tenn. – In 2009, senior East Tennessee State University Art & Design student Fletcher Dyer was in a fatal motorcycle accident. In 2012, a visual art exhibition illustrating timely – and timeless – social and political issues was established in Fletcher's memory because of his passionate interest in drawing attention to contemporary issues.
 In 2018, the international FL3TCH3R Exhibit: Social and Politically Engaged Art will enter its sixth year of sustaining that legacy. The exhibit will be on display at ETSU's Reece Museum Oct. 8 to Dec. 14, with expanded awards and a fully vested scholarship base.
The directors of the 2018 FL3TCH3R Exhibit have issued their Call for Entries to artists through Aug. 22, 2018, with an extended deadline of Aug. 31.
 A non-refundable fee of $40 is required for submission of up to three entries, with an additional $10 fee per artwork/title over three. Artists should submit entries online or consult the prospectus, which can be found at www.FL3TCH3Rexhibit.com/downloads/prospectus.pdf. The extended deadline, with an additional fee, is Aug. 31, 2018.
A portion of the entry fees funds the Fletcher Hancock Dyer BFA Graphic Design Scholarship Award. "We are very gratified that we've met our first milestone to contribute to the education of Art & Design students at ETSU through scholarships provided by FL3TCH3R Exhibit supporters," Barb Dyer says.
"Our family is deeply touched, our hearts are filled with hope, and in essence, the whole FL3TCH3R Exhibit community has made this possible. Each artist or designer who has entered the exhibit each year has contributed to this goal." 
While an exciting milestone in funding has been met, "It's just the beginning," Wayne Dyer says. "We would like to expand the scholarship to more students as the fund allows. We hope the exhibit will allow more expression for artists working in arts commentary as well as support emerging students of art and design. This is just the first milestone!"
Artists who submit entries will be considered for a number of FL3TCH3R Exhibit awards, which now total nearly $1,000. The newest award – the Healthcare & the Arts Award, established by 2016 juror and artist Dr. Eric Avery – recognizes visual artists who are also in healthcare professions. More information is on the exhibit website.
Entries for the 2018 FL3TCH3R Exhibit will be selected by internationally renowned American graphic designer, art director and surfer David Carson, who is the most Googled graphic designer in history. Carson, whose design company has offices in New York and Los Angeles, is best known for his innovative magazine design and experimental typography that has been widely imitated.
 Carson will be considering FL3TCH3R submissions from the following categories: audio/sound, ceramics, digital, fiber, glass, graphic design, jewelry/metals, mixed media (2D), mixed media (3D), painting, performance/installation (via video), photography, printmaking, sculpture, video/film and other. 
The FL3TCH3R Exhibit is truly a mission for the Dyers. "Especially in these times, our family, more than ever, knows we need to keep the conversation and exhibit going to continue raising funds for more opportunities within the creative arts," Carrie Dyer says. "Creativity nestled within Art & Design is extremely important for the future of our society, our children and is our way toward innovation and positive change."
PLEASE POST & SHARE AMONG YOUR NETWORKS
email: fl3tch3r.exhibit@gmail.com
Website: http://www.FL3TCH3Rexhibit.com