The deadline to participate in this event has passed. Find other call for entries and opportunities by browsing this site. Try search for other events in the
PHOTOGRAPHY
»
COMPETITIONS & CONTESTS
category.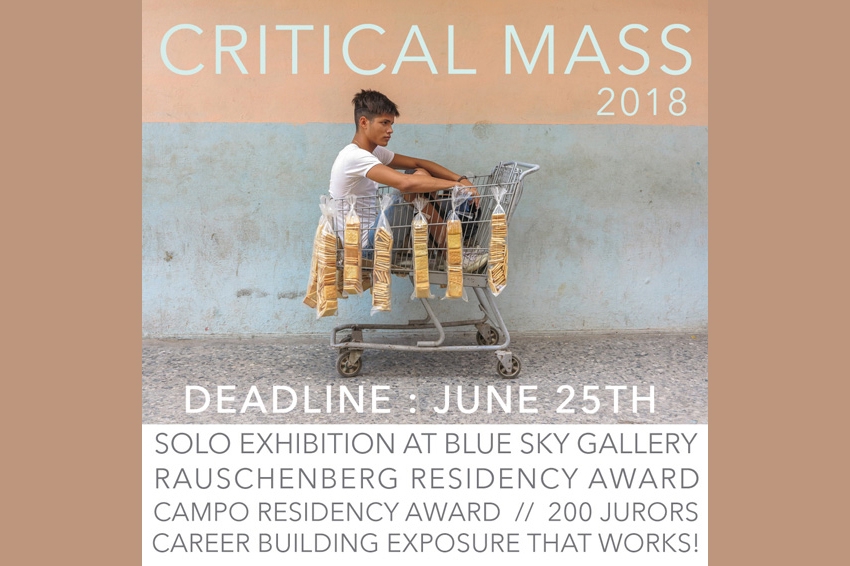 Print
Email Friend
Add to Favorites
Report Listing
Event History
Critical Mass was founded in order to help photographers get their photographic work into the conversation. Due to the fact that in-person portfolio reviews are a bigger expense and time commitment for photographers, we wanted an online platform that would make it more efficient and easier for photographers to promote their work to a wide selection of professionals in the field. Critical Mass enables photographers to get their work in front of 200 top museum curators, gallerists, editors, publishers, and media producers. As an individual photographer, it is typically difficult to make connections with professionals at this level, much less with 200 of them. In Critical Mass, photographers (from anywhere in the world) submit a 10-image portfolio. Two hundred finalists, who make it through the first pre-screening round, then have their work reviewed and voted on by the full panel of 200 jurors. This is the 15th year Critical Mass has been part of Photolucida's programming - a testament to it's efficiency.
What Makes this event different?
Beyond the exposure element of Critical Mass, which is a benefit to all photographers who submit work, the Critical Mass 2018 awards will include the CAMPO Residency Award (New!) in Garzon, Uruguay, the Rauschenberg Residency Award on Captiva Island, Florida, the Blue Sky Solo Show award in Portland, Oregon. Additionally, all 200 finalists will get to choose a print from the the Print Collecting Initiative (special-editioned, signed photographs by Alejandro Cartagena, Tamara Staples, or Céline Clanet).
Image Usage Rights
Of course all photographers submitting their imagery retain the right to their work. Photolucida only uses imagery submitted to Critical Mass to illustrate aspects of Critical Mass programming.
Photolucida distributes submitted work (a series of ten images plus artist statement plus print information) to the jurors. The intent of the Critical Mass program is to put the work of submitting photographers in front of jurors with the hope that connections will be made and opportunities will happen.
We do not use the imagery in any way exept to illustrate marketing information, and we do so with the permission of the photographer.
To learn more about this opportunity, please visit the Event Website.