The deadline to participate in this event has passed. Find other call for entries and opportunities by browsing this site. Try search for other events in the
PHOTOGRAPHY
»
COMPETITIONS & CONTESTS
category.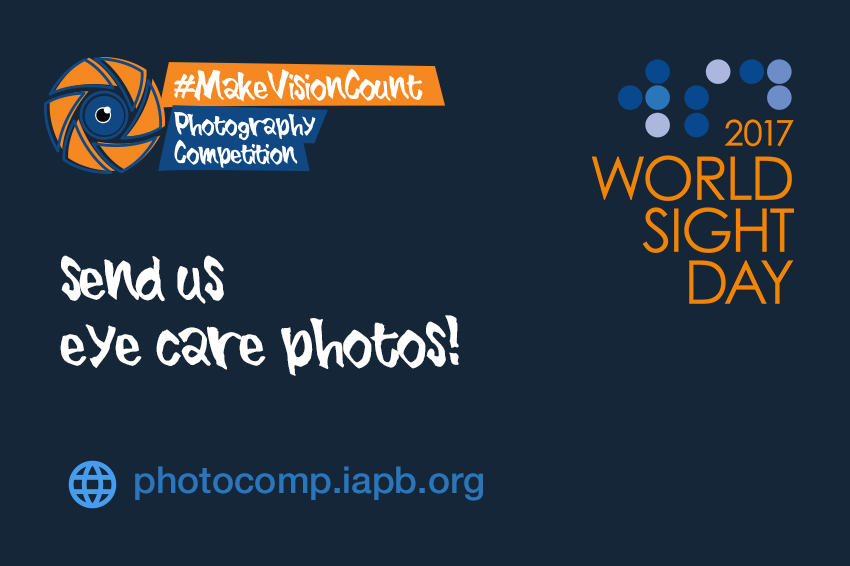 Add to Favorites
Report Listing
Event History
This competition started in 2015, and has seen activity from over 431 participants, from 200 organizations in 89 countries. You can see photos from the #EyeCareForAll Photo Competition (held for WSD 2015) at https://www.flickr.com/photos/iapb/sets/72157661960627763 and the #StrongerTogether Photo Competition (held for WSD 2016) https://www.flickr.com/photos/iapb/albums/72157667827894090
What Makes this event different?
This event helps make a difference through photography by bringing about awareness of avoidable blindness and visual impairment.
Copyright Policy
By submitting an entry to the Competition, You grant IAPB: Permission for your entry to be published on IAPB websites including but not limited to iapb.org and IAPB social media sites and you grant IAPB a non-exclusive, irrevocable, royalty-free, worldwide, perpetual licence under a Creative Commons Attribution-NonCommercial-ShareAlike 4.0 International License to use, republish, edit and/or modify your Competition entry in any/all media for purposes connected with the Competition and as described in these Terms and Conditions (including as described under 'Prizes' paragraph above); The right to use your name and country of residence for the sole purpose of identifying you as the author of your entry and/or as a winner of the Competition.
Image Usage Rights
Your images will be used to bring about awareness of avoidable blindness and visual impairment. Photographs will be used on social media, our websites and our print material. Photographer credit will be given on all the websites and print material. Eye care organisations will also be encouraged to use the images to discuss avoidable blindness and visual impairment with proper credit to the photographer.
The #MakeVisionCount Photo Competition is organized by The International Agency for the Prevention of Blindness, IAPB, (in partnership with Bayer) in order to bring awareness to World Sight Day (October 12th, 2017).
Send us your eye care photos on the theme "Make Vision Count" by World Sight Day.
The competition is open to professional and amateur photographers. The prize for the professional category is $1,000 USD and the Amateur category is a Canon 1200D DSLR camera!
This is the 3rd year for the photo competition following the success of our previous competitions #StrongerTogether and #EyeCareForAll.
To participate:
    Upload your photos on http://photocomp.iapb.org
    Once your photo is uploaded, you will get a link to your photo
    Share the link on social media and via email
    Ask your colleagues and friends to vote for your photo
Read our guide.
If you are unsure as to which pictures to send, or need inspiration, please take a look at our list of suggested photos that you can upload.
Voting decides the winner.  Be sure to ask your friends and colleagues to vote for your submission. An IAPB editor will also select lovely photographs and give them bonus points. Read more about the editor's picks.
About IAPB
The International Agency for the Prevention of Blindness (IAPB) is the coordinating membership organisation leading international efforts in blindness prevention activities. IAPB's mission is to eliminate the main causes of avoidable blindness and visual impairment.
For more information, please visit the Event Website.
www.iapb.org
Media Contact:
B V Tejah
Communications Manager, IAPB, tejahb@iapb.org; +91 99496 97771