The deadline to participate in this event has passed. Find other call for entries and opportunities by browsing this site. Try search for other events in the
Art
»
JURIED EXHIBITIONS
category.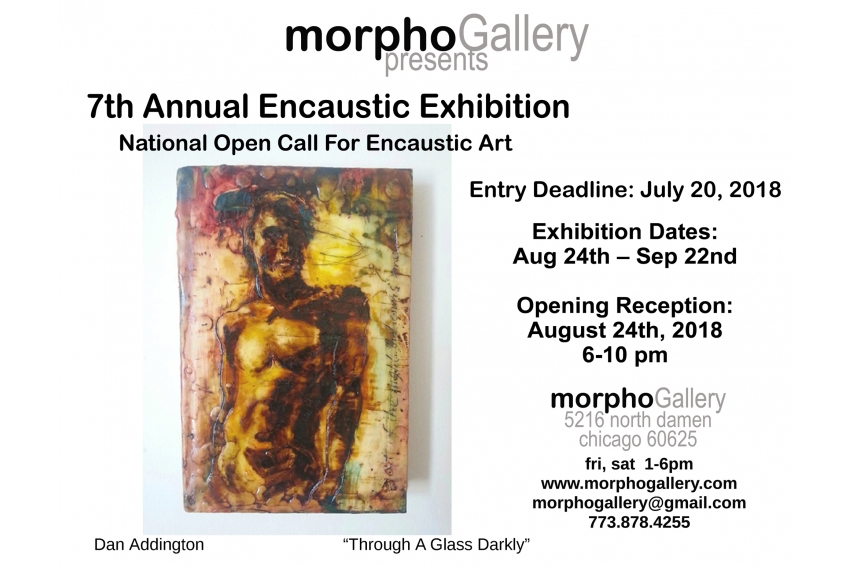 Add to Favorites
Report Listing
National Call to Artists.
This exhibit is open to artists who work in the encaustic medium. Encaustic must be the primary medium, but mixed media is also welcome.
This year 3D work as well as 2D is allowed. Maximum 2D dimensions should not exceed 28" per side, including frame or support, minimum size: 8"x8" or 16 running inches (H+L). 3D works not to exceed 28" in all dimensions including mount, if applicable.
About the Jurors: Following six years of successful shows, including: Hot Wax in the City, Wax(N)Blue and Unbound(ed), FUSEDChicago, member Kathy Blankley Roman returns once again to jury our 7th Annual Encaustic Exhibition. Dan Addington from Addington Gallery will also be on board as a guest juror.
Award winning artist, Kathy Blankley Roman, has had her expressive paintings appear nationally in shows, online and in numerous private collections since 2011. She is a process painter that uses acrylics, encaustic or oil & cold wax. She employs a limited palette and works in layers, creating contrasts of texture, opacity and gesture to create tension and a sense of depth and history. Though mostly small to medium in scale, her works have been described as "large paintings in a small space". Her works suggest an intimacy which invites viewers to come close, to explore and experience them through their own personal filters.
Dan Addington is both an artist and gallery owner who has been working with wax since 1989. He has exhibited encaustic work professionally since 1992. His work has been featured in-group and solo shows across the US, and is in numerous public and private collections.  Dan is the owner and director of Addington Gallery, which is located in Chicago's historic River North art district, and has included encaustic painters in exhibitions there since organizing their first national encaustic exhibition there in 1996.  Addington's own figurative work incorporates materials such as fabric, oil, wax, tar, gold leaf and various printed matter. The accumulation and layering of these materials echoes his interest in history and the relationships between the stratification of cultures and the layering of memory. In these constructed, overtly physical pieces, Addington seeks to engage the viewer through their own process of physical and spiritual excavation.
About the Gallery
Morpho Gallery takes pride in seeking talented artists who are on the brink of being discovered by the mainstream art community. Local artists are invited to exhibit their work in a creative and non-competitive environment where artistic experimentation and development are encouraged. By creating a blank palette inside the gallery, we offer unlimited possibilities for an array of colors, textures and media to come together. Morpho Gallery also provides leasing packages at affordable rates to groups and individuals who wish to stage their own shows.
Entry fee
$25 for three (3) images, $5 for each additional image. The limite is six total per person.
The fee is non-refundable.
Submissions Details
Jurying will be done from jpeg images only, that are submitted via email with the completed entry form and entry fee paid through Paypal (morphogallery@gmail.com).
Email jpeg images and entry form as attachments to morphogallery@gmail.com and specify 7th Annual Encaustic 2018 in the subject line. Submit images at 72 dpi, 1500 ppi on longest side. Due to difficulties in the past, images smaller than this will not be considered. Please title your jpegs as: Artist last name_# of image_Title.jpg (Jones_1_Title.jpg)
DEADLINE for submissions is July 20, 2018 at 11:59 pm CST.
Notifications will be emailed by July 26th-28th
To learn more about this opportunity, please visit the Event Website or Click to Apply.