The deadline to participate in this event has passed. Find other call for entries and opportunities by browsing this site. Try search for other events in the
Art
»
JURIED EXHIBITIONS
category.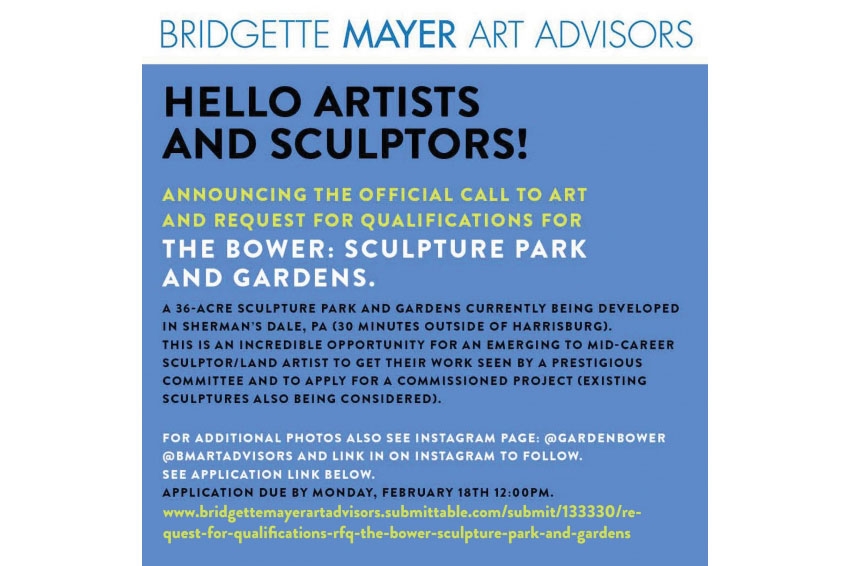 Add to Favorites
Report Listing
REQUEST FOR QUALIFICATIONS (RFQ):
THE BOWER: SCULPTURE PARK AND GARDENS
Application Deadline: Monday, February 18, 2019
OVERVIEW
Bridgette Mayer Art Advisors in collaboration with The Executive Committee of The Bower is seeking to commission professional artist/sculptor and or artist teams to design, fabricate and oversee fabrication and install permanent site-specific sculptures or permanent land art installations as part of its launch of its Phase I Sculpture Park and Gardens. 
SITE DESCRIPTION (Please see link below with pdf of site descriptions and photos and also view Instagram site for additional photos @gardenbower)
THE BOWER: SCULPTURE PARK AND GARDENS is located in Shermans Dale, PA (30 minutes outside of Harrisburg, PA) 
The location is a private property that will be turned into a public sculpture park and gardens. The future plans also include an artist studio, an artist residency program, possible gallery/exhibition space and public programming with various museums and collecting groups. There are meadow, garden and woodland settings on the property where the commissioned sculptures and projects would be placed. It is the Owners vision to curate an array of sculptural works, both large scale and intimate, that present visual interest from multiple perspectives. The works shall be designed to complement, enhance or provide interesting contrast within the natural setting. The construction shall be durable to withstand the changing seasons and weather elements and also shall be safe for interaction by visitors.
Chosen artwork will be required to withstand a high-traffic, unmonitored outdoor environment with very limited maintenance. Artists should take into consideration the possibility of adverse weather conditions, the wellbeing of pedestrian traffic passing by and through the site and the safety of the audience.
PROJECT DETAILS
The Owners are developing "The Bower: Sculpture Park and Gardens", a rural setting, garden and sculpture park located on their 36-acre wooded and meadow site along the northern slope of the Appalachian Mountains in Perry County, Pennsylvania. Annotated site photographs are included below in "Site Photos Link". Additional photos and documentation can be found on their Instagram site "@gardenbower". 
"The Bower: Sculpture Park and Gardens" will serve as their primary residence, event setting for non-profit organizations and a nature and art education center. This project is a legacy project they are undertaking to support emerging & established artists, and to create a viable sculpture park that will educate and inspire the general public. 
TO APPLY
Applications are accepted online at this site.  
 PREPARE THE FOLLOWING FOR YOUR APPLICATION 
1. Artist Statement: BRIEFLY describe your interest and qualifications for this project. Describe your experience and approach in working with someone commissioning an artwork
2. Artist Resume: please include a current resume or CV, which outlines your experience as a visual or public artist. 
3. Up to Ten (10) images or videos of completed past artworks.
Images must be sized to the following dimensions 
i. Please submit only jpg files
ii. Please size each image to be no more than 5MB in file size; videos should be less than 200MB. 
iii. File Name: Images MUST be titled in the following manner: Last Name, First Name, number corresponding to the image description sheet (For example: DoeJane01; DoeJane02; etc. Collaborative artists groups should begin their image title with their group name or the last name of each member followed in parenthesis by artist who completed the work that the image number refers (For example: DoeJonesSmith01(Doe); DoeJonesSmith02(Doe); DoeJonesSmith03(Jones); etc.)
4. Annotated Image List to include the following: Title of work, Dimensions, Medium, Year of Completion,      Location, up to a three (3) sentence description, and budget amount
5. References: names, addresses, email addresses, and phone numbers of three (3) professional references. 
ARTIST ELIGIBILITY
Any professional artist or artist team is eligible to apply. If artists are applying as a team, the team should be declared in the Artist Statement, specifying a team leader to receive notifications. Applicants must be 18 years of age or older.