The deadline to participate in this event has passed. Find other call for entries and opportunities by browsing this site. Try search for other events in the
Art
»
COMPETITIONS & CONTESTS
category.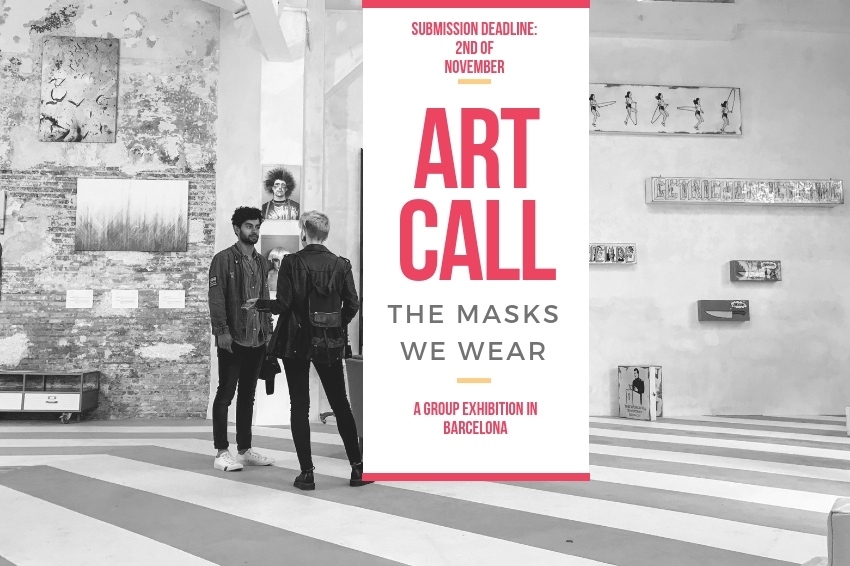 Email Friend
Add to Favorites
Report Listing
What Makes this event different?
The Exhibition Opening of "The Masks We Wear" is sponsored by San Miguel Brewery and hosted in conjunction with Poblenou Urban District. Our last Opening event: "Rough Matter" saw over 1100 attendees.
Copyright Policy
The Artist maintains copyright ownership. Photography for Publicity - Manifest Destiny reserves the right to photograph artwork during the event and use images of the artwork for publicity and educational purposes in perpetuity.
Image Usage Rights
Submitted images may be used for publicity for the artist, contest, and art gallery. Artist grants the gallery the right to use or publish images of their work for publicity.
Manifest Destiny Art is now accepting submissions of artwork inspired by anything the artist considers within the theme 'The Masks We Wear'.
INTERNATIONAL CALL FOR ART: The Masks We Wear – A Barcelona Group Exhibition
MEDIUM:  All - Our gallery is 300 m2 and 6m tall. We have space for video (all videos must be under 7 mins), digital, sound art, sculpture, and large format prints/paintings.
DEADLINE: November 2nd, 2018
ARTIST NOTIFICATION:  November 9th, 2018
WORK DUE TO THE GALLERY:  By Nov. 19, 2018
OPENING SHOW DATE:  Opening Reception November 23rd, 2018
ENTRY FEE:
37€ for entry of up to 3 pieces of work.
THEME
Masks.
Physical, metaphysical, metaphorical.
Happy. Sad. Mad.
Self-aggrandizing, self-deprecating, self-concealing.
Branding. Marketing. Selling.
Social. Social. Social.
Once defined by culture, theater, and local decorum — Japanese theater masks, African war tribal masks, Venetian Carnival masks — the masks of today are no longer hindered by time and place. As media spreads its tentacles, the line between unmasked and masked realities is increasingly blurred.
Unhappy with how you look, inject Botox. Still unhappy? Eat a Prozac? Ahhhhh... There's that smile. What a pretty smile. What a lovely personal brand. 
Filters mask the reality of the past.
A politician's lie masks the politician's other lie.
Face tattoos mask the face and skin we were born with.
Art has always grappled with the masking and unmasking of the truth — figuratively and otherwise. Some may say, that this is a core value of art — to use image and light to reveal what is behind a mask. Or perhaps it's to glorify the mask and help us forget the ugliness that it covers. It is in this interplay and testing of surfaces, that we can occasionally touch a sublime truth that reminds us of humanity's worthiness. It is art that — when all else fails — has the ability to make the real relevant.
All local, national, and international artists, professional and amateur, are encouraged to submit their works for this art exhibition.
Acceptable sizes:  We do not have a limitation on the size of works submitted.
About Manifest Destiny Art
Manifest Destiny Art, in the heart of Barcelona's Art and Design District, is a stunning post-industrial destination for art and innovation devoted to shining a light on contemporary art and matching art to the collector's lifestyle. We believe that art should be seen by all and host an art party for every exhibition that is open to the public. #artsypartsy