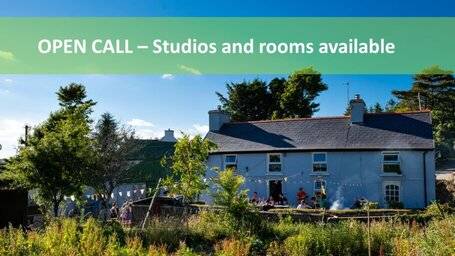 Email Friend
Add to Favorites
Report Listing
We are inviting expressions of interest from artists across all artistic practices and are looking for someone to move into our home and studio, to live with us while you work on your practice and enjoy the local surroundings.

Offering a focused professional development opportunity that supports and nurtures the arts practice of a professional artist, who is interested in developing or sharing their arts practice. Residents will have the option to put a permanent piece on the farm, to help us build our very own living gallery, forested walk, and opportunities to work with local exhibition spaces.
We have 2 shared studio spaces and private room accommodation available for short term residency, from 1 week to 6 weeks. Longer residencies will also be considered and can be discussed, just let us know what you need. You will join medium term and longer-term residents on the farm, including the owner Tim. Studio spaces are also available to local artists who bring a connection with the local area and form a network within Crithir.
The farm studios provide the perfect place to focus on your work and remove yourself from distractions, while connecting with nature. All studios have natural daylight and 24-hour access. All bedrooms are also fitted with writing desks, perfect for writing and poetry.
Take a step into old Ireland and live in a 100+ year old farmhouse cottage surrounded by rolling hillscapes and inspirational lands. The artist's residency and studio combination on a 20 acre farm with wooded areas, river, bog and waterfall nearby. Accommodation will be cosy double bedrooms, with writing desks and built-in storage and wardrobes. The studios are a blank canvas and we are happy to work with you in fitting benches or shelving as required. We also have a vegetable garden and chickens and would welcome our resident artists to get involved in the garden.
The accommodation is in a 100+ year old farmhouse and grounds, with rolling farmland, rustic charm and character. The house itself is currently in the final stages of renovation and provides a comfortable living environment.
We can provide a bicycle for travel in the local area, to access local villages and towns, though a car would be beneficial. Drimoleague and Skibbereen also have regular bus connections to Cork city.
You can also find us on Instagram: https://www.instagram.com/crithir_
Duration of residency
2 weeks to 6 weeks, longer residencies will also be considered and can be discussed.
Accommodation
Artists stay onsite in a shared farmhouse cottage or campervan accommodation on the land.
Disciplines, work equipment and assistance
Crithir encourages applications from artists representing a wide range of perspectives, demographics, and media (e.g., painting, drawing, photography, printmaking, sculpture, fiber art, mixed media, dance, music). Graduate & Doctoral students, emerging and professional artists aged 25+ at the time of application may apply. Applicants must be eligible to travel to and within Ireland and the EU. Crithir and the Artist-in-Residence Program are not responsible for procuring or sponsoring visas to Ireland or the EU.​
Studio / Workspace
Artists have access to a shared studio space
Fees and support
€35/day (€250/week)
Expectations towards the artist
There are no expectations towards the artist in residency. We encourage the artist to focus on their own work and development, through immersion in nature and self.
Application information
Please email us with the following information:A CVA link to an online portfolio or website (if available)A short paragraph explaining how you will use your time, while in residency (250 word max)Please indicate how long you would like your residency to last and what would be your preferred dates for residency. Applications will be reviewed on an ongoing basis. Expressions of interest should be sent to Tim at: driminidy@gmail.com