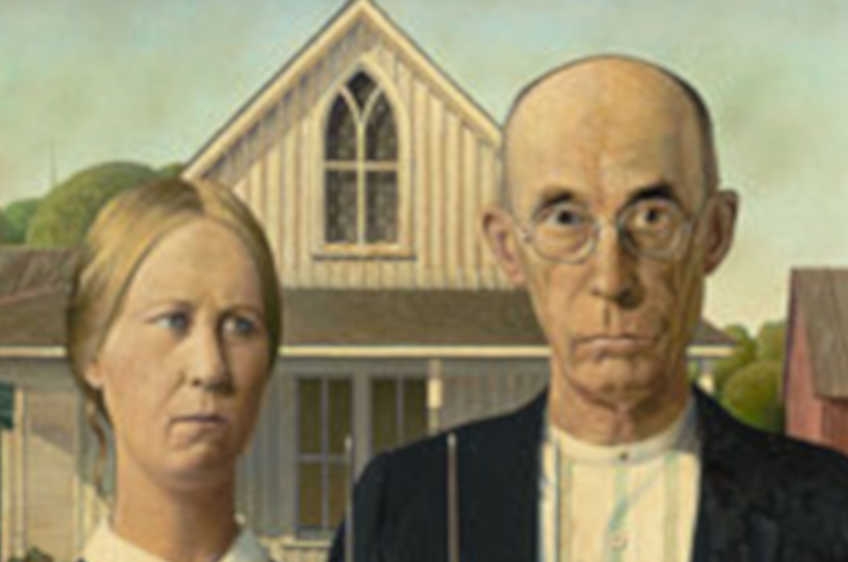 Email Friend
Add to Favorites
Report Listing
What Makes this event different?
We are looking beyond parody, to discuss process and imagination that moves conceptual art projects forward
Copyright Policy
You retain all copyright in your words and text but give us permission to include these in the published text, and fair use for publicity for the book. We retain editorial control of the published book and layout.
2020 sees the 90th anniversary of the painting American Gothic by Grant Wood. In August 1930 Grant Wood spotted the Gothic or Venetian style of window glazing bars at the front of an otherwise ordinary house in a small town in Iowa. Working against the conceit of the architectural style he embarked on a conceptual art project to portray the kind of person for whom, he imagined the house might have been built.
This call for artists is for work which has spun off in other conceptual directions from this visual startpoint. Of major interest is the distance travelled from the original while managing to clearly articulate the path taken. In some way it is likely that the artist has come to realise some affinity in their existing practice with Grant Wood's image. While this call may seem addressed to visual artists we are open to all media.
From the beginning, public response to the painting has been mixed. At the outset it was seen as a celebration of 'American values' and, or attacking rural people. By 1948, Gordon Park's photograph of a Black American woman with mop and broom could be framed against a US national flag and given the same title. In the present the whiteness of those values and the social fault lines of small town populations are more sharply revealed. Again this call is for work that builds on and yet challenges these problem areas.
We will collect a selection of responses to this call as a showcase opportunity for you as an artist. We look for one image for each artist to be supported by a statement of the research and process by which you developed this work together with your contact details. In these Covid days it is not practical to build a physical exhibition and so this collection will be published in hardback book form and as an online representation of the print format. This means that international contributions are welcome and our editors are keen to assist artists from outside the English-speaking world.
There are no charges for submission or, if selected inclusion. Each selected artist will receive a copy of the book, free of all charges and further copies will be made available at a concessional price for the artist's own use as promotion or gift. The book will carry an ISBN barcode, be available through Nielsen's Bookfinder, and may be eligible for DACS payments
Each artist retains all copyright in their words and image, the publisher owns the copyright in the published book and may use any artist's contribution only in the context of the promotion of the book.
As the organizing artist here, I must disclose a long term research interest of intersubjectivity -- the psychological relationships between people. This painting brings together issues of the photographic gaze and the value judgements that ensue. Please direct any questions you may have about this call to myself