The deadline to participate in this event has passed. Find other call for entries and opportunities by browsing this site. Try search for other events in the
Art
»
PUBLICATIONS
category.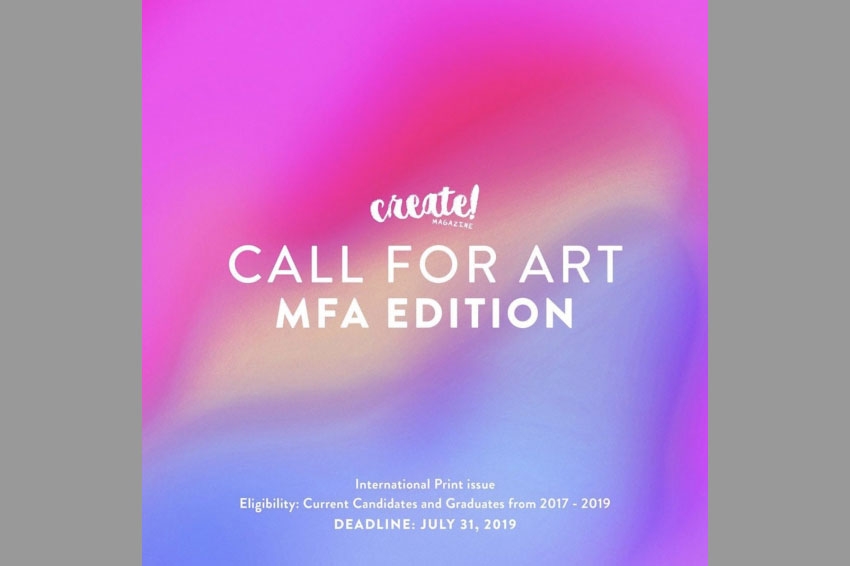 Email Friend
Add to Favorites
Report Listing
Copyright Policy
The artist maintains copyright ownership on any published work,.
Create! Magazine is pleased to announce an open call for its first annual MFA Edition. We are now accepting applications from current candidates and recent graduates from 2017 - 2019.
Create! Magazine is an independent contemporary arts magazine focused on highlighting the work of talented emerging and mid-career creatives from across the globe. We are pleased to announce our next call for artists for a custom designed two-page spread in our publication (both print & digital) that will feature your artist biography, website, and two images of your artwork. 
Have your work seen by our 125,000+ readers and followers around the world, including leading galleries, art fairs, collectors, curators, writers, art consultants, and more. Don't miss this opportunity to put your work out there and connect with a new audience! 
JUROR: Kate Mothes, Founder of Young Space
Young Space began as a blog, as a way for curator/founder Kate Mothes to connect with artists and exhibitions in Scotland during postgraduate study at the University of Edinburgh.
After she moved back to Wisconsin, USA, it grew into a nomadic project platform, where it has taken the shape of numerous collaborative projects, in addition to the online platform. After going on hiatus for several months, it was re-launched in October 2016 with a new format, featuring original interviews and other content. Since then, it has grown exponentially, leading to a brand new website relaunch and series of projects in March 2018.
Young Space is, first and foremost, an independent curatorial project organized by Kate Mothes. The online platform continues to emphasize new and exciting work by early-career and emerging artists. Exhibitions are coordinated nomadically, nationally and internationally, in collaboration with artists and spaces. Young Space continues to expand and reconfigure in response to artists' input and participation.
ELIGIBILITY: MFA graduates from the past two years and current candidates from both the US and abroad, of all genders, ethnicities, and from all backgrounds are welcome to apply. We accept works in any medium: painting, sculpture, digital art, printmaking, fiber/textile art, photography, mixed media, installation, etc. 
SUBMISSION REQUIREMENTS: 3+ jpeg images of different artworks, a text document with a bio and artist statement, website or social media link, and your email address. If your work is three-dimensional, you may include additional images of installation views or detailed shots at no extra cost. Please see our Submittable form for further details. Please note that for best results, artists should include works from the same series per each submission. 
SUBMISSION FEE: $25 early-bird discount (price valid until June 30, 2019) $30 for 3 images (submission fees are non-refundable) 
Fees go towards supporting our art community and helping provide opportunities for artists. If you are unable to pay the fee at this time, you may always submit to our blog for free and we will be happy to review your work. Please send 3-5 images plus your artist biography, statement, and website to blog@createmagazine.com.
SELECTED ARTISTS: If your work is selected, you will receive a custom designed two-page spread in both the print and digital versions of the magazine that will include your artist biography, website, and two images. Published artists will be sent a complimentary digital issue and will be listed as a participating artist in your issue on both our website and social media. We also promote artists individually via blog and social media posts that reach over 125,000 total followers worldwide. All featured artists will automatically be considered for any upcoming curatorial projects, not limited to art fairs, exhibitions, and gallery projects organized by our team. 

WHERE TO FIND: Print copies of Create! Magazine are available in our online shop and at several global retail locations in London, New York, Los Angeles, San Francisco, Chicago, Amsterdam, Stockholm, Ft. Lauderdale, Wilmington (DE), and more. Digital issues can always be purchased on our website. 
Deadline: July 31, 2019