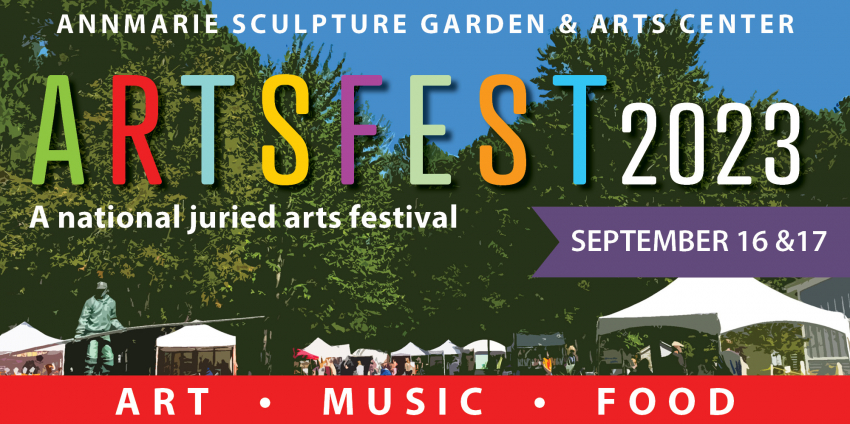 Email Friend
Add to Favorites
Report Listing
Event History
Artsfest hosts 175 visual artist booths, and has more than 25 different bands and entertainment acts that perform on four stages. There are also family activities and programs under the Discovery Tent and in the Zany Zone. There are a great variety of food vendors, wine and beer, providing plenty of treats. This is a multi-faceted arts festival and there is plenty to do for all ages! The beauty of Annmarie Garden is the perfect backdrop for this annual celebration of the arts! Artsfest enjoys dedicated crowds and excellent management - with terrific volunteer support. We hope you will join us for our 28th Annual Artsfest Fine Arts Festival!
What Makes this event different?
Annmarie Sculpture Garden is a beautiful back drop for a weekend celebration of the arts. This is a well-run and well-attended event with great staff and volunteers. We hope you will join us!
Copyright Policy
Please visit our website "Artist Information" page for detailed info regarding this and other related rules. Thank you!
Image Usage Rights
We tend to use booth shots and visitor shots in our marketing, rather than full art shots. Each year, we do feature an event logo which is an original work of art that we use to market the event. We compensate the artist for this work and retain rights to use the image. Any other submitted works are only used for marketing and no other purpose. If you have any questions, please contact us.
Call for Entries to be part of Artsfest '23
Artsfest '23 Fine Arts Festival
September 16 & 17, 2021; 10am-5pm
Located at the Annmarie Sculpture Garden & Arts Center
In Association with the Smithsonian Institution
13470 Dowell Road, Solomons, Maryland
www.annmariegarden.org
art@annmariegarden.org 
Come join us in Solomons, Maryland - where the Patuxent River meets the Chesapeake Bay. Be part of a fabulous weekend of the visual and performing arts with 175 artists booths, 35 performers on four stages, activities for kids, great food, wine & beer, and much more!
Unsurpassed beauty awaits you at the 31st Annual Artsfest! Set amidst the spectacular backdrop of the 30 acre sculpture garden, Artsfest is truly a unique arts experience! Explore the excitement of the Tent Circle and the Arts Building, then wander the shady Wooded Path to find artists and activities nestled in the beautiful woods at Annmarie. It's an event like no other, waiting for you and your family in Solomons, Maryland.
For more information about this opportunity for artists, please visit the Event Website.