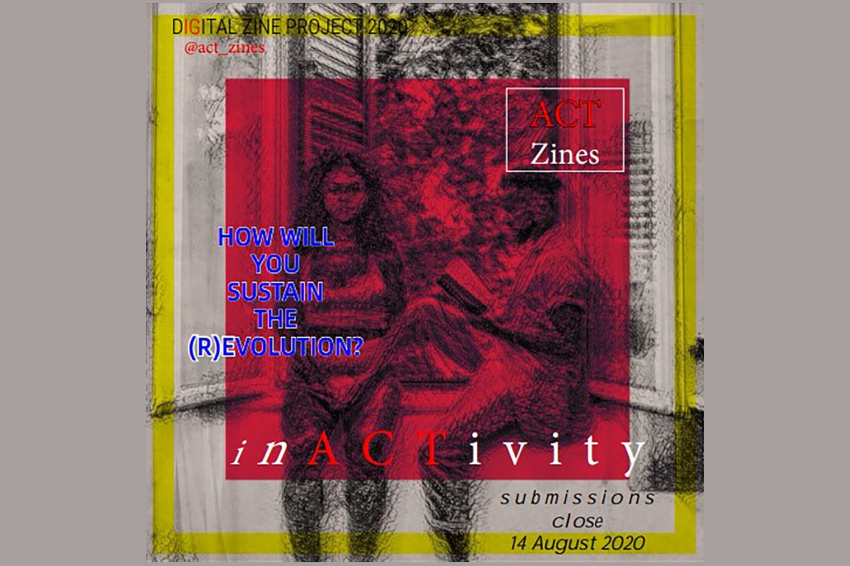 Email Friend
Add to Favorites
Report Listing
What Makes this event different?
The inACTivity Digital Zine Project is ACT Zines' first digital publishing project. The zine will lay a critically playful foundation for the future work of ACT Zines as we build a network of collaborators who will help us shape the initiative.
Copyright Policy
Artists and photographers will maintain copyright ownership as works will only be featured, courtesy of the artist.
Image Usage Rights
Images of all mediums would be used as a contribution towards the graphics of the zine. Artists will be fully acknowledged and featured in our collaborator community.
ACT Zines calls for creative reflections on the uncertainty of the Covid-19 pandemic and the difficulties imposed by the National Lockdown.
Usually, an action is initiated with a motive. We eat to get something into our system; whether the action is due to boredom or hunger, the result is what matters – food in our stomachs. It seems like every action has a consequence…or does it?  Is the lockdown making inactivity more significant? Are we evolving into 'modern day cave humans'? I mean, when last have you worn your dress-up outfit?
 Do you enjoy being engulfed by the virtual world, as you keep caressing your darling lover-phone all day long? Then, you think about the times you could take a walk through the park and sneak in a non-virtual kiss to that cutie before the 'Covid Command Council' declared holding hands and kissing illegal. 
We would love to hear from you, our dear couch potato. (UNSUNG HERO)
Share your creative fun thoughts with us, whether your disputes are in relation to the Arts, Education, Healthcare, and Essential services, or how social media is a bit too serious and depressing like real life. 
To be a collaborator
Send an introductory email to actzines@gmail.com. 
Your introduction should include a short biography and an example of your previous work to give us an impression of you. This can span all creative mediums including multimedia playlists, videos, and podcasts. 
The call ends on 14 August 2020. 
Follow us on Instagram @act_zines and view the full call to collaborate.
Join our collaborator community, we would love to see your experiments and creative expressions.